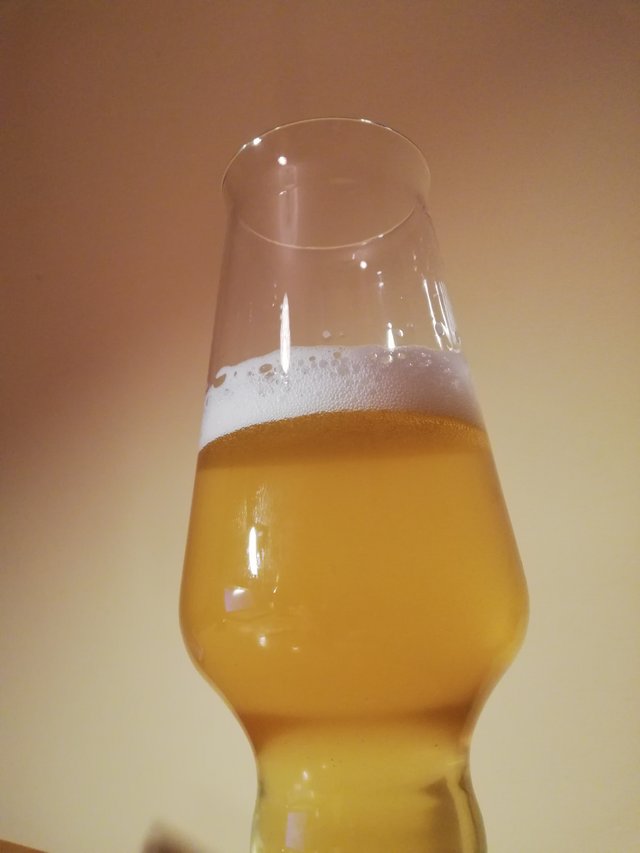 Piana: Średnio obfita, drobnopęcherzykowa, nietrwała, śladowo oblepia szkło.
Barwa: Jasnozłocista. Piwo minimalnie zmętnione.
Aromat: Na pierwszym planie przyprawowo, biały pieprz, charakterystyczne nuty które kojarzą mi się z sosem tabasco. Generalnie w profilu sporo fenoli. W tle pojawiają się przyjemne nuty zbożowe.
Smak: Podobnie jak w aromacie pierwszy plan to przyprawy, które są w wyrachowany sposób skontrowane solidną słodową podbudową.
Goryczka: Niska, niezalegająca - przyjemna.
Odczucie w ustach: Pełni piwa krągła. Piwa ma stosunkowo gładką teksturę. Finisz krótki i półwytrawny. Wysycenie umiarkowane.
Myślę, że jest to piwo w stylu Saison. Ekstrakt około 12%. Alkohol około 5%.