Powinienem jakoś inaczej przerwać moje półroczne milczenie, ale sprawa jest ważna i aktualna. Załóżmy, więc, że ten post ma jakiś nadzwyczajny tryb.
Właśnie sie dowiedziałem, że moja koleżanka Dominika (25 lat) ma stwardnienie rozsiane.
Chorobę zdiagnozowano rok temu i obecnie Dominika trzyma się świetnie, jednak aby tak zostało, musi dbać o siebie trochę bardziej niż reszta z nas. Jej stan wymaga czestych badań kontrolnych, objawowej kuracji farmakologicznej i całkiem kosztownej rehabilitacji na miejscu i w ośrodkach rehabilitacyjnych.
Poza tym zero żulerki, czy rozpusty - dietka, ćwiczenia i spanie zaraz po bajce. Groza.
Zła wiadomość jest taka, że to już tak zostanie. Cholerstwo leczy sie objawowo i na razie nie ma lekarstwa, które mogłoby pokonać chorobę. Dobra wiadomość jest taka, że Dominika może z tym całkiem długo i normalnie żyć, jeśli odpowiednio się o to zatroszczy. Możemy jej w tym pomóc! Jak?
Możemy przekazać 1% naszego podatku na cel rehabilitacji Dominiki! Szczególy poniżej: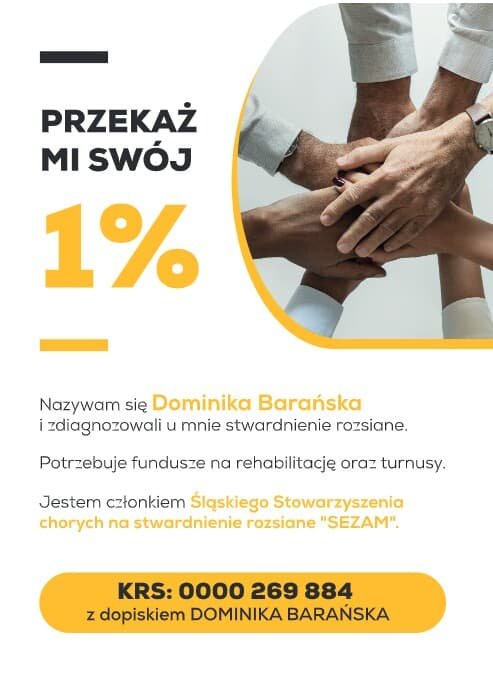 Gorąco do tego Was wszystkich zachęcam. Nie dość że Dominika będzie pochytana, to jeszcze uratujemy 1% naszej krwawicy przed złodziejskimi pazurami aparatu państwowego. Moim zdaniem sie opłaca.
Co to jest stwardnienie rozsiane?
Jest to przewlekłe paskudztwo, które atakuje osłonki mielinowe włókien nerwowych w centralnym ośrodku układu nerwowego. Pojawiają się stany zapalne, które niszczą warstwę mielinową w osłonce. Prowadzi to do ubytków, a czasem i zaników osłonek, a bez nich nasze okablowanie naprawde słabo sobie radzi z przekazywaniem impulsów nerwowych. Efektem choroby bywają niedowłady, problemy z narządami zmysłów, czy wreszcie trwałe kalectwo. U młodych ludzi, choróbsko działa w systemie rzutów i reemisji. Rzutem jest sytuacja, w której objawy choroby się wzmagają, lub pojawiają sie nowe - jeszcze bardziej paskudne niż poprzednie.
Po upływie jakiegoś czasu (rzut może trwać nawet kilkanaście tygodni), zastosowaniu odpowiednich leków i zabiegów rehabilitacyjnych - nadchodzi reemisja choroby, czyli powrót do normalnego funkcjonowania organizmu.
Choroba może przebiegac w różnym tempie - dużo zależy od opieki nad chorym i od jego trybu życia. Niestety na razie nie odkryto skutecznego leku - chory musi bardzo na siebie uważać i otrzymywać właściwą pomoc lekarską, gdy nadchodzą rzuty.
Dominika to twarda baba, ale czeka ją naprawdę ciężka walka. Dlatego nasza pomoc bardzo się przyda. No to zapraszam do przekazywania swoich procentów - zostaną bardzo konstruktywnie wydane.
W imieniu swoim, Dominiki i jej przyszłego męża (ślub w maju) serdecznie dziękuję wszystkim darczyńcom. Excelsior!
Śląskie Stowarzyszenie Chorych na SM Sezam:
http://sezam.ochojski.com/start
Źródło:
http://www.medonet.pl/zdrowie/zdrowie-dla-kazdego,stwardnienie-rozsiane---objawy--leczenie,artykul,1578701.html