Same goal, slightly different approach. Ten sam cel, nieco różne podejście.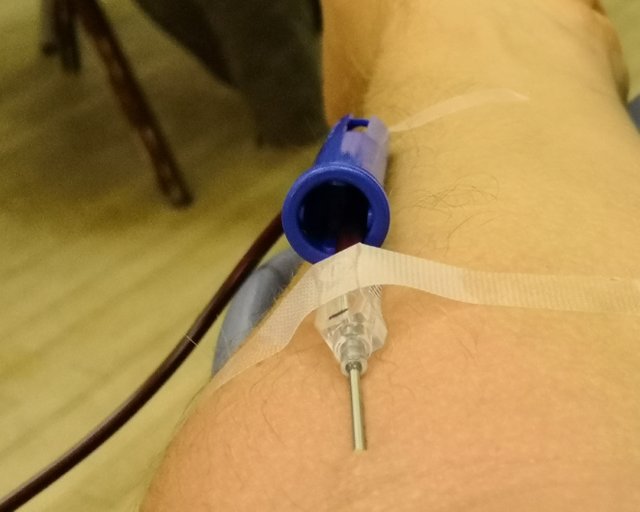 English
I've had a chance to donate in these two countries and would like to share my observations about how it differs. All the comments are just my own and may be accidentally wrong here and there.
Donating blood in Poland gives a couple perks - you can get a day off, deduct it from your tax (like donating to charity, there is a specific monetary equivalent to a full donation). Some businesses offer price reductions for donors. You don't get such things in Great Britain, as my friend put it: if you get anything in return, it's no longer honorary.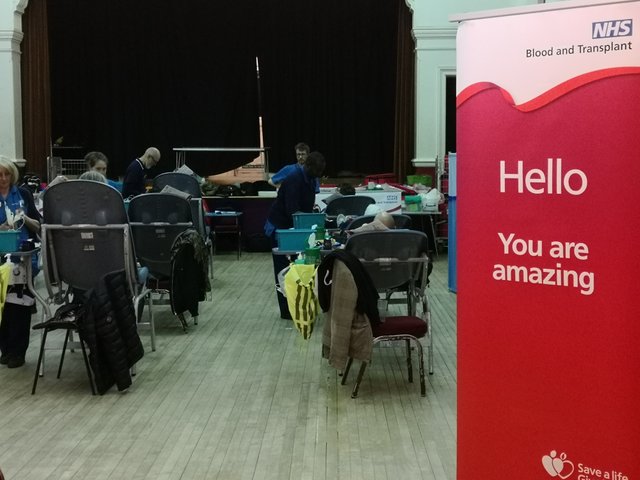 You are awesome
In both countries there are both stationary and mobile units. I normally go to sessions organised by the mobile units.
The procedure looks pretty much the same in both cases: initial examination (self assesment form is quite similar in both countries, there may be some questions different that I always say no to, in Poland one is being asked about living in UK around the time of the mad cow disease outbreak), hemoglobin level test (in Poland usually a machine is used, in UK there's some chemicals test, if blood droplet drowns it's OK), then you wait to get called out and donate. In Poland one gets an energetic equivalent which I believe is expected to compensate the blood loss in terms of energy needed to reproduce it. It's usually a couple chocolate bars, some meat preserve, a juice and not sure if anything else. In UK you get some crisps and biscuits in the refreshments area.
What I like about the Polish system is that you can get your blood test results back - they are there in the system and available when you register at the next session.
What I like about the British system is that after a week or so I get a text that my blood has been sent somewhere and the name of the hospital.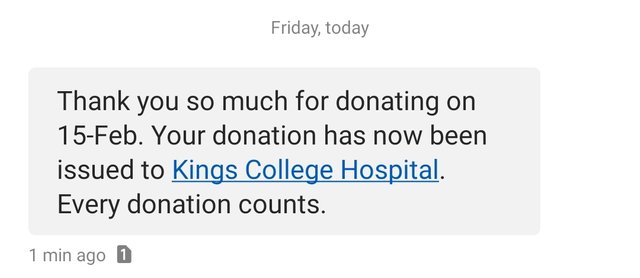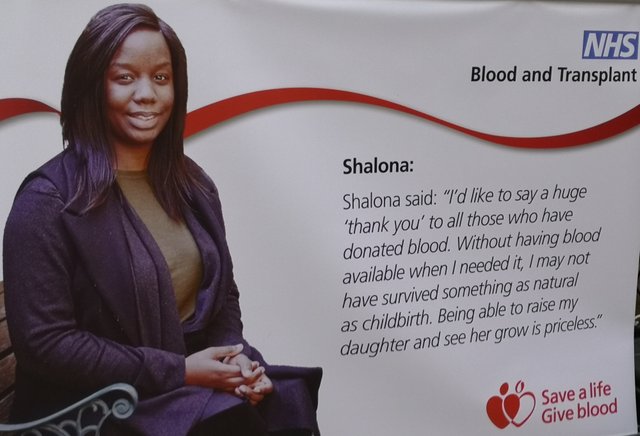 Motivating posters
I also have another experience that I cannot compare, but is a thing to remember: the first time I went to a session in the UK I took my daughter with me. She was allowed to follow me all the time including the donation area and after it was complete she got to hold the bag with my blood. She was mind-blown.
I have registered interest in donating platelets in the UK but it's not trivial for me to get to a stationary donation centre and also I'm not sure how it works. In Poland I would get called in the morning that there is a demand (my number was kept in a platelet donors notebook under my blood group B-). Then I would get my blood tested, wait for the results, especially the cholesterol level. I got once turned down from a platelet donation because I had a high fat breakfast. From what I read in such case the platelets cannot get properly separated or something and it would be a waste of everyone's time.
One more thing - British NHS Blood and Transplant is quite desperate to get the donation. B- is not a popular blood group. I get called and asked to donate ever since I went the first time. I remember a day when I just could not pick up. The guy rang six times. Last time they called I got booked for two sessions straight away.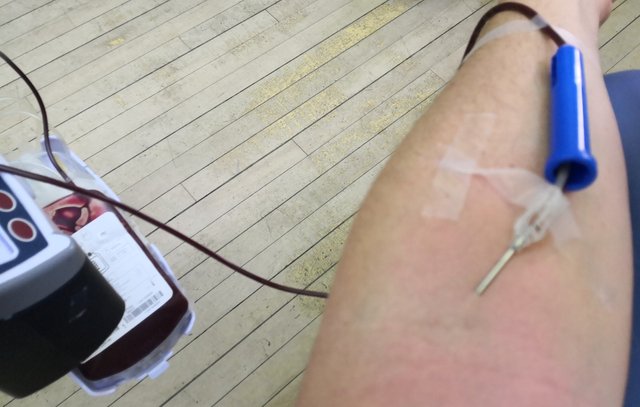 That's the closest I got to making a picture with focus on the bag
So yeah, I've donated for the sixth time last week and I encourage to do the same regardless of where you're doing it. Once you help, other time you get help. Let's make sure the help chain doesn't break.
Polish
Miałem okazję oddawać krew w tych dwóch krajach i chciałbym podzielić się moimi subiektywnymi obserwacjami. Wszystkie komentarze są moje własne i mogą czasem odbiegać od rzeczywistości.
Oddawanie krwi przynosi w Polsce kilka korzyści - dzień wolnego, odliczenie od podatku. Niektóre przedsiębiorstwa oferują dawcom zniżki. Takich rzeczy w Wielkiej Brytanii nie ma, jak to określił kolega: jeśli otrzymujesz coś w zamian, to to już nie jest honorowe.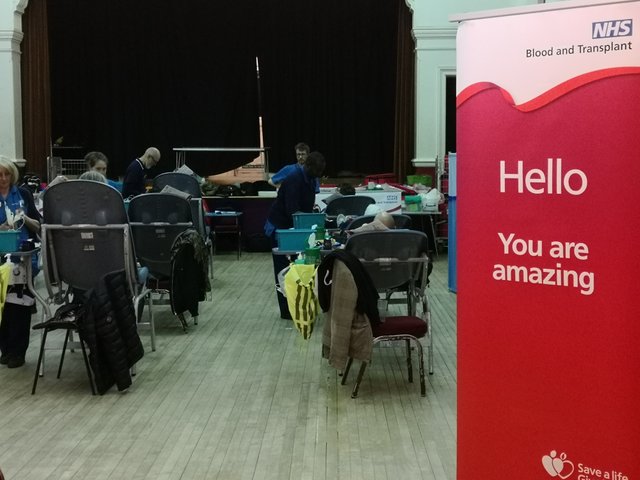 Jesteś niesamowita/niesamowity
W obu krajach są zarówno centra krwiodawstwa jak i zespoły mobilne. Zazwyczaj chodzę na sesje organizowane w pobliżu pracy lub domu, do centrów mi nie po drodze.
Procedura jest dość zbliżona: wstępne badanie (formularz dotyczący zdrowia ma zbliżone pytania, coś może się nieco różnić w pytaniach, które mnie nie dotyczą; w Wielkiej Brytanii chociażby nie pytają o chorbę wściekłych krów), test hemoglobiny (w Polsce na maszynie, w Wielkiej Brytanii jakieś chemikalia, jak kropla krwi tonie to jest dobrze), następnie czeka się na pobranie. W Polsce jest dawany ekwiwalent energetyczny (czekolady i takie tam), w Zjednoczonym Królestwie można zjeść ciastko lub czipsy do herbatki przy poczęstunku po oddaniu.
W polskim systemie podoba mi się to, że można zobaczyć sobie wyniki badań - są one trzymane w systemie i dostępne przy kolejnej rejestracji.
W brytyjskim systemie podoba mi się to, że po kilku dniach dostaję sms z informacją, gdzie przekazano moją krew.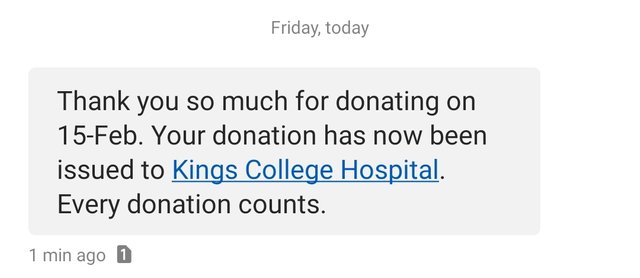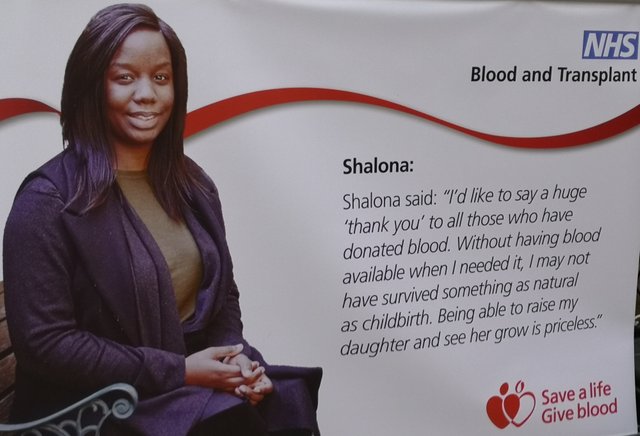 Plakaty motywacyjne
Mam też jeszcze jedno doświadczenie, którego nie mogę porównać, ale zapadło w pamięć: za pierwszym razem w Wielkiej Brytanii zabrałem ze sobą córkę. Mogła być przy mnie cały czas i obejrzeć jak wyglądają badania czy oddanie, a po wszystkim mogła przez chwilę potrzymać worek z moją krwią. Była zachwycona.
Rejestrowałem się również do oddawania płytek w Wielkiej Brytanii, ale nie jest mi łatwo pojechać do stacjonarnego centrum. Nie wiem też jak to dokładnie działa. W Polsce dzwoniono do mnie rano, że jest potrzeba (mój numer był zapisany w zeszyciku dawców płytek pod moją grupą, B-). Wtedy miałem badaną krew, czekałem na wyniki, szczególnie na poziom cholesterolu. Raz odmówiono mi oddania płytek, bo miałem dość tłuste śniadanie. Z tego co czytałem, wtedy płytki nie oddzielają się dobrze i byłoby to zmarnowanie wszystkich czasu.
Jeszcze jendo - brytyjski NHS Blood and Transplant jest dość zdeterminowany, aby pozyskać krew. B- nie jest popularną grupą. Regularnie otrzymuję telefony z centrum odkąd pierwszy raz oddałem krew. Raz nie mogłem odebrać - gość oddzwaniał sześć razy w ciągu dnia. Ostatnio umówiono mnie od razu na dwie sesje.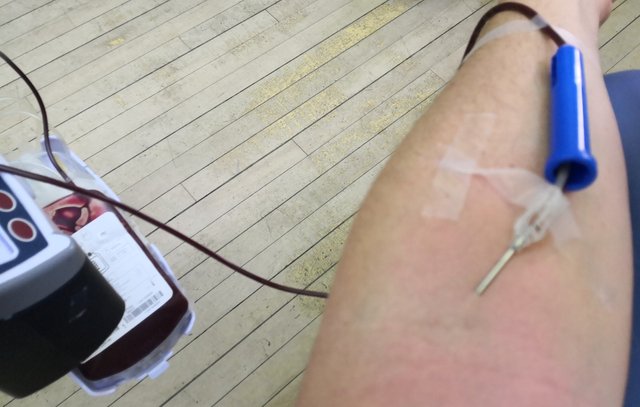 Ostrzejszego zdjęcia worka nie zdołałem zrobić
Ostatnio oddałem krew po raz szósty w Wielkiej Brytanii i zachęcam wszystkich niezaleznie od miejsca zamieszkania, aby oddawali krew. Jednym razem pomagasz, innym pomagają Tobie. Dbajmy o to, aby ten cykl się nie zepsuł.