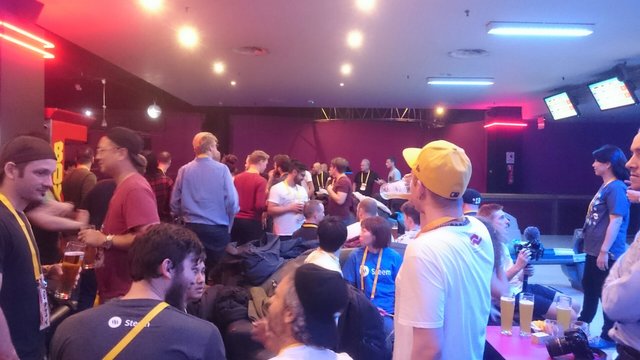 Wczorajszego wieczoru graliśmy w kręgle, większość lokalu była dla Steemian. Grała cholernie głośna muzyka, przez co jakieś sensowne rozmowy były nie do ogarnięcia, bo trzeba było krzyczeć do ucha. Dlatego też nikogo nie dziwiło, że sporo osób szybko się zwinęło. Jeśli chodzi o moje osiągnięcia, to w bodajże pięciu rzutach raz udało mi się zbić 3 kręgle, co uważam za ogromny sukces - przy mojej zdolności nie trafiania w niczego, jestem dumna aff!
Autobusy kursowały co chwilę na trasie Plaza - Hotel Qubus, także nie było problemu kiedy ktoś wychodził wcześniej.
Ogólnie konkurs wygrała drużyna z Niemiec, serdecznie gratulujemy celności strzałów kulą ;)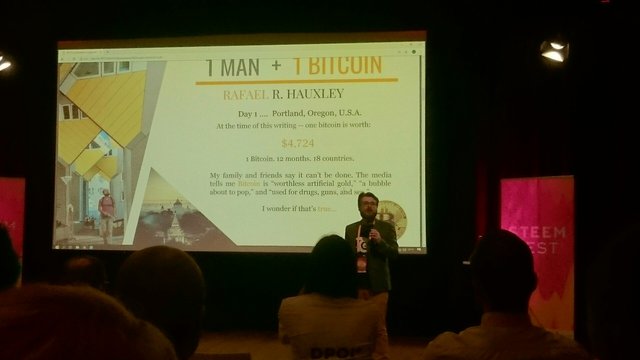 Dzisiaj chciałam trochę odpocząć od tego całego młynu. Dlatego też pojawiłam się jedynie na prezentacji - 1Y 1BTC, czyli jak zwiedzić kilkanaście państw za jednego Bitka. Dowiedzieliśmy się o dużej przygodzie, która rozpoczęła się w Stanach, a zakończyła w naszym Krakowie. Po prezentacji zaczepiliśmy @remyhauxley i mogliśmy sobie nieco rozwinąć temat.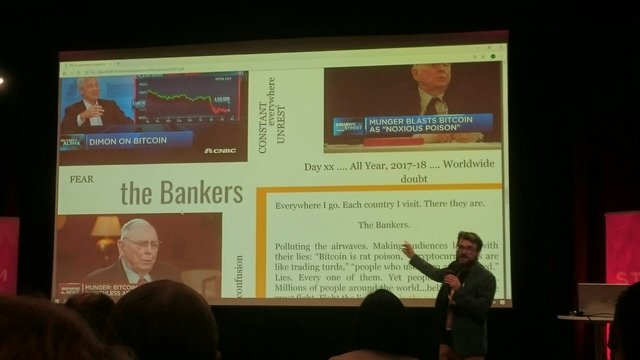 Więcej fotografii mam na aparacie, a na pewno będą lepszej jakości niż to co robię "kalkulatorem", musicie mi wybaczyć.
Zwinęłam się chwilę po zrobieniu zdjęcia grupowego. Sama sobie strzeliłam selfiaka, wiem też że @saunter zrobił mi zdjęcie.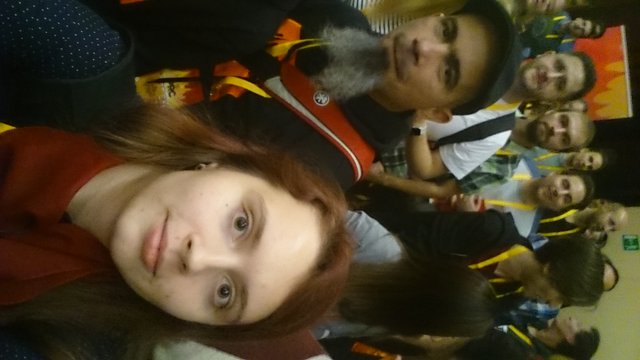 Co mi się nie podoba? Do tej pory goście nie otrzymali pierogów!! No kruci, naprawdę nadal na żadnym z posiłków nie było pierogów, żeby ludzie zza granicy mogli spróbować naszego specjału. Na szczęście, dzisiaj w ramach przekąsek znalazły się pączki (tak, polskie pączki z różą), więc całkiem spoko. Dzisiejsza kolacja może będzie mieć pierożki, ale nie mam pojęcia. Za chwilę wychodzę, to się przekonam.