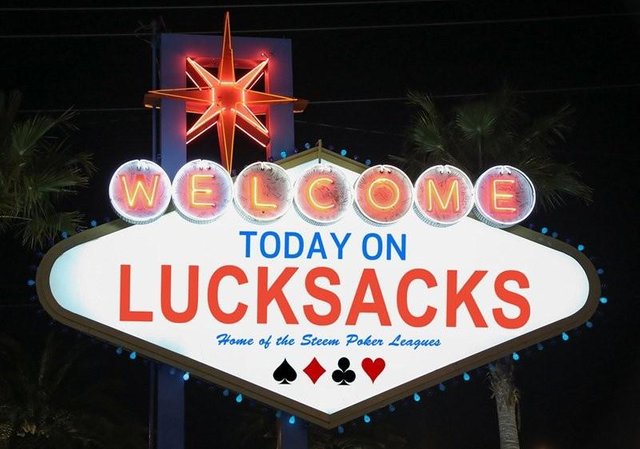 courtesy of @spl
Playing Poker on Steemit

Well tonight I got my cherry popped by @lucksacks.com and everyone at @spl. I had a great time taking part in the Today on Lucksacks - Sept 10th - Adsactly 20 SBD and FollowBTCNews 5 SBD Freerolls! contest.
I may not have won, but I did get some good practice in for the next tournament. I came in a whopping 17th place.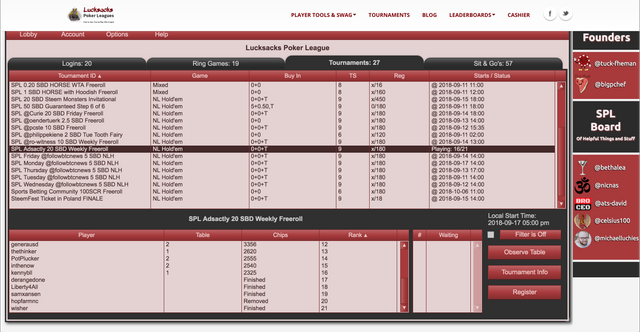 I was doing good and had about 6000 chips at one point until I thought @yazp was bluffing on one of his hands when he went all in. I think we both had pairs, but his was higher. After that, it was downhill from there.
It was getting late and dinner was calling and I needed to make sure my chicken wasn't burning, so I went all in on what I think I remember as a pair of aces (I only had like 1000 chips), but I think I was beat out by a three of a kind. Anyways, I had a great time playing with everyone and I am looking forward to doing it again.
I have been a fan of everyone over at @spl, @lucksacks.com, and @brospn for a while now and I have wanted to give back to their community since the do so much for so many people on Steemit. I have decided to use some of the proceeds from my portion of my team witness @c0ff33a to support their efforts and I am donating 20 Steem a month to help fund the poker tournaments on @lucksacks.com. We need more communities like this on the Steem blockchain where people can come and hang out and have a good time together. This type of community is what keeps the Steem blockchain strong and I am in full support of it.
Thank you everyone that beat me at Texas Hold'em tonight for showing me a good time. I am looking forward to more games with everyone.