You should see her,
Gods you should see her.
Her hair is a caress
That I'm so keen to touch
Like a child reaching to mother.
Her brows scatter like grasses
Touched by sun and wind
And her lashes curl like toes in orgasm.
She smiles sometimes
When she forgets herself in my arms,
When the clouds shift for a bit
And the sun bursts forth
And, what a sun it is.
You should see her lips curve,
You should see her teeth sparkle
Then you'd know what I mean.
Her skin is gold and bronze
And the follicles on her arms
Are like ripe wheat under sun rays.
She wriggles in my grasp,
Seeking freedom like a butterfly.
I want to hold her,
I want to keep her,
I want to protect her.
I see the pain she hides sometimes
When she pushes aside the curtains
That shroud her soul just for me
And all I can think of
Is to rush to her and cradle her close.
She is not soft though, no Sir.
She is tough as leather,
Wild as the flowers by the stream,
Stubborn as old tree roots,
Fiery as a harmattan bush fire
But her love is tender and sweet
And she keeps it all for me.
She waits for me at the gate.
She opens the door and washes my face.
She combs my beard and calls my name.
She feeds me morsels of herself
And each bite is a story.
She fills me with the fire of her bones
As we exchange stories like strangers
And learn to love again like babies
Learning to walk and call names.
She is all that she is
And she is more than she is.
She is Africa,
She is Nigeria.
She is the river Nile,
She is the river Niger.
She is the Sahara, the Sahel,
The grand pyramid, the stuff of legends.
You will not understand until you see her.
She is home, my friend.
She is home.
---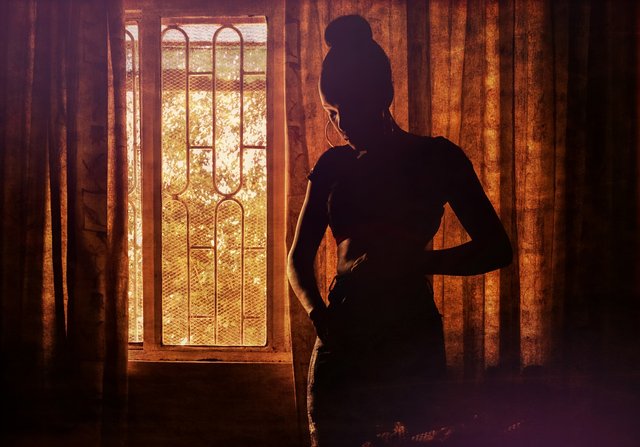 pixabay:portraitor
---
I should be asleep but I can't sleep. My head is filled with so much and I want to do so much too. This poem is as impromptu as any of my writings and you find that sometimes when you write, you draw your wishes to the fore. Those dreams and hopes that lie embedded inside you find a voice in your writing and with that they get a semblance of life. I hope someone is loving someone today and feeling like the person is forever. I'm going to try sleeping again and see if it will work this time. Do have a blessed day.
---
©warpedpoetic, 2019.