I lay in wait for the beginning of a new dawn
Swiftly loftily I arise with my salient guitar in my arm
With my cigarrate tucked in my mouth, I play to the rhythm of piety.
'Let love lead' I cry, for I understand that the fruit of hatred is nothing but pandemonium.
In a society of self-centered individuals with fake identities
Who value certificate more than talents and inborn intelligence
Everyone struggle for power and even more power
Killing a brother for earthly possessions
Oh! How humans have become savages
Where lay thy humanity?
Where lay thy rationality?
Where lay thy integrity?
Thou bartered it for froths.
I am hated by all because I smoke, as if smoking is the greatest sin on earth?
What about killing?
What about lying?
What about committing of adultery?
What about theft?
What about discrimination?
I weep for our ignorance.
Pray for the peace of our nation.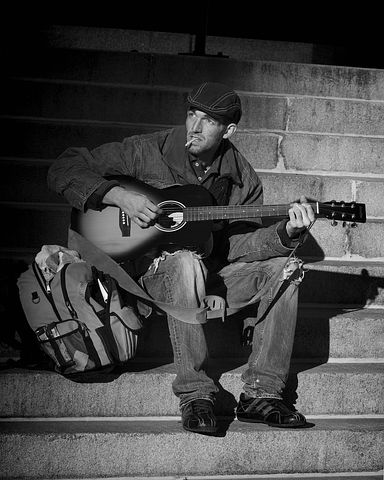 I am the downtown guitarist.