Nemo, it is you?
Hi, it's me, Nemo.
I am swimming to and fro.
I'm got lost at the open sea,
Granny, this time you will find me.
I met a fish called Dory and she said simple hi,
if you meet her you maybe die.
She forget and lost her mind,
for this she is sorry,
Our lovely Dory.
my grannys name is Sharlys
and she is one of a clown fish.
She is very funny and do some weird jokes,
She is looking for me, her grandchild
Tell her if you see or find.
Another shark buddy of mine is Bruce,
He is vegan and won't eat fish thats the damn truth.
A shy guy of my friends is called Peach and its a star fish,
No I am not a dshinn you can't make a wish.
Gill was the rebels name,
He wanna escape from this game.
His goal is to get back into the open sea,
He needs freedom and wants to swim free.
This were my thoughts
when I saw this streetart.
A granny calling clown fish,
Wants to be free and not a dish.
Even when it lost one hand,
Atomic transformation and he is a five finger band.
text and pics made by myself. Peace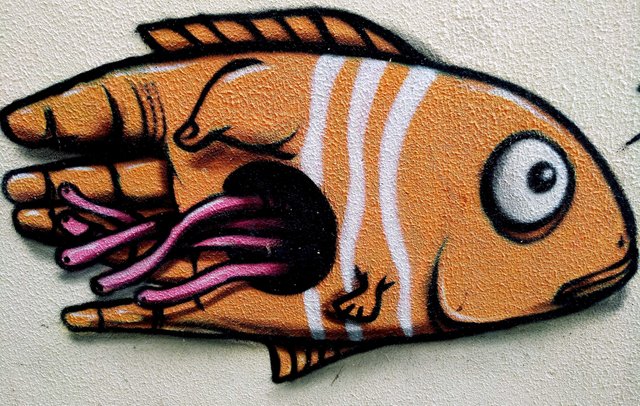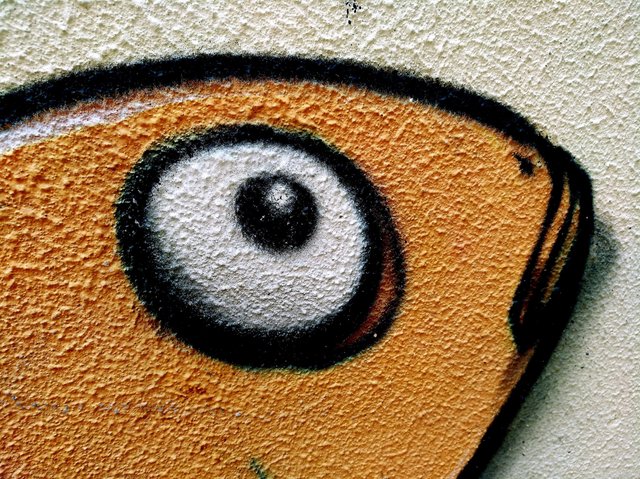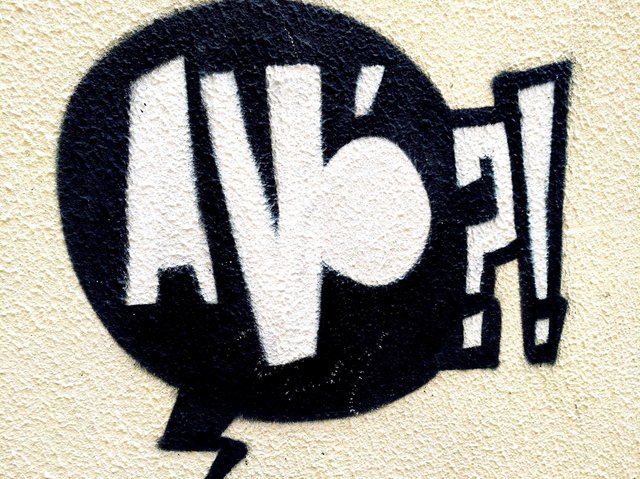 Nemo, és tu?
Oi, sou eu, Nemo.
Estou a nadar de e para lá.
Estou perdido no mar aberto,
Avó, desta vez vais encontrar-me.
Eu conheci um peixe chamado Dory e ela disse um simples olá,
se a conheceres, talvez morras.
Ela esqueceu e perdeu a cabeça,
por isto ela está arrependida,
A nossa adorável Dory.
meu nome de avó é Sharlys
e ela é uma de um peixe palhaço.
Ela é muito engraçada e faz algumas piadas estranhas,
Ela está à minha procura, o neto dela.
Diz-lhe se vires ou encontrares.
Outro amigo meu amigo tubarão é Bruce,
Ele é vegano e não come peixe, é a verdade.
Um tipo tímido dos meus amigos chama-se Peach e é um peixe estrela,
Não, eu não sou um dshinn que não possas pedir um desejo.
Gill era o nome dos rebeldes,
Ele quer fugir deste jogo.
Seu objetivo é voltar ao mar aberto,
Ele precisa de liberdade e quer nadar livre.
Estes foram os meus pensamentos
quando vi este streetart.
Uma avó a chamar peixe palhaço,
Quer ser livre e não um prato.
Mesmo quando perdeu uma mão,
Transformação atómica e ele é uma banda de cinco dedos.
Texto e fotos feitas por mim mesmo. Paz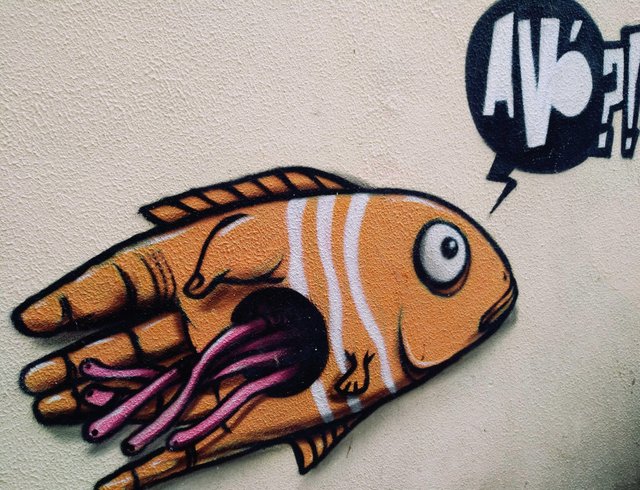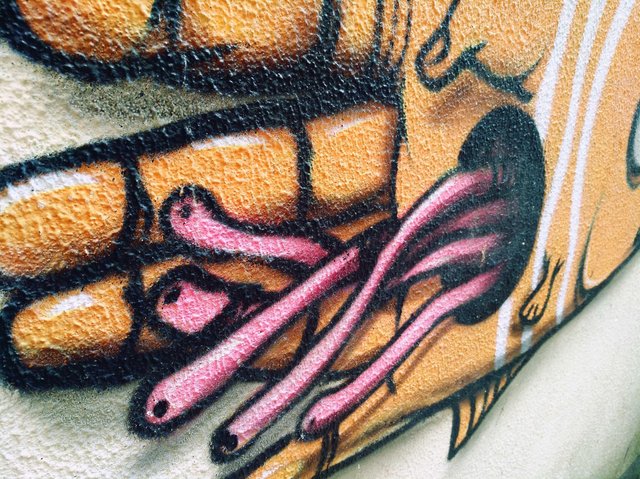 Nemo, bist du es?
Hi, ich bin's, Nemo.
Ich schwimme hier umher ganz froh.
Ich habe mich auf offener See verlaufen,
Oma, diesmal wirst du mich finden und mir nachlaufen.
Ich traf Dorie,
einen besonderen Fisch,
sie sagte hallo,
Doch war sie nicht ganz frisch.
Sie vergisst dauernt und verliert den Verstand,
dafür tut es ihr leid,
Unsere reizende Dorie wird oft verkannt.
Meine Oma heißt Sharlys.
und sie ist auch ein Clownfisch.
Sie ist sehr lustig und macht gern seltsame Witze,
Sucht ihr Enkelkind selbst in einer Korallenritze.
Ein weiterer Hai-Kumpel von mir ist Bruce,
Er ist Veganer, wirklich ganz ohne Stuss,
das ist die verdammte Wahrheit.
Nun weißt du über den veganen Hai bescheid.
Ein schüchterner Typ ist mein Freund Peach,
Er ist ein Sternfisch,
Nein, er ist kein Dshinn,
du kannst dir nichts wünschen.
Gill war der Name des Rebellen,
Er will aus diesem Spiel schnellstmöglich entkommen.
Sein Ziel ist es, wieder auf das offene Meer zu gelangen,
Er braucht Freiheit doch ist er gefangen.
Das waren meine Gedanken
als ich diese Straßenkunst sah.
Nemo lag ja wirklich nah.
Seine Oma dieser Clownfisch ruft,
Auch wenn er eine Hand verlor.
Atomare Transformation und er ist ein Fünf-Finger-Chor.
text and pics made by myself. Peace

#nature #natur #animal #animalphotography #art #artwork #artzone #streetphotography #photography #streets #poem #gedicht #blog #life #findnemo #freewrite #writings #fantasy