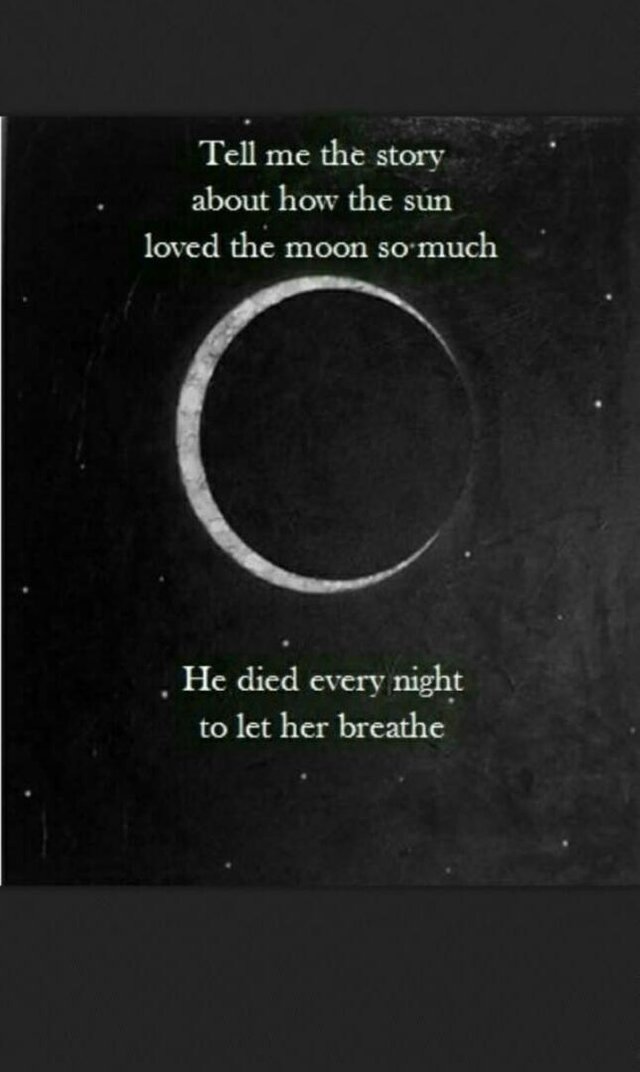 Source
These story starts back a long time ago, the sun looked upon the moon, and saw that she was dying. He felt himself burn with the desire to save her. She was beginning to become cold, she was loosing the glow of her darkness, with his hands wrapped around her, he begged her to hold on just a little bit longer, until he deviced a means to save her
He asked his buddy the stars, what he could do to save his love, they looked him brightly in the eyes and said "my friend, to save her you would have to give up some of your time to shine on the earth. You have to die for a while to save the one you love.
As much as the sun love the people dancing in the radiance of his light he looked to the stars, hopefully, worriedly, because he could feel his love slipping further and further away from him with every passing second. "anything. I will do anything." He said. The stars nodded to him, "very well. Each night, you will die for her, and she will breath." You will fall as she rises. Yet, to these deal there's a part you must know."
Out of desperation and pain he looked at them helplessly, "please, what is it that I must do to save my only love?"
"You will not be able to reach her. But out of the abundance of your heart once in every six hundred and thirty-three days where you will be able to reach her again, but only for a moment," the stars answered him.
The sun looked down at his dying love as he felt her last breath escape her body he replied hastenly, "I accept your deal as long as she gets to live".
At that moment, without him being able to plant a last kiss on the head of his love, he felt a force like gravity pulling them apart, the earth separating them, the price he had to pay for her to live. She rotated around the earth, but never close enough for him to reach. Still he kept his deal, counting down on everyday to the short moment he'd get to hold his love again, all he had to do was die each day in order for her to live. And once, every year, they would meet, share a kiss and be parted again for another long, long time.