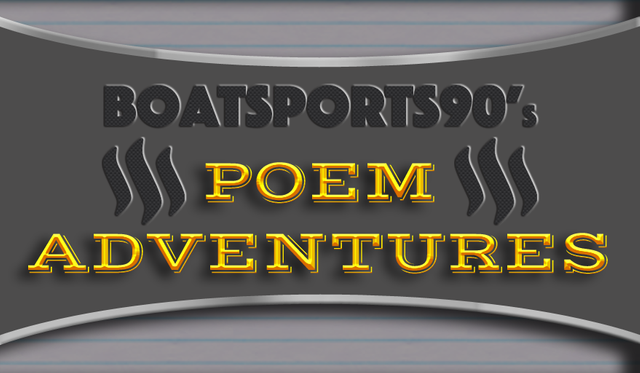 One thing always comes to mind when the weather starts to get warmer: the lake. More specifically, being able to take out the Jet Ski. This poem is dedicated to @z8teyb289qav9z. I barely know him, but the first time we spoke on here was when he was looking for any other PWC owners, so naturally I was hooked. Hopefully he will have some good news and pictures of his new toy soon!


Jet Ski

The weather sucks but the warmth is near
Only a little more til the sun appears
People get excited for the beach and heat
But there's one thing that can't be beat
All I need is my swift Jet Ski
It's hard to forget such a beauty
She's been cooped up all winter long
Time to let loose and let her play her song
The deep engine roar with bubbles in the back
The water and the wind is my soundtrack
Give the throttle a little squeeze
Let her warm up into the breeze
The end of the cove is close enough
Time to show off all of our stuff
Crack down on the throttle, time to flee
We're going 0 to 70
The engine is no longer calm and slow
But roaring with anger and sweet turbo
The crisp wind dries out my eyes
I don't care, I'm mesmerized
A big wake available if I dare
Of course I have to get huge air
Turn hard left and spin out
That's what I'm talking about
This day has been totally kick-ass
Unfortunately we're almost out of gas







There you have it. As I was writing this I realized I could probably do a poem three times as long, so don't be surprised if I do another that's more specific. For now, I thought this was a good start.
I am still open to more suggestions. Give me a topic and I'll do my damnedest to write a poem for you. It can literally be about anything - happy, sad, funny, depressing, whatevs. If you want a personal poem or something specific, please be sure to give me enough information or anything that you would want included. Hopefully this will catch some speed and a lot of people will want their very own personalized poem. If my poem meets your standards, then all I ask for is a resteem to spread the joy. Thanks for reading and let's hear some ideas!

Check out some of my other recent poem adventures!
Pour Another
Snow Drivers
Wine
Steem Poker League
Grow Pro Junior
Sports Gambling