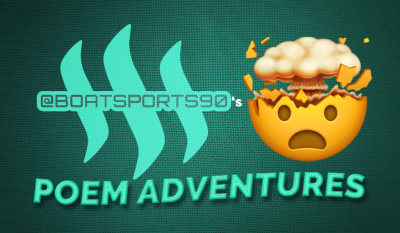 @grow-pro
has recently done a lot of work for me to help spice up my profile. He created my Poem Adventures cover above, my icons/gifs at the end of my posts, my cover photo, and even my new page breaks. I could not be happier with any of it, so I decided to write a little poem for him as an extra way to show my appreciation. We were talking about his kids one day and this is what I came up with.
Grow Pro Junior

I go by Grow Pro and I like design
Check out my profile, those are all mine
Pick out an icon or maybe a gif
I'll do my best to get to you swift
My kids come first and that's a full job
I rarely go all day without hearing a sob
They've managed to break 3 of my iPads
I should've known better, I can't be that mad
My iPad now was saved by duct tape
Nothing expensive can ever escape
My iMac was certainly not cheap
Branson didn't care, he didn't even weep
Having a smartphone is just plain whack
Give me my damn flip phone back
I can't get attached to anything nice
I guess the basic life will have to suffice
But it's the best feeling being daddy day care
I'll get to your design when I have time to spare


We are expecting our first child in May, so in a few years I expect this poem to be very relevant to my life as well. Hopefully you enjoyed it and got a laugh! I am still open to more suggestions. Give me a topic and I'll do my damnedest to write a poem for you. It can literally be about anything - happy, sad, funny, depressing, whatevs. If you want a personal poem or something specific, please be sure to give me enough information or anything that you would want included. Hopefully this will catch some speed and a lot of people will want their very own personalized poem. If my poem meets your standards, then all I ask for is a resteem to spread the joy. Thanks for reading and let's hear some ideas!

Check out some of my other recent poem adventures!
Sports Gambling
Recycling
Pipe Sesh