It's time to chat with some
of your fellow Steemians...
This time we chat with two Witnesses!

We have two Steemians to share with you this week on the show!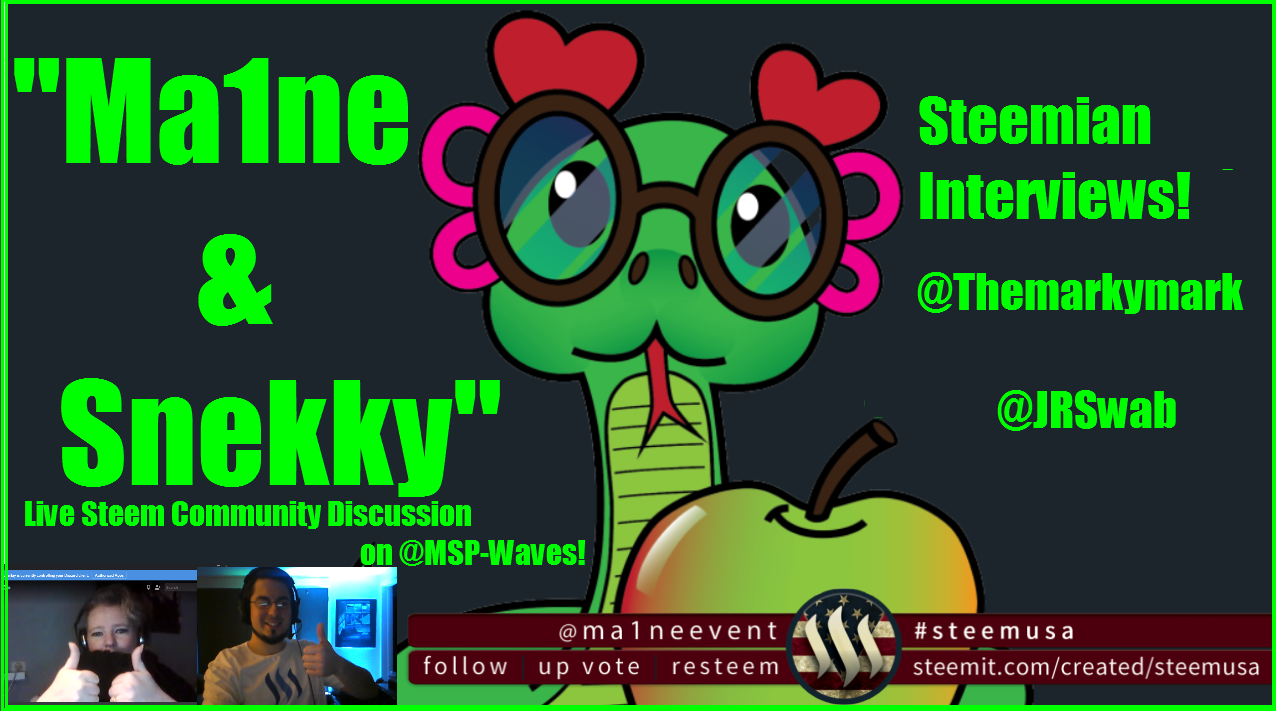 lil snekky drawn by @Zneeke


Welcome back to "Ma1ne & Snekky"!


This week, @Ma1neEvent and @PoeticSnake welcomed two different Steem Witnesses on to the show! We got to know them better, learned about their Steem journey, their projects, and much more! Join us for a two hour voice chat with your fellow Steemians!



Tune in the "Ma1ne & Snekky"
LIVE
on MSPWaves.com
Wednesdays
10pm - Midnight UTC
This Week's Guests:
@TheMarkyMark
@JRSwab



First up we were joined by @TheMarkyMark! @TheMarkyMark Shared with us some of his experiences since joining the Steem blockchain, His @Dlive live streams, his bid bot service @buildawhale, his curation blacklist, and his Steem Witness. We talked a lot about content quality, curation, and much more related to the Steem community. Thank you for joining us on the show again @TheMarkyMark, always a pleasure talking with you! Listen to our full chat in the video linked below.



Our next guest is also a very busy Steem Witness, @JRSwab! Joining us from the USA, @JRSwab shared with us his journey since joining the Steem blockchain. He is an active curator for @MSP-Curation, focusing on the technology and science related content. He also is working on a project that he called Nebulus, which helps with storing files online to help people not lose content that is posted on certain sites. You can learn more about it in This post. We talked a lot about things like curation, community, and more. We appreciate you taking the time join us on the show @JRSwab! Check out our full chat with him in the audio linked below:


FULL SHOW AUDIO CAN BE HEARD HERE:

We appreciate our guests for joining us,
and for everyone who interacted
with us in the live audience chat!

Vote for Steem Witnesses HERE


Join us next week for another new episode of "Ma1ne & Snekky"!



Disclaimer: The statements made on this show are only our opinions. We are not experts of anything, and this is not advice of any kind. Always do your own research. This show is for entertainment purposes only.



MSPWaves and its owners take no responsibility for the opinions or statements made by the talk show host or their guests. Statements or show topics are not necessarily the beliefs of MSP Waves. The material on this show is provided for educational, informational, and entertainment purposes only.



Check out the entire schedule of live shows hosted by Steemians
on MSPWaves.com



If you would like to join us on the show as a guest,
please contact @Ma1neEvent or @PoeticSnake
on Discord or Steem.chat



Would you like to support us though SP Delegation?
---