This week we welcome
a new Steemian, @SugarFix,
as well as Steem Witnesses
@Aggroed & @Swelker101 (@SteemCreative)
as guests on
"Ma1ne & Snekky"!

Greetings Steem Community!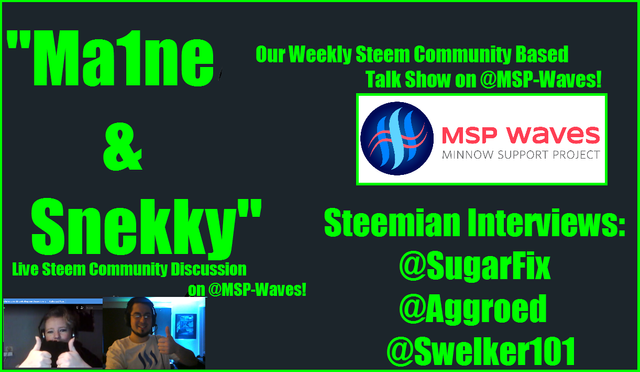 "Ma1ne & Snekky" Featuring Live Steemian
Discussions and Interviews every week
on @MSP-Waves.


We have a new Steemian to share with you this week,
as well as some long time Steemians who are also Witnesses!


@Ma1neEvent and @PoeticSnake are back on the airwaves to bring you a new show! We love chatting with the Steem Community every week on @MSP-Waves. This time around, we were joined by @Sugarfix, who is still pretty new to the platform. We were then joined by @Aggroed and @Swelker101 to discuss a variety of post hardfork topics.


You can hear the full show in the recording linked below.



"Ma1ne & Snekky"
Airs LIVE
on MSPWaves.com
Wednesday Nights
10pm - Midnight UTC
This Week's Guests:
@SugarFix
@Aggroed
@Swelker101



Our first guest this week is a relativity new Steemian. Please say hello to @SugarFix! He shared with us that he is currently living in the UK, but has actually lived in many places around the world! We talked about how he found his way to Steem, his thoughts on being a new user during the hardfork transistion, his history as an artist, and much more. Check out our full discussion in the audio below. Please join us in welcoming @Sugarfix to the Steem Community! Thanks for joining us on the show!



We were then joined by two Steem Witnesses, @Aggroed and @Swelker101. Both are prominent members of the @MinnowSupport Project, and we talked about how resources credits have changed the way the blockchain is used post-hardfork. We talked about things like possible future Resource Credit delegations, ways we can help to inform new users about the importance of having SP to transact, ways we can help promote the Steem Blockchain, and more. We also talked about thier individual projects, such as @Swelker101 changing his witness name to @SteemCreative in collaboration with @Isaria, and @Aggroed's @SteemMonsters project. We appreciate you guys taking the time to join us on the show! Listen to the full chat in the audio below:


FULL SHOW RECORDING CAN BE HEARD HERE:

Thank you for listening to the show,
and chatting with us in the live audience!

Vote for Steem Witnesses HERE


Leave us some feedback and comments in the replies below...
We always enjoy reading them!



You can Support Us though SP Delegation!
---
Disclaimer: The statements made on this show are only our opinions. We are not experts of anything, and this is not advice of any kind. Always do your own research. This show is for entertainment purposes only.


MSPWaves and its owners take no responsibility for the opinions or statements made by the talk show host or their guests. Statements or show topics are not necessarily the beliefs of MSP Waves. The material on this show is provided for educational, informational, and entertainment purposes only.


Check out the entire schedule of live shows hosted by Steemians
on MSPWaves.com
@MSP-Waves has also released SteeMix... all Steemian musicians!
Read more about Steemix here


If you would like to join us on the show as a guest,
please contact @Ma1neEvent or @PoeticSnake
on Discord or Steem.chat