PLANKTON TOKEN Now Has a Curation Trail in SteemAuto
Hi, Plankton holders and Steemheads!
Plankton Token now has a curation trail in SteemAuto. If you are not familiar with Steemauto yet, it's a DApp made by an awesome guy @mahdiyari, it let's you automatically vote or curate your friend's posts, claim rewards in your wallet and schedule your posts. One of its feature is to make a curation trail. Our official account, @plankton.token just made one. So, what happens is when you follow @plankton.token curation trail in Steemauto, you automatically vote all the posts voted by @plankton.token.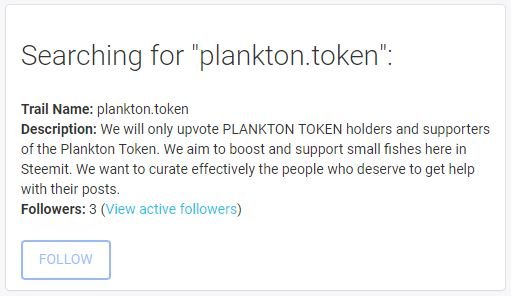 It would help the Plankton holders if there would be more people trailing this curation trail. Currently, it is voting all Plankton holders, about 40 people, almost 50. The @plankton.token account stops voting at 80% voting power so we do not exhaust all the VP. Therefore, following this trail won't really eat up all your voting powers, specially if you set it at a low voting rate. If you are a minnow or bigger, you will be getting good curation because most of the people voted by the trail are plankton.
My @mermaidvampire account follows the @plankton.token curation trail and it votes everyone it votes at 10% fixed. So, expect when you get a vote from @plankton.token, you should have a vote from @mermaidvampire, if my mermaidvampire account does not have low VP.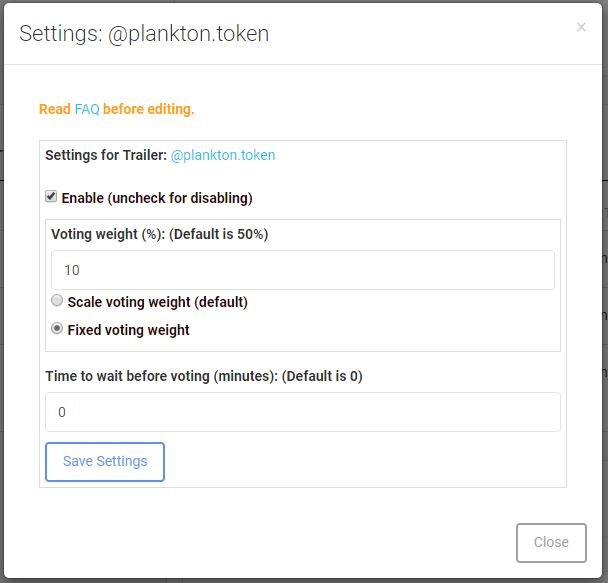 If you want to support the Plankton Holders, and you have some voting power to spare for them, please follow this curation trail. 10% fixed vote will be a huge help for every Plankton. Here in the Plankton Token project, we will do our best to make sure the people we support are worthy of the votes you will share. The @plankton.token account votes all holders one vote each day.
For Plankton Holders, it would help your fellow PLKN holders if you follow this trail, however, we do not ask this as a mandatory task from you all. We understand some of you have low SP and can only vote as few as 10 people each day. But we are hoping that you grow your accounts and one day be part of this curation trail and support your fellow small fry.
Tagging PLKN holders for their attention:
@anarchy999
@annelaurie
@atongis
@benedict08
@blacklux
@bookoons
@cadawg
@cavampire
@chrismadcboy2016
@chrismadcboy2016
@cindyhartz
@cindyhartz
@cryptictruth
@davidchen
@dera123
@dominion01
@dominion01
@ecoinstant
@ecoinstar
@filosof103
@florino
@freddbrito
@gerber
@immanuel94
@jacuzzi
@jurich60
@krassi
@mcoinz79
@meetmysuperego
@mers
@minloulou
@n1hal
@nureza
@olivia08
@otom
@russia-btc
@sgbonus
@steemedseo
@steemstreems
@stefansv
@sunit
@surpassinggoogle
@tggr
@travelsbyblue
@willsaldeno
@zephalexia
Help us spread the word about Steemit and the Plankton Token.
We just setup our TWITTER ACCOUNT, https://twitter.com/PlanktonToken. Please give us a follow, we'd appreciate it. We may have contests and games in Twitter in the future, just a heads up.
The Plankton Token is building its community of Planktons in Discord and we want to introduce a fun way to gather all of us there. We are calling all Plankton holders to join us in the Official Plankton Token Discord Server and enjoy daily rains of different cryptocurrencies and other perks like games, raffles and
PS: Hold a minimum of 20 PLKN tokens and be a VIP (Very Important Plankton) and discover more perks!
Why do we exist? Read our first post here: PLANKTON TOKEN (PLKN) -- Who We Are and Why We Are Here?
Bring your friends to our Discord Server by sending them your invite link and win!
At the end of the month, we will have token prizes for the people who helped refer people to join our server. Prizes will be given to the 1st, 2nd and 3rd who have the most invites.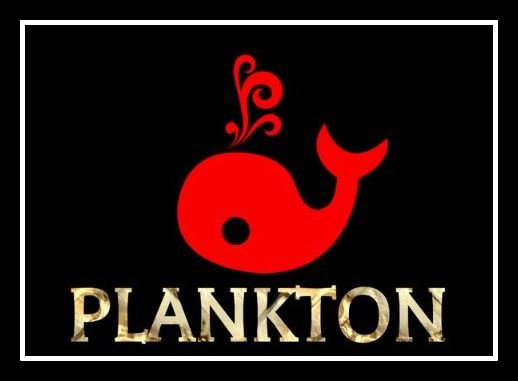 HOLD Plankton Tokens (PLKN) and get the boost you deserve! Hope for Planktons, hope for Steemit! Join us now!