3rd WEEKLY Plankton Token's Game Night in Discord Tonight - WIN STEEM AND PLANKTON TOKEN PRIZES!
Hi, Plankton Hodlrs and Steemheads!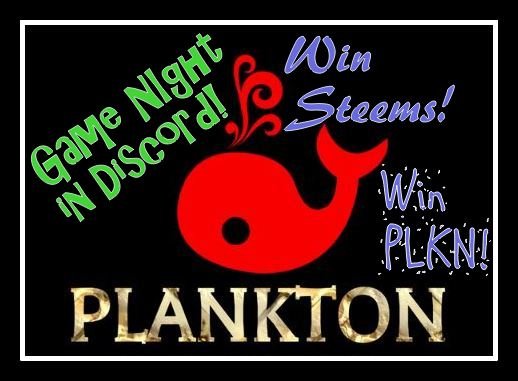 We are having the game night again in Discord tonight, 9PM (GMT +8) which is about 7 hours from now. Join us to win some Steems and Plankton Tokens. Tonight's game is a logo guessing game, we will let you guess the logos of the top 100 coins in CMC (Coinmarketcap).
If you are not in our Discord yet, you are missing a lot, we have perks going on there like coin Airdrops, tips, raffles, lotto and other games. Join us here: https://discord.gg/D7t72fM
Follow this account, @plankton.token for more Plankton Token updates.
Inviting all PLKN Holders to join us:
@anarchy999
@annelaurie
@atongis
@benedict08
@blacklux
@bookoons
@cadawg
@cavampire
@chrismadcboy2016
@chrismadcboy2016
@cindyhartz
@cindyhartz
@cryptictruth
@davidchen
@dera123
@dominion01
@dominion01
@ecoinstant
@ecoinstar
@filosof103
@florino
@freddbrito
@gerber
@immanuel94
@jacuzzi
@jurich60
@krassi
@mcoinz79
@meetmysuperego
@mers
@minloulou
@n1hal
@nureza
@olivia08
@otom
@profquax
@russia-btc
@sgbonus
@steemedseo
@steemstreems
@stefansv
@sunit
@surpassinggoogle
@tggr
@travelsbyblue
@willsaldeno
@zephalexia
HOPE FOR PLANKTON, HOPE FOR STEEMIT!


This footer GIF was made by @gerber