The magic of the chaos – the typical Mexican market   
One experience that makes any visit to Mexico worthwhile is going to a market. Mexico City offers many options in this regard, the biggest one being the Mercado de Merced, located right in the center. It is just like one would expect: a cornucopia of various fruits, veggies, animal pieces, as well as other products: anything from sneakers to kitchen utensils. Vendors are yelling over each other, appraising their goods, others are pushing handcarts loaded with piles of stuff through the already crowded passages. The air is filled with the smell of spices, fish, incents, and music from at least three different loudspeakers. Sure enough, it all provides an exotic novelty to anyone not used to it, but honestly, the noise, the crowd, and the general stress that is part and parcel of the market can wear out the most enthusiastic visitor quite quickly.   
Another kind of market   
Good to know, there are other types of markets, like the one I participate in, the Mercado Alternativo de Tlalpan or MAT. It is the complete opposite of a standard market: calm, relaxed, friendly, slow-paced. It is ideal for a stroll on a lazy weekend morning, where you can try many healthy treats, discuss home-made cosmetics with the producers, and listen to live (usually acoustic) music while enjoying a delicious breakfast.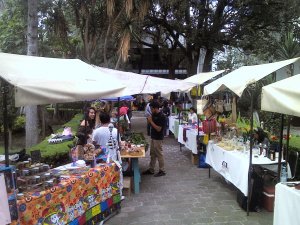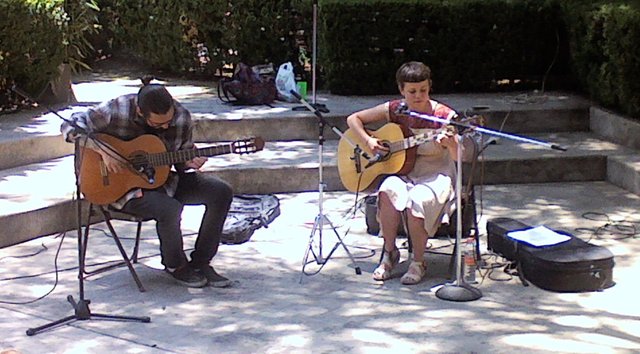 Okay, I admit, it is a bit similar to the typical organic / farmers' / producers' markets you find in hip places of the first world. At the same time, however, one is bound to notice a close familiarity and trust among the members. The prices are naturally a bit higher, but the products are of higher quality, which the vendors take a great pride in. Not everything is certified organic, but they are either naturally grown, hand-made, come from cooperatives, or are in some way alternative. Hence the name of the market.   
Becoming a vendor   
I joined the MAT about three years ago, when a friend asked me if I wanted to sell some of my probiotic drinks. For me this was just at the perfect time as my drinks were starting to grow over my head. I had more kombucha than I could drink, my breakfasts had usually some form of kefir in it, and I didn't even have the chance to try all my ideas for tibicos flavors. So together with a bunch of hopeful producers I set up stand and started selling healthy beverages to interested customers. It went quite well, and by the end of the day I got home with a wad of cash I hadn't even expected to make. It felt nice, but this was just the beginning.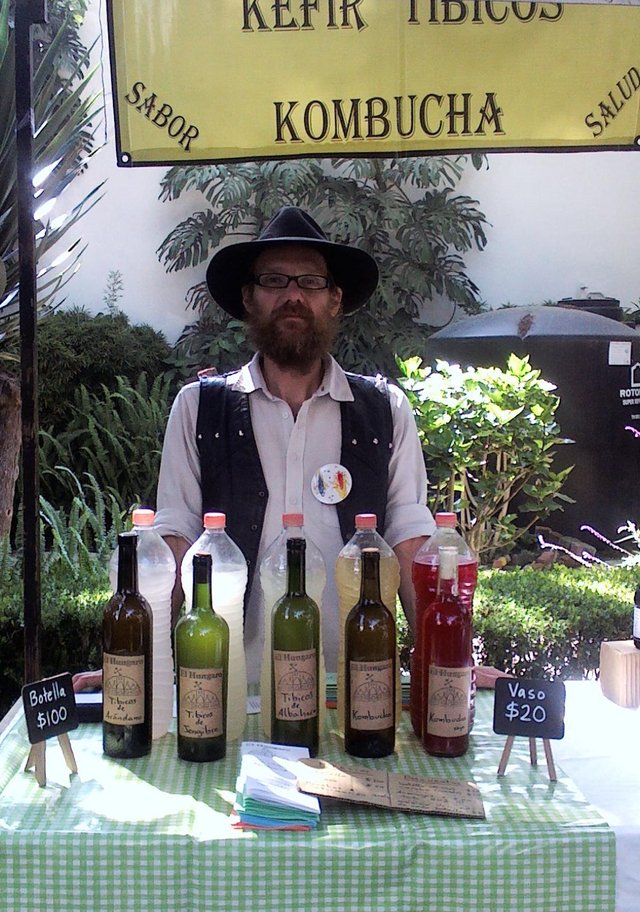 Until then I had been a bit ambivalent about farmers' markets. I've always enjoyed their relaxed atmosphere and delicious foods, but in the end I couldn't help feeling like I'd spent an arm and a leg on an apple and an egg. This all changed once I started selling there. It was nice to spend the money I had just earned on some of the goods the others were selling, whether it was home-baked pastries or some refreshing craft beer that helped me with my sales pitch. Eventually I started buying fruit and veggies, eggs and wooden toothbrushes, and as much as I could of the weekly groceries to take home. So in a way, I was turning milk, tea, and fruity sugar-water into healthy drinks, and at the market into avocados, coffee, and cheese. It was a great feeling, in which the solidarity of supporting my local market was just a byproduct of getting good deals on great goods.   
Combining and refining products   
The connections with other vendors opened up new opportunities for refining products. The most obvious example is using the fruit from other producers for my tibicos, which I started doing almost right away. Pretty soon other possibilities presented themselves. I teamed up with the honey vendor to make mead. It was her who first asked me about it, as some of the raw honey she was selling had started to crystallize, and she wanted to use it somehow. Making mead was the logical conclusion, and we came up with a neat deal: She gives me 3 liters (0.8 gallons) of honey, which I would turn into 15 liters (4 gallons) of light, sparkly mead over the next 6-8 weeks. Then we'd split the mead 50-50 and bottle and sell it as we like. What a great way to cooperate! She doesn't have to do a thing, and her honey is turned into a delicious sweet-sour drink that customers love. As for me, I could honestly say, the production cost of my mead is just about zero. But what's possible with mead is surely possible with other things too.   
The Spirulina growing on my roof is literally begging to be combined into something tasty. Pesto is one of the simpler options, whose other key ingredients are the herbs. Now I do have some basil and parsley growing on my roof as well, which I like to cut and turn into pesto for myself. However, it is nowhere enough for selling it commercially. How good it is to have an herb producer in the next stand, who often ends up with more than what she can sell. At first, I traded a big bag of humus from my worm-box for a big bag of her basil. Then, using her surplus as raw material for my refined goods, a bunch of that basil came back to her in form of a jar of delicious spirulina-pesto, while I still had more of it to sell or trade.   
Following the Principles of Permaculture   
It is these little pieces of interaction that makes the entire market endeavor such a success, and urban homesteading so much fun. But thinking about it, they are a necessary step for any producer, urban or rural. Even those who aim to be "only" self-sustaining are bound to reach the point of overproduction. So, what to do with the surplus? According to Permaculture, we should share it fairly, that is, direct it back into earth-care and people-care, essentially creating abundance for all. And what better way than using them for creating connections in the community, such as at the Mercado Alternativo de Tlalpan?  
Come, check it out!
For anyone interested in visiting, we are located two blocks south of the center square of Tlalpan, at the Casa de Cultura de la Universidad Autónoma del Estado de México, Triunfo de la Libertad #9 bis, Colonia Centro, Tlalpan, Ciudad de México on Saturdays, 10:00 a.m. to 4:00 p.m. and at the Casa de Cultura del Bosque de Tlalpan, Camino a Santa Teresa esquina con Av. Zacatepetl, Tlalpan, Bosques del Pedregal, 14010 Ciudad de México on Sundays, 9:00 a.m. to 3:00 p.m.