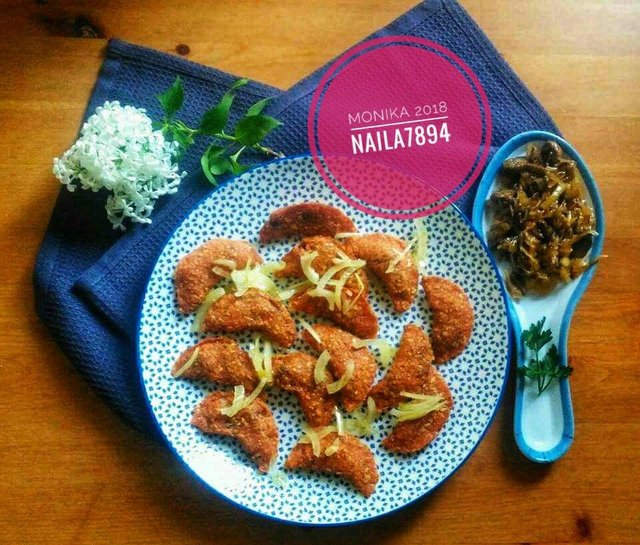 Jak zaczynałam swoją przygodę z witarianizmem to udało mi się stworzyć fajny przepis na pierogi - dostały one wowczas dużo pozytywnych opini od osób, które skorzystały z mojego przepisu - zachecam was do sprobowania - można jeść bez wyrzutów sumienia. Smacznie, zdrowo i surowo
Farsz:
1.5-2 szklanki pieczarek
1/2 cebuli
1 szklanaka kapusty kiszonej wycienietej i przepłukanej (zeby nie byla kwaśna)
6 łyzek oliwy z oliwek
2 łyzki sosu sojowego
sok z cytryny plus sok z agawy - nalezy zrownoważyć smaki słodko kwaśne
Jak ktos lubi kmin to mozna dodac 1/2 lyzeczki
Pieczarki,cebule i kapuste drobno kroimy. W misce mieszamy z pozostalymi skladnikami i odstawiamy (najlepiej robic to przed wstawieniem ciasta do szuszenia)
Ciasto:
1 szklanka marchewki
1 szklanka pomidorow
1/2 szklanki cebuli bialej
2 łyzki siemienia
2 łyzki babki płesznik
sol do smaku
Warzywa należy zblendowac na gładka mase w blenderze a następnie dodać siemię i babke - ponownie zblendować. Blachę piekrnika wyłożyc papierem do pieczenia i rozsmarować równowmiernie powstałą masę. Suszyć w piekarniku z uchylonymi drzwiczkami ( ja wkladam drewnianą łyżkę między dzwiczki) na 46-48 C przec z 3h. Po tym czasie wyjac mase i wycinac szklanka kola na pierogi. Farsz nakladac od spodu tam gdzie masa nadal jest wilogtna i delikatnie sklejac.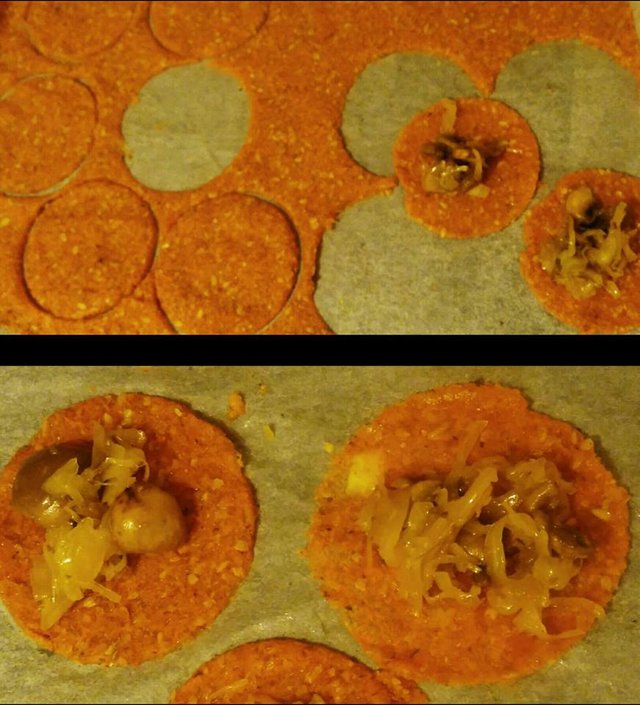 Po sklejeniu wlozyc do suszenia na kolejna godzine max 2 ( nie suszymy pierogow za bardzo - maja pozostac wciaz miekkie) Podajemy z cieniutko pokrojona cebulka namoczona w oliwie z oliwek i odrobina soli. Smacznego :)
PS. Ja swoje pierogi zjadlam na 2 dzien - zostawial je na noc na talerzu poza lodowka zeby jeszcze odrobine przeschly.
pozostale skrawki po wycieciu pierogow mozna zjesc jak lazanki z kapusta :)