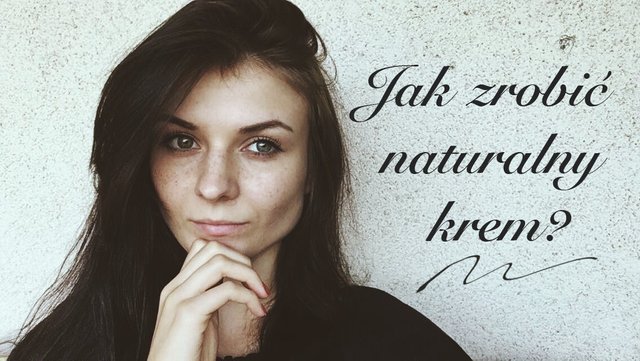 Hej!
Jak wiadomo, kosmetyki które można kupić w drogeriach zawierają często substancje drażniące i niebezpieczne dla zdrowia. Z tego właśnie powodu przychodzę do Was z instrukcją zrobienia własnego, naturalnego kremu. Nie dość, że Wasza skóra zyska na używaniu takiego specyfiku to i pozwoli Wam to oszczędzić kilka złotówek. Krem, który zrobiłam na potrzeby tego postu kosztował 9zł za słoik, natomiast za komercyjny krem zapłacimy średnio 25-30zł (opakowanie 30-50ml). Dodatkowo jest to świetna zabawa, a zarazem (dla niektórych) nauka czegoś nowego :) Proces wyrobu tego kosmetyku jest banalnie prosty, więc naprawdę zachęcam do spróbowania jego wykonania! :)
Potrzebne składniki:
15g wosku pszczelego (0,8zł)
40ml hydrolatu lub naparu z ziół (3,2zł)
50g oleju kokosowego (3zł)
10g oleju awokado (2zł)
1/2 łyżeczki gliceryny (0,2zł)
Olejki eteryczne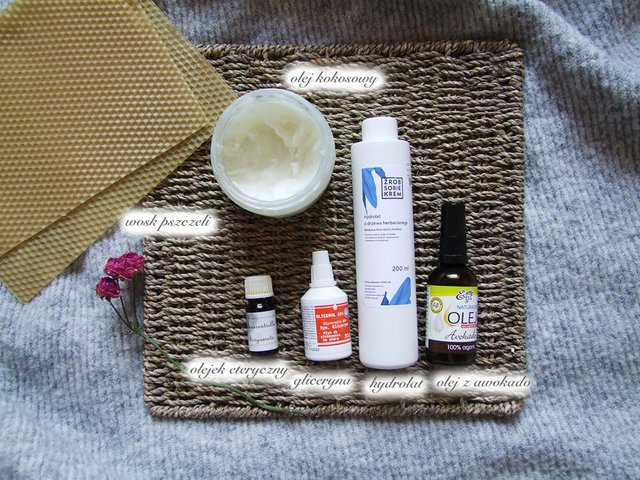 Sprzęt
Blender
Szklana misa
Garnek z wodą (do kąpieli wodnej)
Szklane słoiczki (wcześniej je myjemy i parzymy we wrzątku)
Wykonanie:
Krok 1 "Faza wodna"
Pierwszym krokiem jest połączenie gliceryny z wodą z hydrolatem (jeżeli nie posiadasz hydrolatu możesz zrobić napar 40ml np. z nagietka)
Krok 2 "Faza olejowa"
Umieszczamy wosk pszczeli w szklanym naczyniu i rozpuszczamy go w kąpieli wodnej (tz. wkładamy szklane naczynie do garnka z wodą, które znajduje się na palniku) Gdy wosk będzie płynny to dolewamy do niego olej kokosowy i olej z awokado.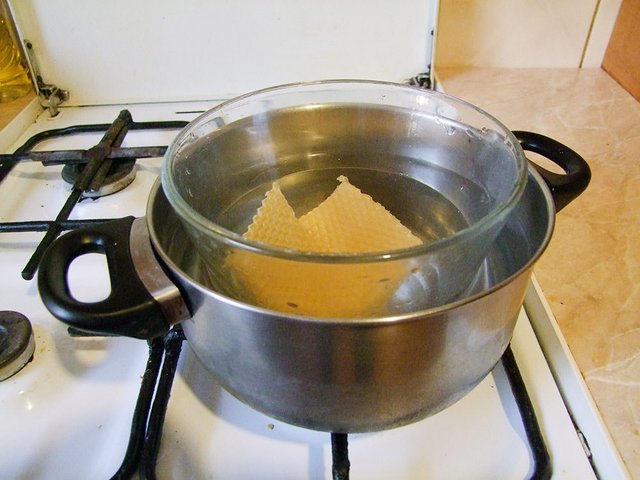 Krok 3
Schładzamy mieszaninę olejów z woskiem, tak by osiągnęły temperaturę taką samą, jak temperatura wody z gliceryną (podobna temperatura jest bardzo ważna, w innym przypadku krem będzie się rozwarstwiać). By przyśpieszyć ten proces warto jest włożyć szklane naczynie z mieszaniną do chłodnej wody.
Krok 4
Wlewamy wodę z gliceryną małymi partiami do fazy olejowej i zaczynamy blendować mieszaninę na najwyższych obrotach. Kolejne partie fazy wodnej dolewamy, wtedy gdy ta poprzednia wniknęła do fazy olejowej.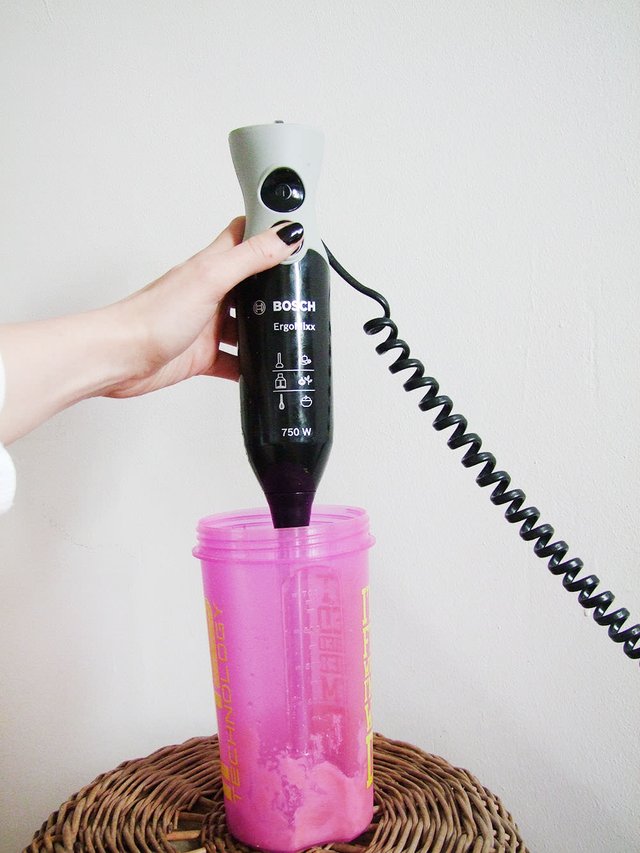 Krok 5
W momencie, gdy krem zacznie się robić puszysty to należy dodać dodatkowe składniki. W moim przypadku są to tylko olejki aromatyczne (kilka kropel), ale możecie śmiało kombinować z czymś innym (np. kwasami, witaminami, mleczkiem pszczelim). Ostatni raz blendujemy, by dodatki zmieszały się z kremem.
Krok 6
Krem przekładamy do sterylnych słoiczków i przechowujemy w chłodnym, zaciemnionym miejscu. Termin ważności to około 2 tygodnie przy prawidłowym przechowywaniu.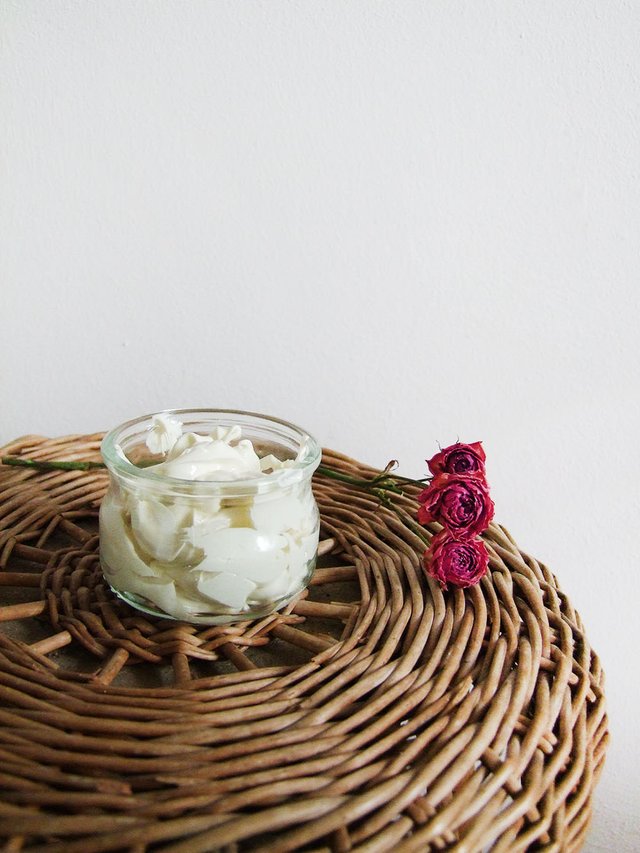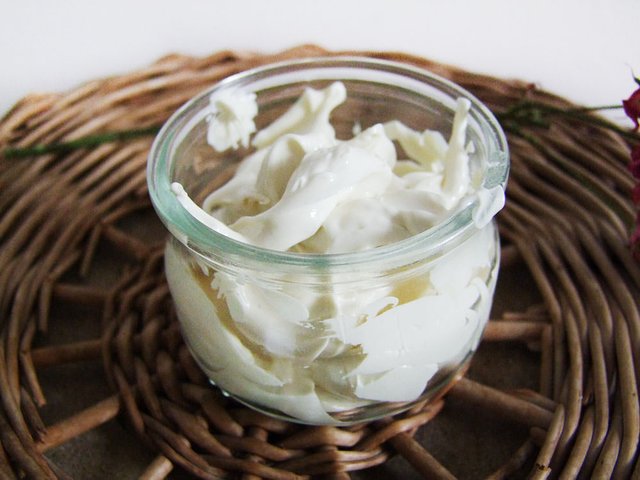 Dziękuję za uwagę :) I do następnego