Gratulacje dla @wadera, której post zwyciężył w zeszłotygodniowym głosowaniu na najlepszy post tagu #pl-travelfeed, ale to już historia, w tym tygodniu równie dobre posty zostały opublikowane i czekają na Waszą ocenę. Bardzo cieszę się, że utrzymała się wysoka frekwencja z poprzedniego tygodnia, a także poprawiła się zdecydowanie jakość publikowanych postów, niemal wszystkie posty (poza jednym wyjątkiem) spełniamy wygórowane zasady tagu i zostały zgłoszone do kuracji przez triala @travelfeed.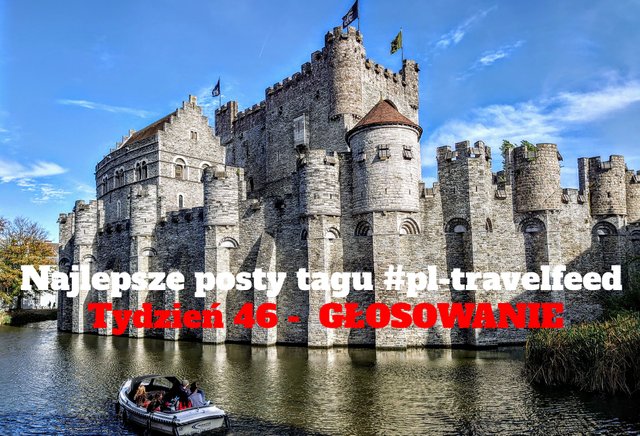 W tym tygodniu głosujemy na poniższe posty:
Głosowanie na najlepszy post tygodnia będzie się odbywało według poniższych zasadach:
Głosowanie odbywa się według zasady zasady 3-2-1, czyli najlepszy post 3 pkt, drugi post - 2 pkt, trzeci post - 1 pkt;
Autor zgłoszonego tekstu za udział w głosowaniu otrzyma dodatkowe 3 pkt;
Głosować będzie można do soboty 2 listopada br. do godziny 18;
Wygrywa post, który otrzyma największą liczbą punktów;
W sobotę wieczorem ukaże się post w którym ogłoszony zostanie "Podróżniczy post tygodnia" oraz dwa wyróżnione posty;
Pula nagród w konkursie to obecnie 10 STEEM.
Podróżniczy post tygodnia zostanie wynagrodzony 6 STEEM, nagrody pocieszenia w postaci 2 STEEM dla każdego z dwóch postów wyróżnionych.
Proszę głosować w komentarzach pod postem.
Przypominam, że posty w tagu #pl-travelfeed powinny spełniać pewne zasady, podstawowa zasada to treść posta minimum 250 słów. Posty, które nie spełniają tej zasady są wspierane i promowane przez @pl-travelfeed, ale nie mogę ich zgłaszać do kuracji @travelfeed, więc ich autorzy nie korzystają w pełni z dobrodziejstwa tagu #pl-travelfeed. A jest o co walczyć, bo ostatnio społeczność podróżnicza dorobiła się znaczącej delegacji, co przekłada się realnie na wartość upvotu od triala @travelfeed o czy mogli przekonać się również polscy twórcy najlepszych postów w ostatnich tygodniach. Bardzo dobrze, że coraz mniej głosów od @travelfeed jest marnowane.
Zapraszam do śledzenia profilu TravelFeed Polska na Facebooku, gdzie również pojawiają się wszystkie posty tagu #pl-travelfeed. Możecie również znaleźć TravelFeed Polska na Twitterze.
Wszystkich, którzy jeszcze nie czytali ciekawych postów publikowanych z tagiem zapraszam do lektury. Mamy nadzieję, że spodobały Wam się wybrane posty. Koniecznie odwiedźcie profile autorów, by zobaczyć ich inne treści!
Obserwuj @pl-travelfeed
Dołącz do trailu na Steemauto lub deleguj Steem Power: Sprawdź tutorial!
Używaj tagu #pl-travelfeed w swoich postach, nie zapominając o zapoznaniu się z zasadami tagu.
Czym jest TravelFeed?
TravelFeed to społeczność zorganizowana wokół tagu #travelfeed, tworzona przez podróżników, dla podróżników. Jeżeli na Steemie piszesz o podróżach lub lubisz o nich czytać, społeczność TravelFeed jest dla stworzona właśnie Ciebie! Celem TravelFeed jest wspieranie twórców wkładających wysiłek w jakość swoich relacji, promowanie wysokiej jakości treści, a także integrowanie ze sobą wędrujących członków Steem. Społeczność ta zrodziła się dzięki inicjatywie @jpphotography, @for91days i @rimicane, natomiast polskie konto @pl-travelfeed prowadzą @lesiopm i @rozku.
Wszystkie informacje na temat projektu TravelFeed znajdziesz TUTAJ.
---
Przedstawiamy najlepszą podróżniczą treść opublikowaną na tagu
#pl-travelfeed
w tym tygodniu! Autor zostanie wynagrodzony połową płynnych środków, które zbierze niniejszy post. Dodatkowo, prezentujemy dwa kolejne wpisy, które zasługują na wyróżnienie. Gratulujemy zwycięzcy i zachęcamy do używania
#pl-travelfeed
wszystkich, którzy dzielą się swoimi podróżniczymi przeżyciami na Steemie!
Serwer Steemit Travellers na Discord posiada obecnie niemal 700 członków i jest miejscem gdzie można spotkać i poczatować z podróżnikami z całego świata. To właśnie tam narodził się pomysł na TravelFeed. Z chęcią odpowiemy Wam na wszelkie nurtujące was pytania dotyczące TravelFeed.

---
Czy twój post opisuje konkretne miejsce? Zaznacz to na mapie świata Steemit Worldmap
Odwiedź stronę Steemit Worldmap, wyszukaj lokalizację swojego postu, kliknij na przycisk "Code" na dole strony, a następnie kliknij na mapie konkretne miejsce, które opisujesz w poście. Wyświetlany jest poniżej fragment kodu zostanie skopiowany po kliknięciu. Teraz jedyne, co musisz zrobić, to wstawić ten kod do swojego postu, co sprawi, że wyświetli się on na mapie!