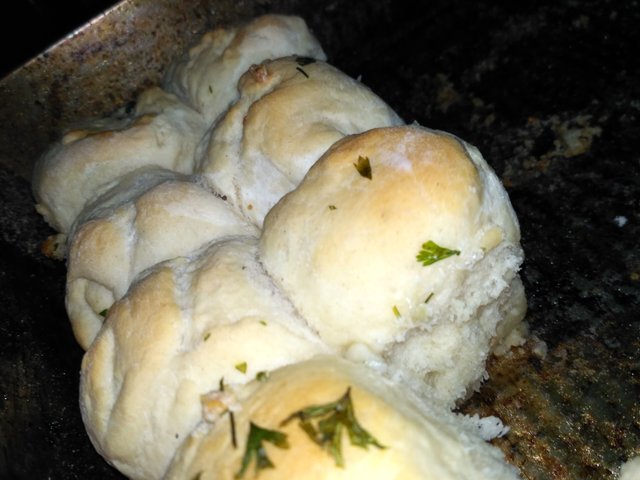 Cześć! Dzisiaj chciałabym przekazać wam przepis na pyszne i proste bułeczki, które smakują dobrze na ciepło i na zimno. Nawet gdy zrobisz je na kolację, a na śniadanie zjesz resztę będą tak samo dobre jak wieczorem.
Przepis na bułeczki:
• ½ szklanki ciepłej wody
• 3 łyżeczki sypkich drożdży
• 2 łyżeczki cukru
• 3 szklanki mąki pszennej
• ½ szklanki mleka
Przepis na sos na bułeczki:
• 2 posiekane ząbki czosnku
• 1 łyżka posiekanej natki pietruszki
• szczypta soli i pieprzu
Sposób wykonania:
Wlej ciepłą wodę do miski i wsyp droższe. Wymieszaj, aż do rozpuszczenia drożdży i wsyp pozostałe składniki, które wymieniłam w przepisie na bułeczki. Gdy już to zrobisz odstaw ciasto i przykryj ścierką i zacznij robić sos na bułeczki. Tutaj wystarczy połączyć wszystkie składniki o których wspomniałam w przepisie na sos. Następnym punktem jest foremka, potrzebna jest do tego margaryna i bułka tarta. Wystarczy wziąć kawałek margaryny i obsmarować foremkę, następnie posypać bułką tartą z każdej strony. Gdy ciasto już wyrośnie , trzeba zrobić kulki, a następnie wsadzić do środka kawałki żółtego sera ( jeśli nie chcesz, nie musisz), i czubek bułeczki wsadzić do sosu, teraz wystarczy ułożyć bułeczkę na właściwym miejscu i piec w 180°C, 30 minut.
Smacznego!
Hey! Today I would like to give you a recipe for delicious and simple rolls, which taste good both hot and cold. Even if you make them for dinner, and you eat the rest for breakfast, they will be as good as the evening.
Recipe for rolls:
• ½ cup of warm water
• 3 teaspoons of loose yeast
• 2 teaspoons of sugar
• 3 glasses of wheat flour
• ½ glass of milk
Recipe for buns:
• 2 chopped cloves of garlic
• 1 tablespoon of chopped parsley
• a pinch of salt and pepper
The method of implementation:
Pour hot water into the bowl and pour in more expensive. Stir until the yeast is dissolved and pour the remaining ingredients that I mentioned in the recipe for buns. Once you've done it, put away the dough and cover with a dishcloth and start making the sauce for scones. Here you just have to combine all the ingredients that I mentioned in the recipe for the sauce. The next point is the mold, you need margarine and breadcrumbs. Just take a piece of margarine and coat the mold, then sprinkle with breadcrumbs on each side. When the dough has grown, you have to make balls, then put in pieces of yellow cheese (if you do not want, do not have to), and put the tops of buns in the sauce, now just place the bun in the right place and bake at 180 ° C, 30 minutes.
Bon Appetit!