A Youtube poster going by the name Titus Frost has claimed that a large stash of child porn has been found by a hacker who hacked into a password-protected area of a Washington DC pizza shop's website. The poster shows what appears to be an email exchange with a Metropolitan Police Department officer, Marcus Stevens, forwarding the evidence.
An officer Marcus Stevens is mentioned in a 2005 program for an MPD award ceremony.
Many people are frustrated at law enforcement's failure to run down all possible leads which my expose the sexual exploitation of children, as it is obliged to do. Some of the images which have been found involving the now famous code talk about "pizza" is without a doubt obscene. [WARNING OBSCENE ILLUSTRATION, INSTAGRAM TO PIZZA SHOP OWNER BEFORE REMOVED FROM INTERNET]
Frost says that after being asked by police not to divulge the findings in order to allow an investigation to proceed unhindered, he became impatient with the lack of action and posted the Youtube announcing the evidence. He says the evidence was first sent by email to Stevens on December 5, 2016.
The affair called pizzagate took an unusual turn recently when, despite protestations by the mainstream media that the entire body of evidence was "fake" and a "conspiracy theory," a tape surfaced of a man whose voice sounded much like John Podesta's, Hillary Clinton's former chief of staff, in the process of screaming at a child. The human voice is unique in that each person's voice has a distinct "fingerprint" which has been used in criminal cases to positively identify subjects (see: "Voice Fingerprinting: a Very Important Tool Against Crime.") FBI laboratories have the capability for highly sophisticated voice analysis and comparison.
For a chronological review of the evolution of #pizzagate, see: "The #Pizzagate Primer for Dummies."
Note: Titus Frost is also a Steemit author.
CLICK FOR IMAGE: Image of confirmation of receipt of evidence by DC police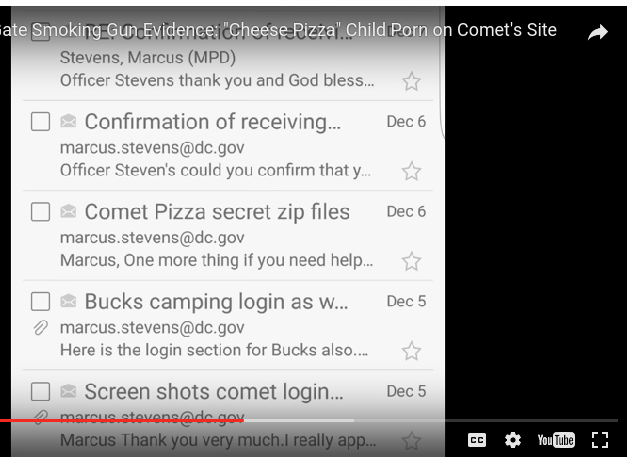 Video posted by "Titus Frost"
ALSO SEE AT STEEMIT: The #Pizzagate Primer for Dummies
Voice of man resembling John Podesta's
CLICK FOR IMAGE: An Instagram post by pizza shop owner "JimmyComet," an associate of the Podesta brothers as revealed by Wikileaks emails.