The futuristic world of the pixEOS Game Center

Get to know one of the Dapps in the EOS blockchain: pixEOS, games and art in one place.

pixEOS is a platform where games and art come together in a collaborative, colourful and dynamic project driven by the blockchain of EOS. You only need an EOS account to enter, take advantage and enjoy the benefits of this world with a futuristic interface where are several games together that may attract everyone's attention.
The main mission of the pixEOS Game Center is that you can generate income while having fun. With your EOS account you can access through Scatter from your computer and if you do it through your cell phone, you can log in through EOS wallets such as TokenPocket, Wombat and Paytomat. You don't need an initial investment to start playing.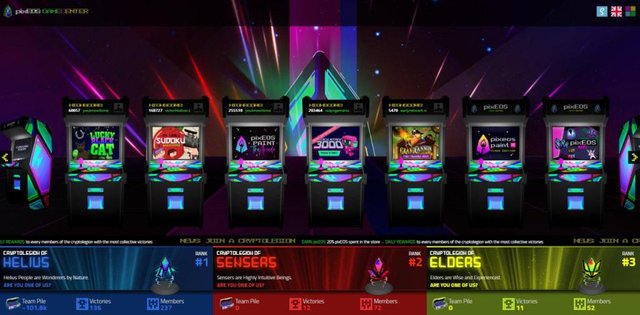 Game Center
The Game Center has 7 games, 5 of them are arcade games starting with:
Blockatrix 3000
pixEOS Paint The Arcade
Lucky Black Cat
GrandCannon
Mr Lang's Sudoku Masters.
There is also the Paint FE (Flash Edition) of pixEOS, a collaborative canvas where you can leave your pixels captured in it, besides being the site where you can make stake of the PIXEOS token.
Finally, pixEOS Reel, where you will get several slot games, here you can bet with EOS or with the PIXEOS token.

Daily PIXEOS distribution
Every day the pixEOS Game Center distributes 500,000 PIXEOS tokens among all the players who have participated.
Among the five existing arcade games, there are two ways to play and win PIXEOS. One is the Singleplayer mode, here you can go acquiring Game Points that every day at 01:00 UTC you can claim in a simple process where these Game Points will become PIXEOS tokens, there are 200,000 PIXEOS to distribute among all players who have these Game Points.
There's the multiplayer mode, which distributes 200,000 PIXEOS to all players with the most wins.
Each user has the option to choose a Cryptolegion, and each day the legion with the most victories receives an amount of 100,000 PIXEOS that are distributed among all players in the cryptolegion who have won.

It is expected to have 15 games in total on the platform in the near future, which promise us that they will be as great and fun as the ones that are already there.
For more information you can join to the pixEOS Channel in Telegram.
Join to the Spanish pixEOS Channel in Telegram.

This is the translation of @laloretoyya's article published in Criptotendencia.