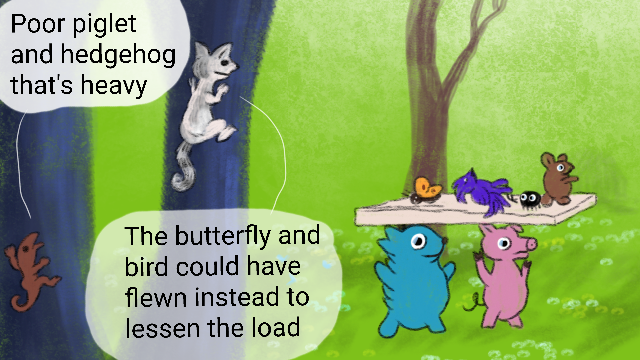 Hi Pinky and Spiky fans,
Here is my entry to the Pinky and Spiky Drawing Contest. The theme of the week is about carrying a mattress.
One Saturday morning, the gang got nothing else to do and cleaned their humble abode. They sorted the things they use and those that they could give away and one of those would be Spiky's old mattress. They carried the mattress and went deep into the woods where rare and dangerous creatures love to gossip. They need to pass this area of the woods to get through to the house of Pinky's parents who are going to be the recipient of the old mattress.
Chester the wild cat: Look some funny looking creatures are approaching.
Benjar the skink: Yeah weird creatures indeed
Chester: Maybe some happy campers
Benjar: Poor piglet and hedgehog that must be a heavy mattress
Chester: The sleepy butterfly and purple bird should have flewn instead to lessen the load
Benjar: yeah that's why I said they're weird don't you agree?
Chester: agree
Sometimes we tend to get affected by what other people say about us and worse affects our decision making. Sometimes it helps to ignore these noises and do what we think is right for us.
Hope you like my entry
@steempampanga