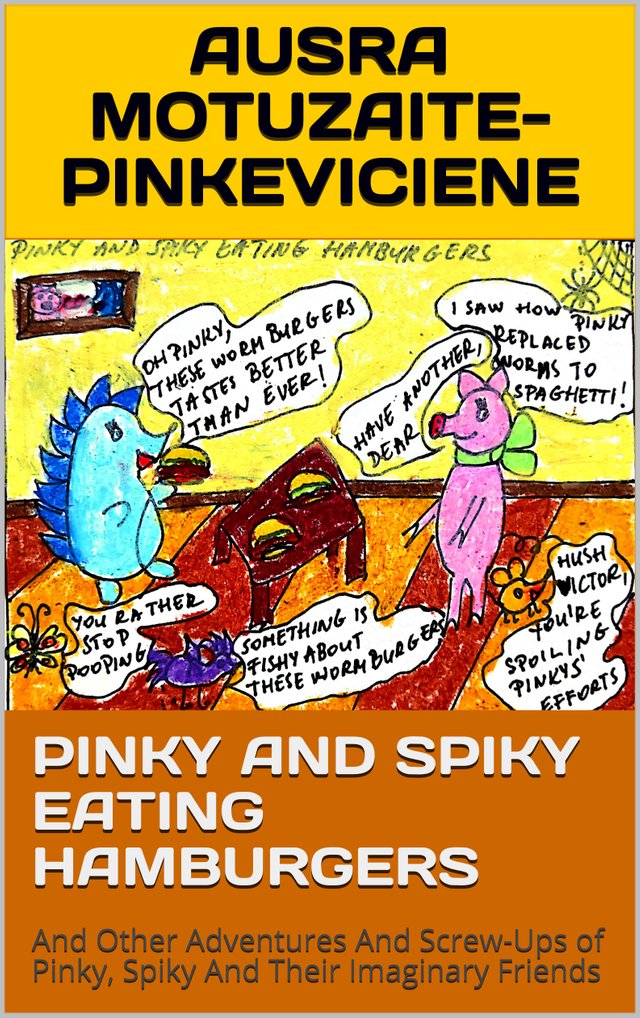 I'm very excited to announce that my first Pinky and Spiky comic book is available on Amazon as paperback and Kindle e-book!
Pinky And Spiky Eating Hamburgers: And Other Adventures And Screw-Ups of Pinky, Spiky And Their Imaginary Friends
Would you like to see what kind of adventures and screw-ups Pinky the piglet, Spiky the hedgehog, Cornelius the purple cardinal, Dietrich the mouse, Victor the spider and Betsy the butterfly are having? I drew them within the period of 6 months between March and August 2018 and shared them on my Steemit blog.
I think that Pinky was in my head all the time, all my life because I grew up in Lithuania during the Soviet time and we didn't have much enjoyment at that time because everything was sort of gray in color, all the buildings, all the interior, everything was just gray. I missed those colors. But once a month we had monthly magazine for kids called "Genys", in English it would be "Woodpecker." At the end of it would have drawings about a piglet.
It was called Paršiukas Čiukas, basically a piglet Čiukas. It was sort of pinkish and plumpy and sort of very nice character. And then would be like a short story made of three drawings, like a comic strip. So I would be waiting for this Paršiukas Čiukas comic strip for an entire month so I guess it stuck somewhere in my mind and later it became "Pinky the Piglet."
And of course Spiky is a prototype of Vidas Pinkevicius, my husband and because I nicknamed him as a hedgehog a very long time ago and we have been married for twenty-one years already so that's how it all started. And when Vidas started drawing these comics I sort of felt jealous. And not because I didn't like them, I liked them a lot but I sort of felt that I want to tell the Pinky side of the story. Because not all of these comics are real. Some things didn't happen to us.
Of course, we were not drifting on the iceberg for three days. But some of those situations are real, some are a little bit exaggerated, some just come from our making fun of each other, some come from our work. In some sense making comics to me is a diary. And this process makes me feel like a child again and I like that feeling after being responsible for my students all the time I think it's nice to relax and smile more. And I hope Pinky and Spiky will put a smile on your face too...
You can get a paperback version from Amazon here:
https://amzn.to/2Nla0Vt
Kindle e-book is available here:
https://amzn.to/2Npm7kg
Enjoy and let me know what you think!