English (Polski poniżej)
Today I want to share one of the photo I made with Natalia in some old abandoned meteorological institute in Wroclaw. We wanted to make together something we could publish later on in a tattoo related magazine which didn't quite work back then. I think my skill level was not enough back then to handle such difficult task, yet few of the shoots went really well and I'm still happy of them after few years. This one I made using one soft-box in front of her and little of the light coming from small window on top her head. I mainly set it up to shoot in front of her, but I did tried few shoots with that light from her side and I loved it so much. In the end I prefer this one over the one I was trying to create. This photo I made on my old Canon 5d mk ii and Canon 85mm 1.8. I still use this lens to this day, but reconsidering switching to 1.2II - would love to hear your opinions about it if you know anything in that matter!
That would be enough for today, thank you for stopping by!
Polski
Dziś chciałbym się podzielić zdjęciem, które zrobiłem z Natalią jakiś czas temu w opuszczonym instytucie meteorologii we Wrocławiu. Wspólnie chcieliśmy stworzyć coś co nadałoby się później do publikacji w jakimś magazynie związanym ze światem tatuaży, ale niestety pomysł trochę nie wypalił. Myślę, że mój poziom rozwoju fotograficznego w tamtym czasie nie pozwolił mi ograć tego wystarczająco dobrze, ale kilka ujęć nadal podoba mi się do dziś. Te konkretne zdjęcie zrobiłem z wykorzystaniem softboxa z gridem naprzeciwko jej twarzy oraz małego światła wpadającego przez okienko nad jej głową. Początkowo planowałem robić zdjęcia od strony softboxu, ale dla próby zrobiłem kilka ujęć od boku, które spodobały mi się dużo bardziej. Całość robiłem moim starym Canonem 5d mk ii z obiektywem Canon 85mm 1.8. Cenię sobie ten obiektyw i nadal go używam po dziś dzień, natomiast skłaniam się trochę do opcji 1.2II, jak masz może coś w tym temacie do powiedzenia to byłbym wdzięczny za cenne rady w tym temacie!
To byłoby tyle na dziś, dziękuje za Twój czas i do zobaczenia ponownie!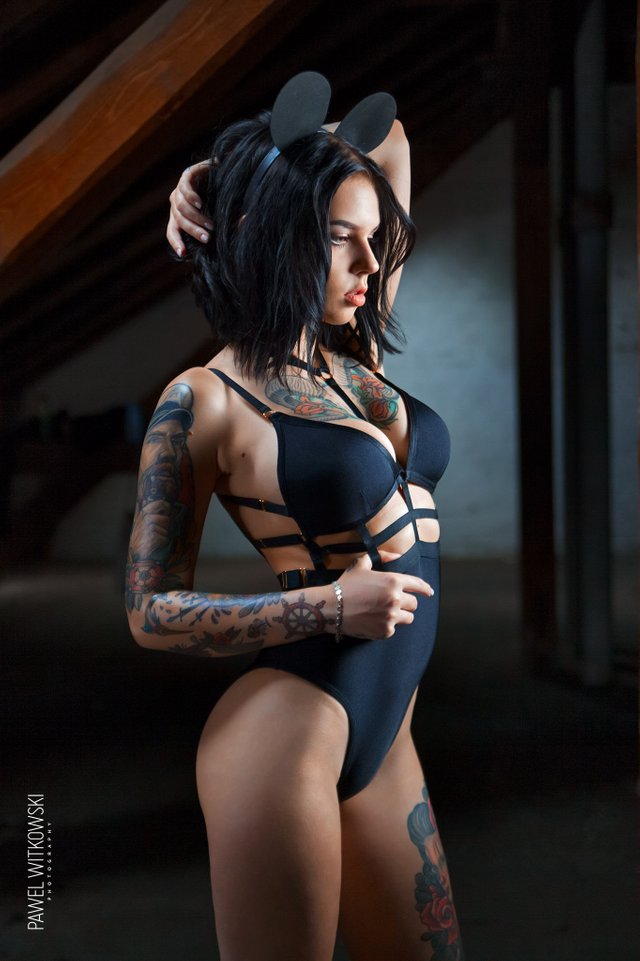 Canon 5d mk II + Canon 85mm 1.8