It's not every day that I encounter someone reading a book.
---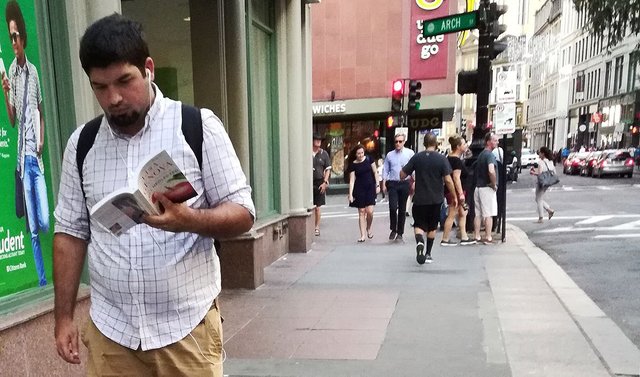 Even more rare: the male reader. And more rare still: the male reader with a book by a female author.
The book: Left Neglected by Lisa Genova. Ironically enough, it's a book, in part, about the dangers of not paying attention. From the publisher's description:
One morning while racing to work and distracted by her cell phone, she looks away from the road for one second too long. In that blink of an eye, all the rapidly moving parts of her over-scheduled life come to a screeching halt. After a brain injury steals her awareness of everything on her left side, Sarah must retrain her mind to perceive the world as a whole. In so doing, she also learns how to pay attention to the people and parts of her life that matter most.
I hope this guy stays safe.
As someone who enjoys words, it's encouraging to see that these old paper and cardboard artifacts still get used. I'm guilty of reading on the cell-phone myself. It's just so damned convenient, and so easy to highlight and annotate and search. But I'll never lose my attachment to the book as a physical object, and the kind of focused, quiet attention it demands - even in the busiest surroundings.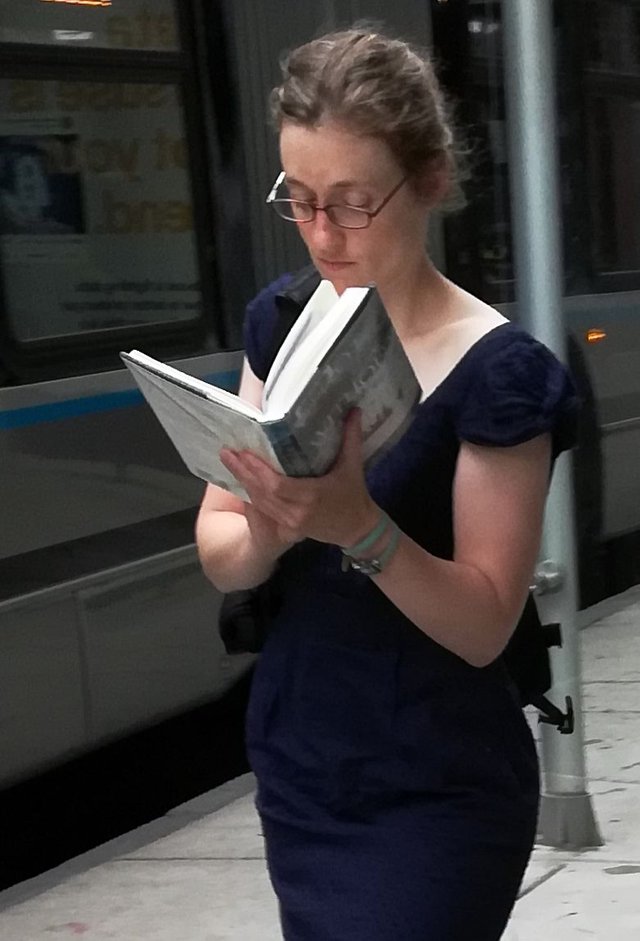 Do you still read books? Do you prefer to read electronically, or on paper?
---

---

---
Unless otherwise stated, photography is the work of the author. Feel free to copy, remix and share photographs from this post according to the terms of a Creative Commons Attribution Sharealike 4.0 International license.
Camera divider and signature illustration by @atopy.
If you'd like to read more, you can check out a categorized catalog of my posts on Steemit here.