This is the high mountain site of an old mining town called Tuckerville, Colorado. With the snow covering the mountain sides you can clearly see the old roads on the lower right side of this image. These roads once had tents on both sides and in that clear somewhat flat area there used to be 6 large bunkhouses, a workshop, and a mess hall. All the old buildings have been lost to the elements but this was all in full operation for 9 years from from 1920 to 1929.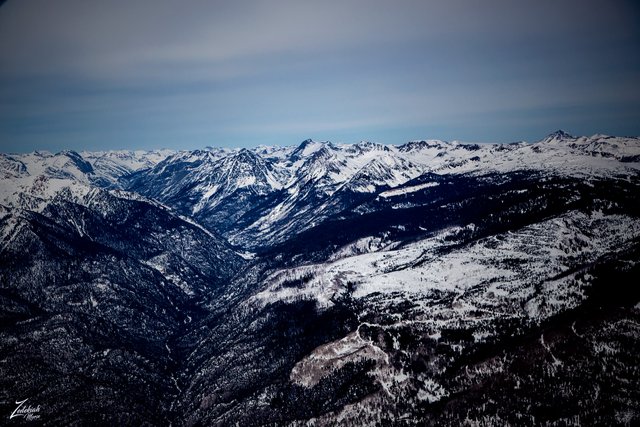 Now it is nothing but an empty mountain top in the Weminuche Wilderness of the San Juan Mountain Range in the high Rocky Mountains of Colorado. To read my full article on this awesome mountain and the history of the abandoned mining town you can visit my project website for "Where Eagles Fly" - Go Here. 
About The Project
Where Eagles Fly - The American Wilderness Expedition is my personal mission to introduce people to these amazing locations that surround us. I am piloting a bush plane while exploring and filming throughout the remote back-country areas of North America to raise awareness of the 47% of the USA and 90% of Canada that remain unpopulated wilderness.
About The Author
My name is Zedekiah Morse and I'm a Bush Pilot, Photographer, Explorerand Filmmaker. I live in the Rocky Mountains and devote my time and resources to exploring as much of the world as I can by air.
If you wish to watch a short film detailing how I do my work and this project, go here. 
Thank you for your support and Yehaw!!