Just east of the Last Chance Desert in eastern Utah, there is an ancient land full of volcanic lava flows and debris fields and dotted with fossil beds full of dinosaur bones. Known as the "Cedar Mountain Formation" this location contains one of the richest and most diverse Early Cretaceous dinosaur faunas in the world.  
One dinosaur, in particular, is a recently discovered species that lived on Earth 100 million years ago; the "Siats Meekerorum". Named after a creature from a First Nations Ute Native legend "Siats" which was known as a particularly bloodthirsty creature that hunted humans, this newly discovered carnivore dinosaur is estimated to weigh at least 3 tons and was about the same length as a city bus. This would make "Siats Meekerorum" the third largest dinosaur on the North American continent.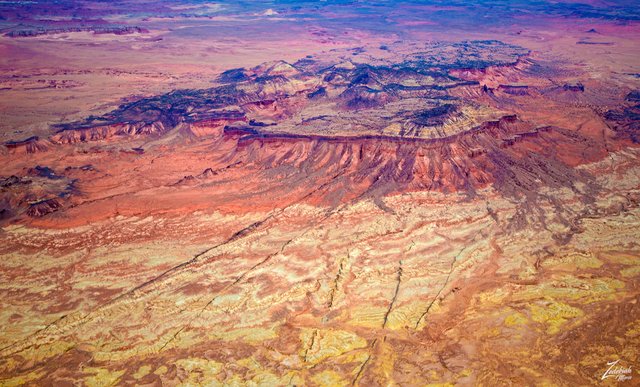 Where Dinosaurs Roamed & Volcanoes Roared
This flattop mesa formation is known as East Cedar Mountain, a volcanic mesa and though not particularly beautiful, it is a very interesting location for both fields of volcanic geologically and paleontology. In the foreground of the image above you can see black lines running down from the mesa. These are volcanic lava tubes, now exposed by millions of years of erosion. Strewn across the mesa top, you can see the black rocks which are remnants of the original volcanic eruptions.  
Towering above the reddish desert floor of Mussentuchit Flat, these bright yellow hilltops overlook numerous volcanic "neck" or "throat" plugs which are all that remains of a series of violent volcanic eruptions in the ancient past. Everything in these images was once buried deep underground but over millions of years the powerful forces of wind and water erosion have removed all but the densest and hardest volcanic materials.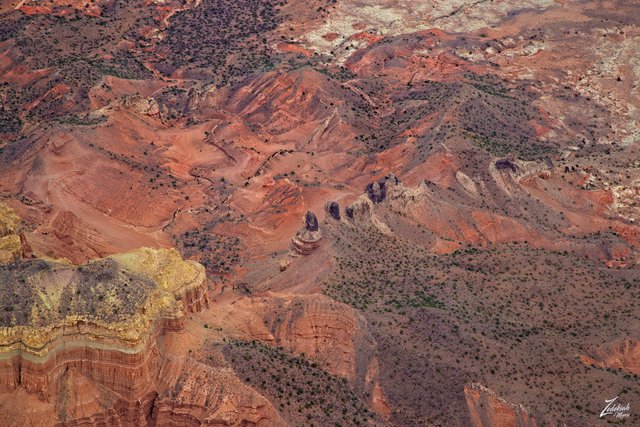 In this image above that I lensed while exploring the area north of Capitol Reef and the Moroni Slopes, you can clearly see the remains of a line of 7 small volcanic eruptions, once buried under the ground, now exposed as towering black volcanic plugs. A volcanic plug also called a volcanic neck or lava neck is a volcanic remnant created when volcanic magma hardens within its vent of an active volcano. These hardened plugs can cause an extreme pressure build-up if the rapidly rising volatile magma becomes trapped beneath the plug, which can lead to an incredibly violent explosive eruption.       
As seen in this image above long-term glacial erosion has led to the exposure of the plug on one side, while a long slope of material remains down below the opposite side. These type volcanic plug formations are known as a crag and tail. If the volcanic plug remains preserved, erosion may remove the surrounding rock while the erosion-resistant plug remains, producing the highly distinctive upstanding formations as seen here. Also note that to the top left of the line of 7 plugs, there is a small dark line that runs somewhat parallel to the throats, this is a lava feeder tube. There are dozens of these surrounding Cedar Mountain and you can see as series of them running to the mountain in the top image of this post.
You can visit this place if you want to travel deep in the high desert wilderness of eastern Utah. Here is a link to google maps for the location of this strange place.   
These images are from my project "Where Eagles Fly". 
About The Project 
Where Eagles Fly - The American Wilderness Expedition is my personal mission to introduce people to these amazing locations that surround us. I am piloting a bush plane while exploring and filming throughout the remote back-country areas of North America to raise awareness of the 47% of the USA and 90% of Canada that remain unpopulated wilderness. 
About The Author 
My name is Zedekiah Morse and I'm a Bush Pilot, Photographer, Explorerand Filmmaker. I live in the Rocky Mountains and devote my time and resources to exploring as much of the world as I can by air. If you wish to watch a short film detailing how I do my work and this project, go here. Thank you for your support and Yehaw!!