Dragon Fruit In The Making Part 3😁
Good afternoon my dear friends! Today is Sunday and I thank God for the fine weather. Humid but its perfectly fine for me. I like it better than gloomy and or rainy days. Just finished cooking our lunch. While waiting for my Chauncey (she's cutting her own hair. She don't trust me to have her haircut😁) I decided to post the photos I captured yesterday.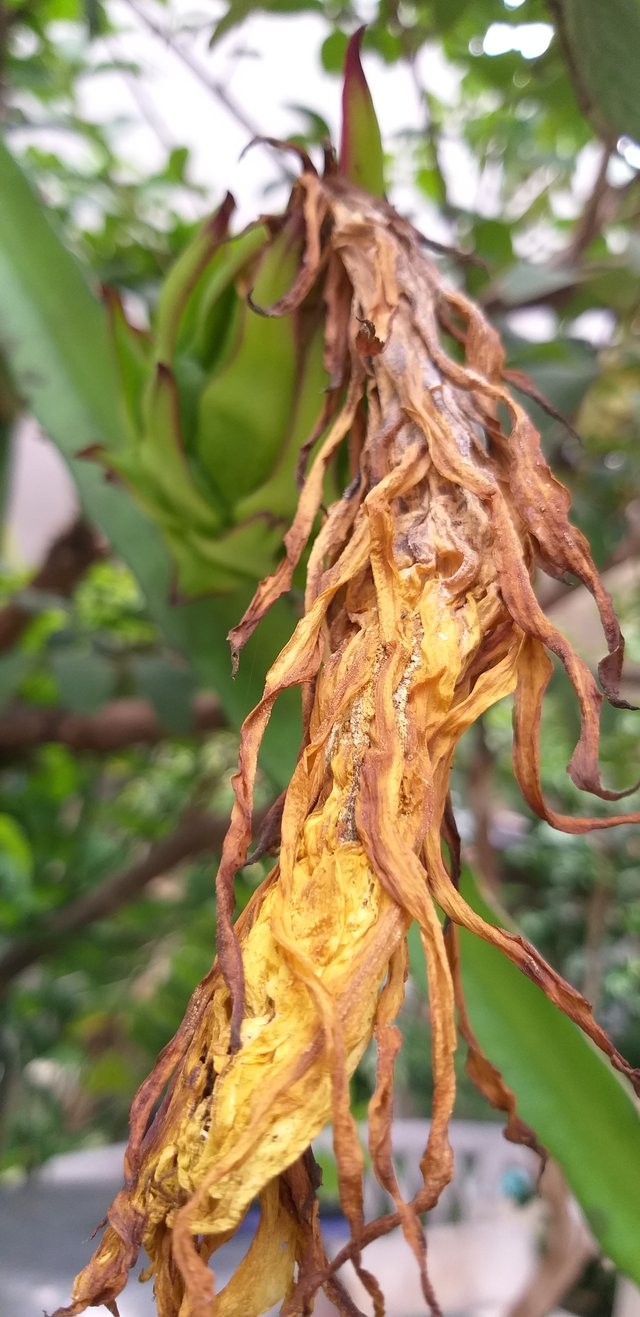 This is how the first fruit look like. The withered tail is still long and thick compared to the other two fruits which are higher. I took these photos yesterday after cleaning the house. I made sure to make it as close up as possible without using the zoom of my camera.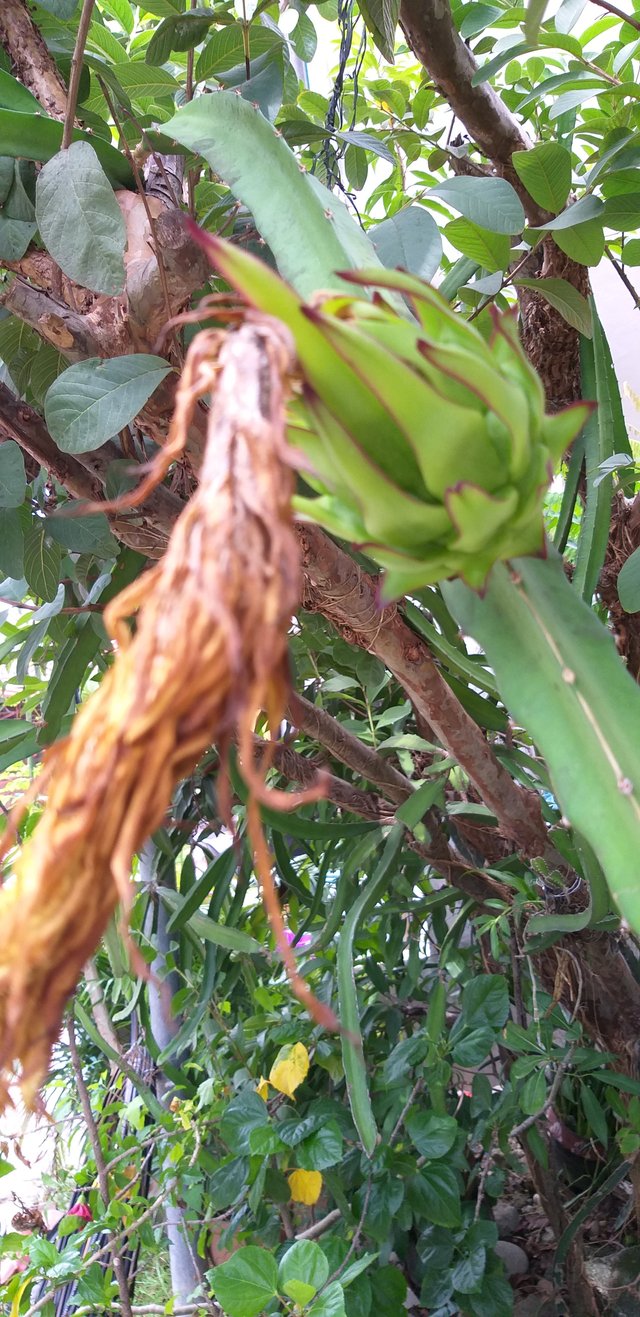 The fruit is visible now and it is turning into shape. I also took the photos of the second one. Remember the one that its location is quite hard for me to get a proper angle although there's no need for me to use a chair to elevate myself just to capture the image.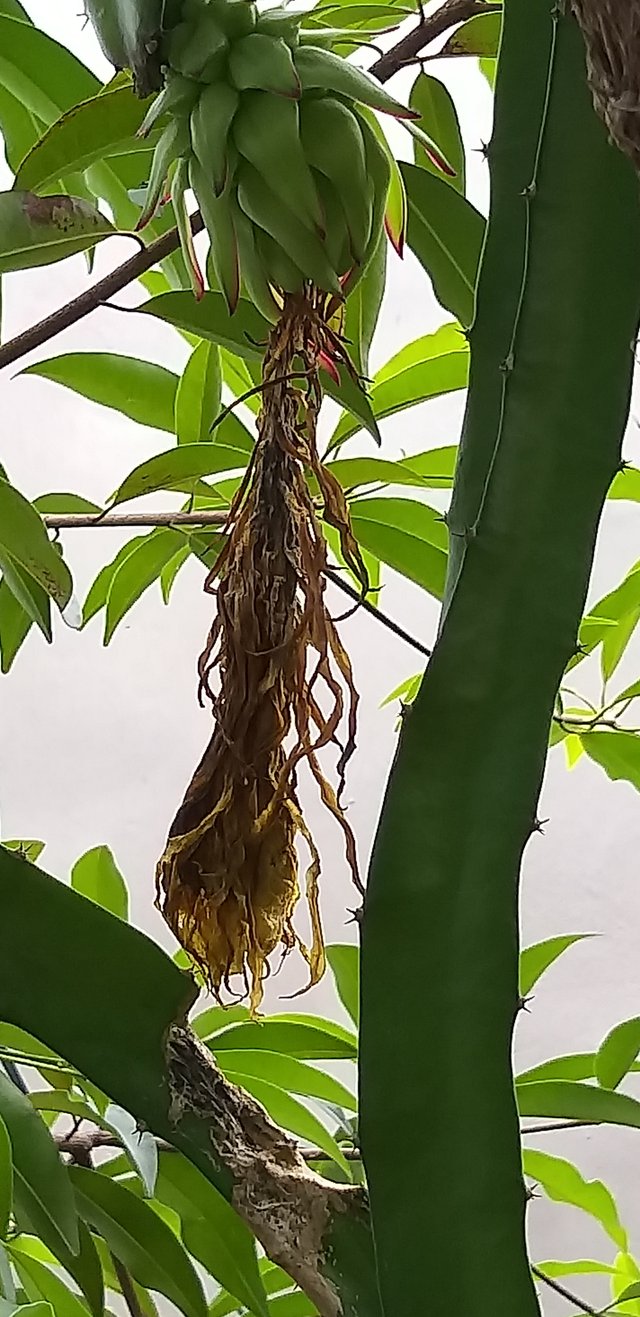 There it is. Yap same as the first 2 photos. The tail is still long but this one is thinner and darker brown in color. I can not edit the lighting of this one. Hindi kasi talaga siya masyadong natatamaan ng sinag ng araw. Kaya pag kinukuhanan ko ng larawan ay talagang medyo madilim.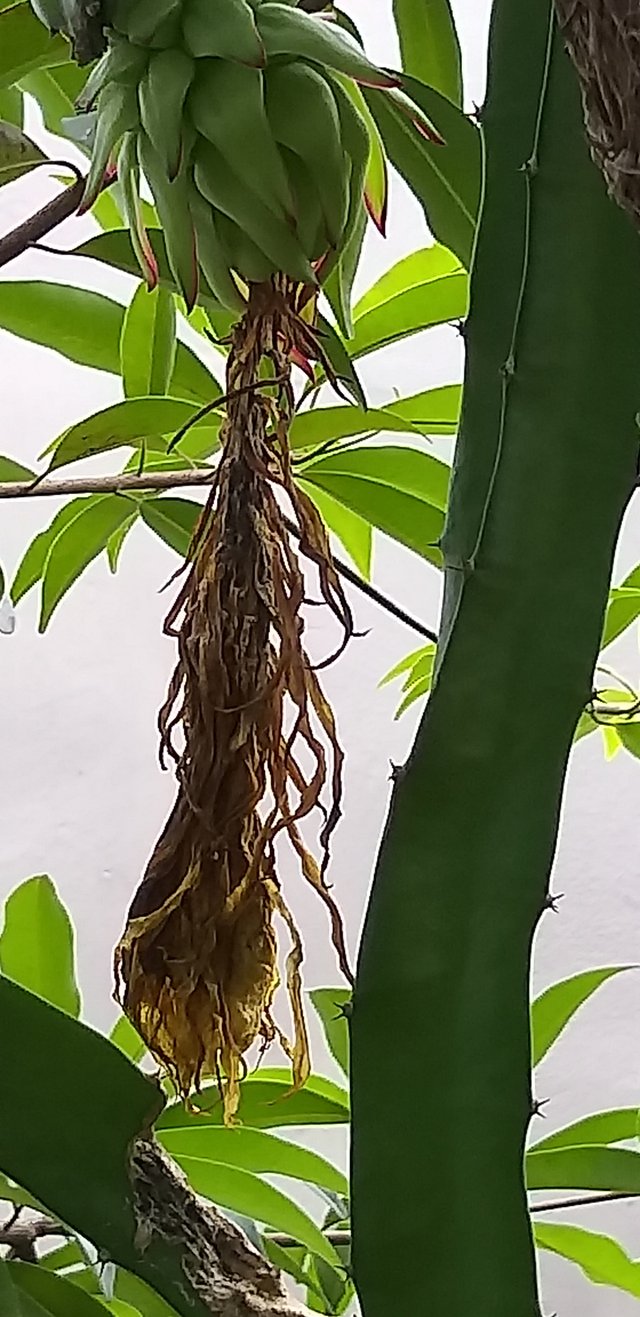 There! Finally, a better view I guess. Praise God all photos are uploaded without a mess. I hope and I pray that this will go on alright until I finish the last 2 photos for this post today.🙏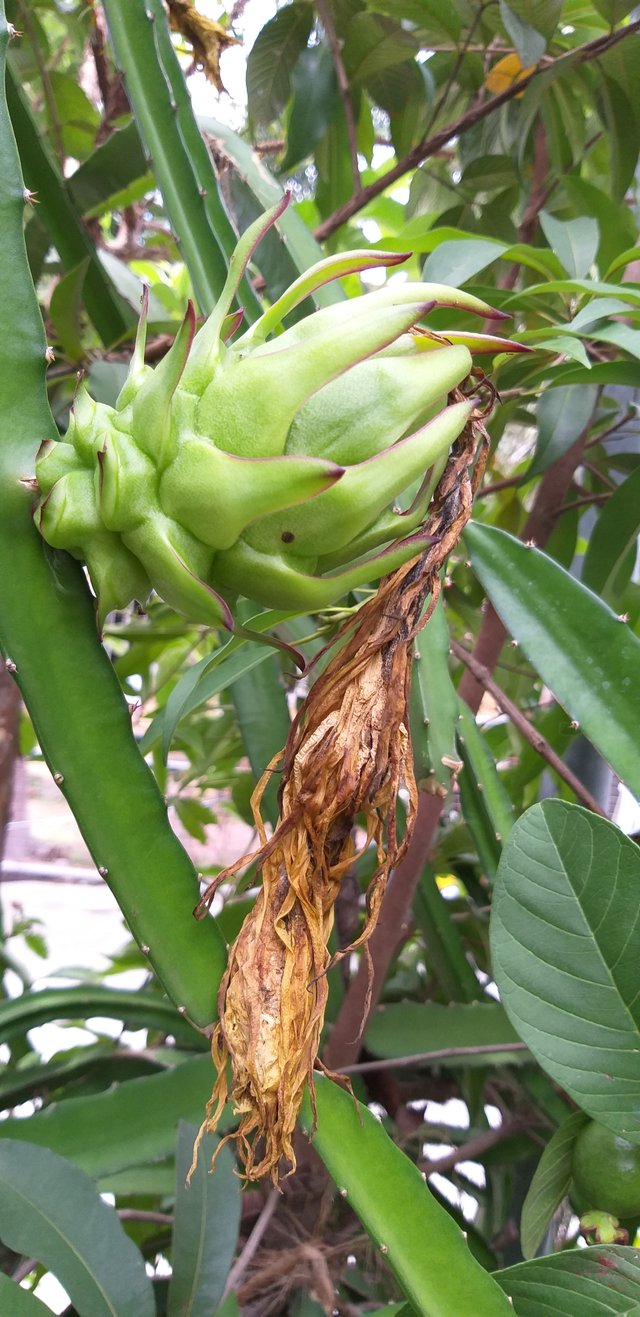 As you can see its tail is shorter and thinner compared to the first 2 fruits. It is also the most withered look of tail among the 3. I am beginning to be enticed in just pulling its tail hahaha. Makes me wanna get rid of those brown and withered thing hanging down.✌😁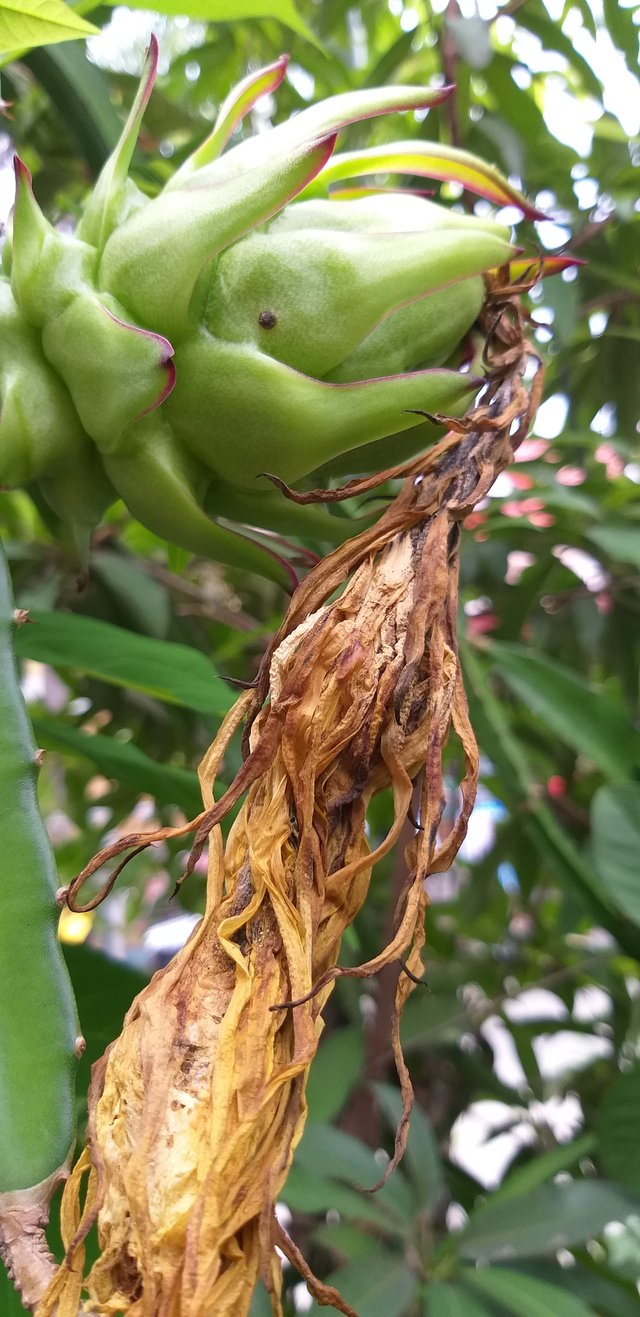 Thank God indeed! All photos are properly uploaded.👍🙏 No screenshot today!😍 And before I end this post let me just tell you that the almost totally withered tail of these fruits feel rough. It looks rough right? I will keep you all updated my dear friends. Have a blessed Sunday. I love you all and God bless us.🙏🥰
Thank you so much for your time. God bless us all and let us keep praying for each other and for our world. 👍🙏💚🙏👍
Check this link and join our prayer warrior here in steemit https://steemit.com/christian-trail/@wilx/christians-on-steemit-let-us-follow-and-support-each-other-pt-7-join-the-christian-trail
I am forever grateful to God every day of my life for giving me everything I need and praise Him all the more for not giving me everything I want. To God be all the honor, praise and glory ❤ :-)
I am @sashley a.k.a. shirleynpenalosa, a recipient of God's love, mercy and grace. :-) ❤
Have a blessed Year 2020 everyone :-) ❤
Please do check out @paradise-found's posts and you're welcome to join the @gratefulvibes family curation.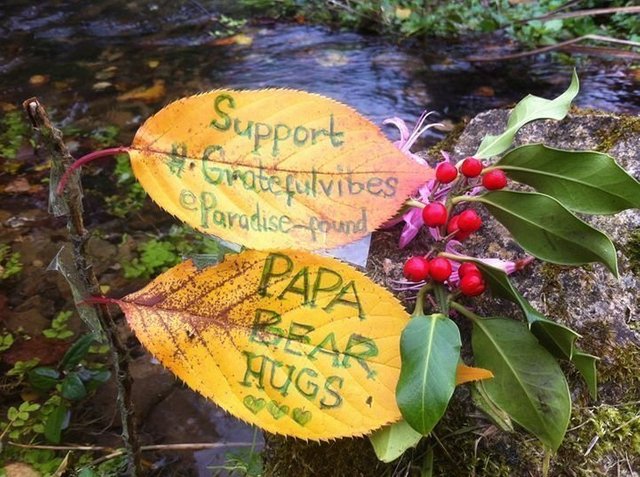 (credits: sis @sunnylife)
Follow us on #gratefulvibes discord channel (positive and uplifting attitude) https://discord.gg/7bvvJG
Let us support @surpassinggoogle as a witness by voting for him, just visit this link https://steemit.com/~witnesses and type in "#steemgigs" at the first search box.
If you want to give him witness voting decisions on your behalf, visit https://steemit.com/~witnessesagain and type in "surpassinggoogle" in the second box as a proxy.

(credits: @bloghound)