Wanted, Dogs, Cats, and Any Creature We Find Worthy
First, let me say that I am not trying to be a copycat. Well, at least not too much. But there is a really great Facebook page called Dog Spotting. The rules for Dog Spotting are to share photos of dogs. You are supposed to go out into the world and find dogs to photograph. You are not allowed to share a photo of your dog or service dogs. Now Dog Spotting is very strict, and if you break the rules, they will remove your dog photo.
I love Dog Spotting because I love dogs, and I love seeing the photos and reading about the dogs. People from all over the world are posting on Dog Spotting. I spent one entire Saturday on the site, which was a little extreme. For me, if was like binge watching a new. T.V. series.
What I propose for steemit is, let's share some of our experiences with animals. We can expand on the idea of Dog Spotting and share pictures of any animal/s we encounter. Including photos of our own pets and even our friend's pets. We can make up our own rules!
If you are interested in playing, just title your post with the title I have used and include a number. For example, I will use the # 1. The next person will use 2. You get the idea.
Example: Wanted Cats, Dogs, and any Creature we Find Worthy #1
Make sure you include some information about your photo/s.
Let's Begin!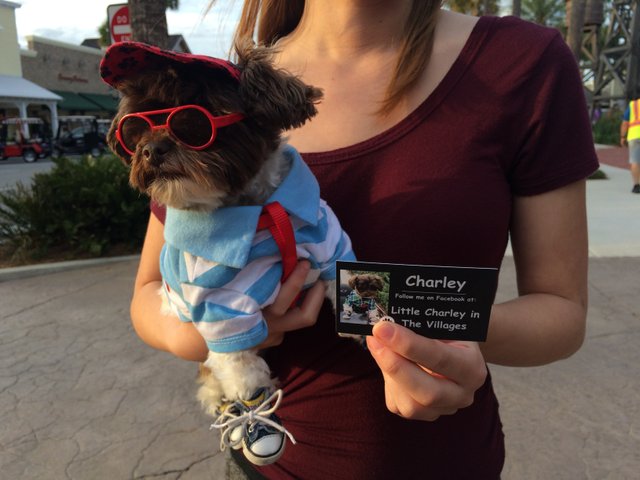 This is Charley!
I met him (and his owner) in the Villages (FL). He was adorable, and his clothing was priceless. What really got my attention was his business card. He is the only dog I have ever met with one. He was also very sweet and friendly. I followed him. ☺
If you want to play, it's your turn!
Thanks,
~redredwine