My reintroduction to the camera
I spend a lot of time taking photos. Photography is an artform that has always fascinated me. It has great storytelling power. Playing around in the dark room my brother and I made when I was a kid is a fond memory. My brother taught me all about the magic of the dark room how to operate the enlarger, what different filters did, how to use the grain focuser to make sure things didn't come out blurry and how to mix the chemicals (he always helped developing the film). He showed me lots of tricks including double exposures (both by winding the film back in the camera and by doing two exposures on the photo paper). He showed me how you could hover piece of paper over the photo paper while you were printing to change how light or dark parts of your photo would be (the pieces you covered would be lighter while the exposed parts got darker, moving it around gently was to prevent lines appearing where you were holding it). Not to go on about it in too much detail lets just say he showed me all I needed to know to have successful fun experimenting on my own. It was so exciting watching the blank paper transform slowly in the developing fluid and come to life. A lot has happened since then!
Almost five years ago I was liberated (from a violent abuser), one of the first things my mother gave me when I was free was a camera. Like a child with a new toy I immediately went outside with it and started snapping shots of all kinds of things. Soon fascinated by the results I had come up with using the macro setting I became obsessed by taking photos of all things small from buttons to pebbles. I took pictures of plastic and rubbish I found in parks, bushland and beside the seaside. I also spent a lot of time taking pictures of flowers, plants and bugs. (I will share some of these curiosities in a future post)
It has really been in the last or so year that I have really started unlocking photography's true therapeutic power, performing stories for the camera. Im not sure what else to call it lol! For someone who never considered themselves any kind of performer this has been quite a mind opening experience . Without restraint I can express myself in front of the lense and in a trance like state. I am freed from the prison of my mind and I am able to face my inner demons head on.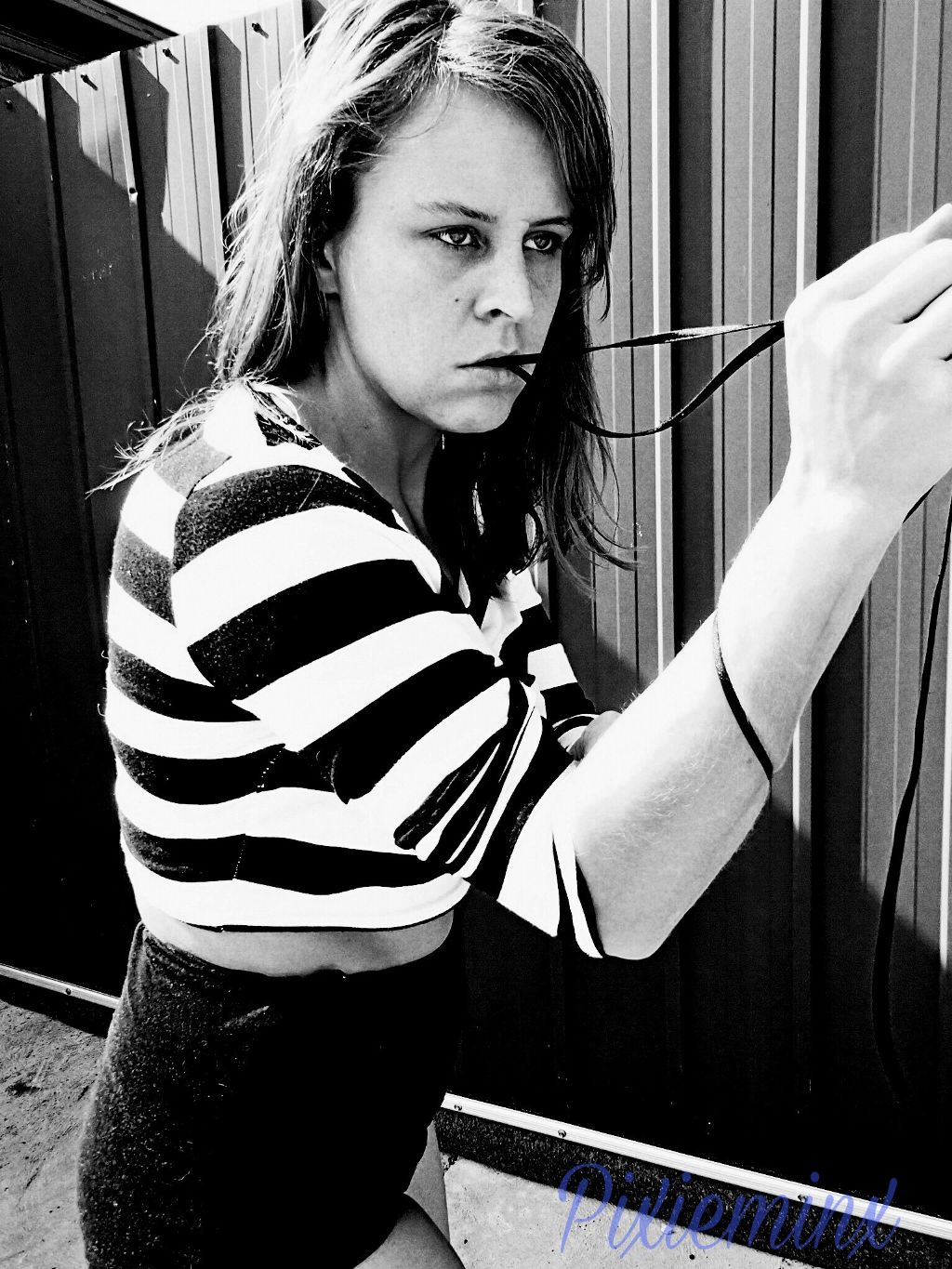 "Escaping the prison of fear"
Preparation and method
Theatrics and Inspiration
I make use of costume,makeup and props. Manically throwing clothes out of my wardrobe and covering my bathroom vanity in a selection of makeup and jewelry I might need. I'll look around for props before I start sometimes they may be part of a costume often they are items I just think would look interesting of film or would be versatile as storytelling devices. Sometimes I grab things from the environment I am shooting in. All and all Its no different to when I am painting in that I am often creating a trail of destruction around me. I find this most enjoyable!
I will often decide on a theme but I try to come up with most of it infront of the camera, this way the final result is spontaneous and packed with fresh creative energies. I really let my subconscious take over and put a lot of trust in my artistic instincts. I'll set out knowing to some degree what kind of story I want to convey for that days shooting, I have some symbolism in mind. I might have had a bad dream or memory I want to face or I might choose an emotion I want to explore. Feelings, memories and stories float around me as I am deciding what I will do in front of the camera. I simply pluck one out of the air and go with it until I feel I have either exhausted that idea or captured a satisfying image I know I can work with.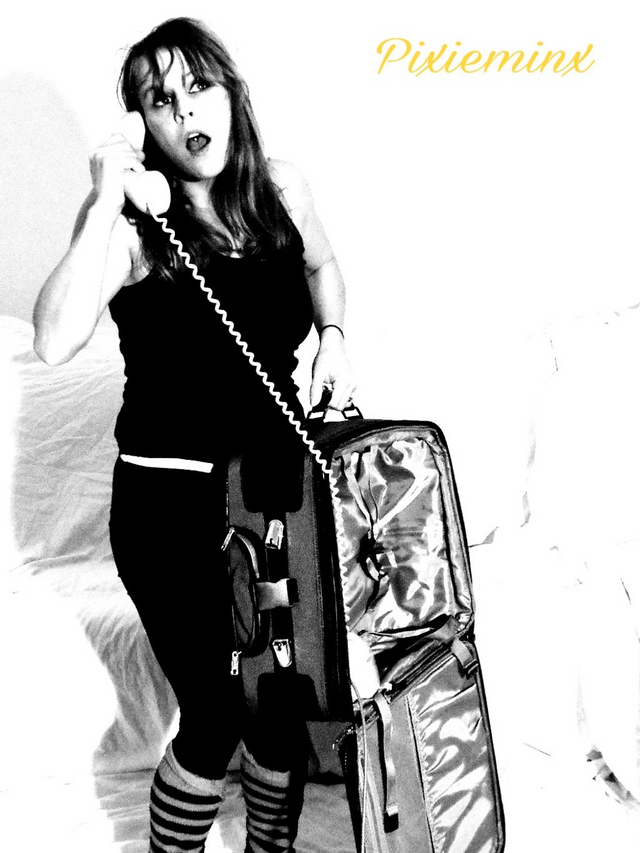 "Calling my brain"
Equipment
I dont have a fancy digital SLR, I couldn't afford one. I have two pretty average digital cameras one capable of underwater photography. I have a cheap but reliable tripod and sometimes use a floodlight for lighting. For the most part I use one of these cameras with a ten second timer, It's quite a sight watching me run back to pose before the camera goes off !. I also often make use of my Iphone, It's always with me and it takes pretty good shots. Using a timer means I don't have any idea of exactly what's coming into frame and occasionally things don't quite focus how I had planned so I have to take a lot of photos like 50-100 to get 5-10 that I really like. Luck comes my way on occasion and Ill get 20 great shots straight up but thats not always how it works out.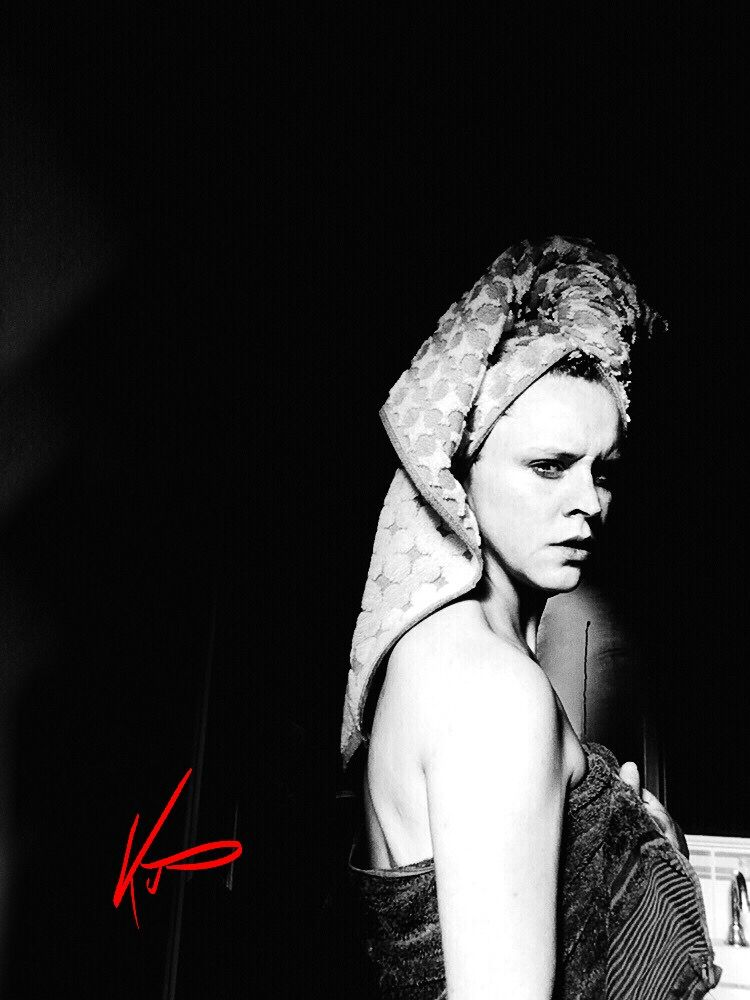 "Am I ready to face another day?"
Editing
There's a huge range of software available for free and at low cost, I become overwhelmed by all the options but I try to just pick out a few and stick with what works. I use my iphone or ipad for editing a lot more than I used to, I used to primarily use my desktop PC or MAC laptop ( often software that is free for pc eg:Photo Scape, costs money for the same functions on a mac). My personal opinion is you have greater variety of quality free software on PC over MAC but that being said I always have my iphone or ipad with me so it's what I end up using the most. The apps I use the most for editing are
Pics Art - I think I paid about $5 Aus for this, it has a lot of editing options , a great community for exchanging ideas and thoughts about each other's work and the ability to upload your work to a private gallery.

Procreate - This is fantastic drawing software I think I paid about $13 Aus for it and I use it heaps mostly for drawing and painting but you can import photos to it and experiment.

Sketchclub - this cost me about $5 its fantastic it works with procreate well and It has a huge library of brushes uploaded by users, Its also fantastic for creating transparencies something I do a lot.

AdobeCapture - FREE!! This little gem was only brought to my attention recently but its has a few really neat functions including a kaleidoscope maker or pattern capture and vector maker or shapecapture , if you think a bit creatively there's a lot of versatility with the images you create in this app.

rookiecam- Again I think this cost me like $5, I just use it for the black and white film synthesiser which is fantastic but just be aware that because it's really attempting to imitate film there's often a limit on how large to can print your images before they look blurry.
I definitely use other apps occasionally but like I said those are my main staples.


(These aren't buttons, I haven't figured that out yet, I'm still learning!)😄
Final Notes
The pictures I have included are from 3 different series, I've included them as they relate to the type of photography I have discussed in this blog. The first two are watermarked "Pixieminx" (NOT PIXELMINX as I am known here) this is because Pixieminx perry is my username on Pics Art, I have since changed the water mark to the red signature "K.J.P" my initials, mostly because I feel it's more original to make your own signature than to watermark with a pre loaded text. I have so many areas of interest regarding photography and so many photos to share that it can be a challenge structuring my writing and choosing what to include. I haven't included detailed descriptions of the meanings of my photos or the symbolism I use. I want people to make their own interpretations but if you're curious I am happy to discuss them in more detail in the comments below. I have spent quite some time preparing this and hope you enjoyed reading a little bit about my process. Until next time Love each other and peace out
pressing post is the scary part!