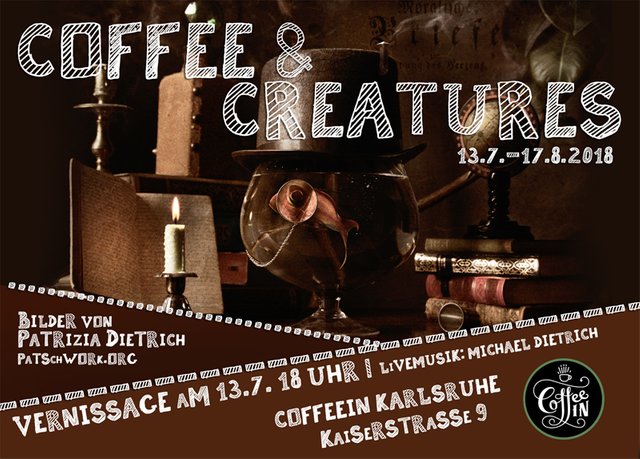 ---
I´m just preparing my first exhibition and I´m very excited!
That´s how it started: Few months ago a new café called COFFEEIN had its opening in our neighbourhood. One day I went there to check it out. I found some flyers on the table, an invitation for a vernissage and exhibition by another artist (I´d link his website, but unfortunately he has no page at all) "dreijot - Jens Josef Johann". So I was asking for fun if I could be the next. Nuray, the owner (who´s an awesome host) and his wife Christina (who´s an awesome cook) said immediatly yes, so here we go! We started to plan when and where I can put my pictures and soon we found a date for the vernissage. Of course I bring my own musician @michaeldietrich for this special evening :)
Ich bereite gerade meine erste Ausstellung vor und ich bin wahnsinnig aufgeregt!
So fing alles an: In unserer Nachbarschaft eröffnete vor wenigen Monaten ein neues Café namens COFFEEIN. Vor kurzem war ich dort, um es auszuprobieren und ich fand auf den Tischen einen Flyer einer Vernissage und Ausstellung eines anderen Künstlers (ich würde auch seine Seite verlinken, aber er hat leider keinerlei Internet-Präsenz) - "dreijot - Jens Josef Johann". Ich fragte den Besitzer des Cafés aus Spaß, ob ich die nächste sein könnte. Nuray, der Besitzer und großartiger Gastgeber und seine Frau Christina, eine großartige Köchin, sagten sofort ja. Und da hatte ich den Salat :) Wir fingen an zu planen, wann und wo ich meine Bilder aufhängen könnte und fanden auch bald ein Datum für die Vernissage und Ausstellung. Und natürlich bringe ich für diesen Abend meinen eigenen Musiker @michaeldietrich mit!
---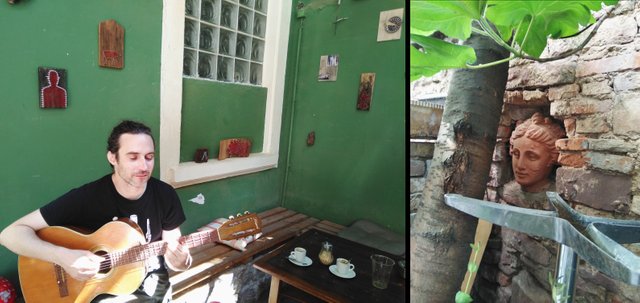 Strange heads in the backyard | Hinterhof und seltsame Köpfe...
---
The next, most difficult step for me was to decide which pictures to exhibit. You know, I´m also doing lots of dark, depressive or morbid pictures and since it´s a public place and "normal" people are passing by, it shouldn't be too extreme. Finally I picked eleven pictures. They got printed in different sizes on canvas. Since they have a cute little backyard to have coffee outside, I decided to order my turtle to be printed on alu-dibond, which is weatherproof.
Der nächste, für mich schwierigste Schritt war die Auswahl der Bilder. Wie ihr wisst, mache ich auch einiges an düsterer, morbider Kunst und da es ein öffentliches, "normales" Café ist, sollte die Ausstellung nicht zu krass sein. Am Ende habe ich elf Werke herausgesucht, die ich in in verschiedenen Größen auf Leinwand habe drucken lassen. Da es auch einen niedlichen Hinterhof gibt, habe ich zumindest meine Schildkröte auf Alu-Dibond drucken lassen, da das Material wasserfest ist.
---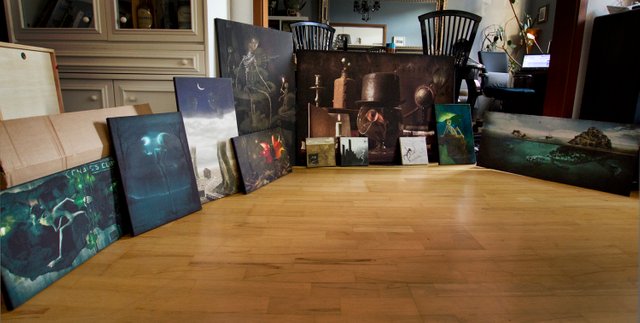 Gathering my children | Meine Babies
---
Today I got my flyers and posters, which makes it even more official!
I have no experience at all, so it´s very exciting and if you have any good advice, just let me know. And - of course - if you´re close, come by! :D
Heute habe ich meine Flyer und Plakate abgeholt, jetzt wird es richtig offiziell!
Ich habe keinerlei Erfahrung , daher bin ich so gespannt und falls ihr gute Ratschläge habt, lasst es mich wissen. Und falls ihr in der Nähe seid, kommt vorbei! :D
---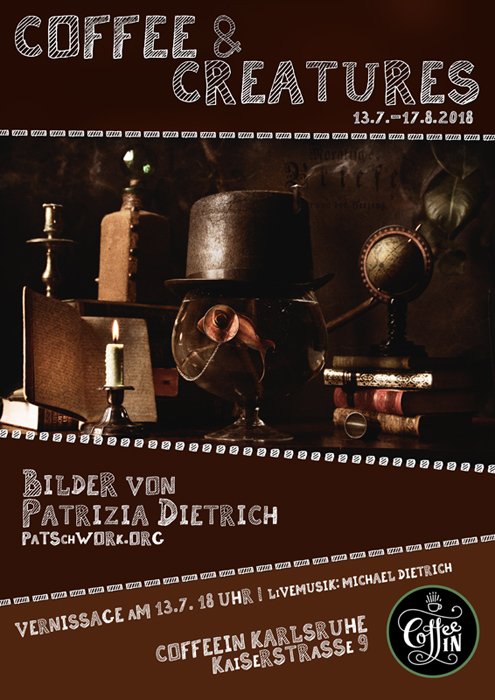 ---
Thanks for reading! | Danke für´s Lesen!
---
Heilemania/PAtScHWOrK - A special photocooperation | Eine besondere Photo-Kooperation [EN/DE]
---