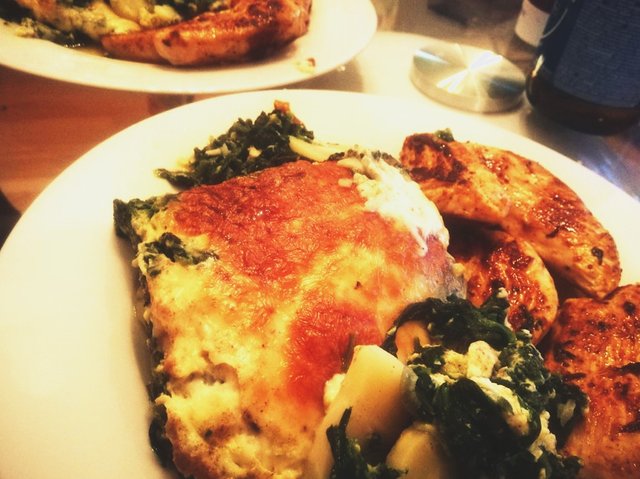 English
It's Sunday evening, we already know the movies that are shown on TV, so I searched for something new and found it. Since 2 episodes the relatively new Netflix mini-series When They See Us is running. And I must say it's not bad.
But after the second episode we got hungry and I conjured up something delicious. Roasted turkey with roasted spinach and boiled potatoes gratinated with cheese.
So far, the mini-series, which only has four episodes, is pretty good.
It tells a true 1989 story in which justice failed in almost everything and 5 little Kids, 4 Afro and 1 Latin-american, from Harlem, New York were wrongly punished because a few officials were too incompetent. Actually it's about racism, it's not openly talked about but that's the real reason why this happened.
I'm curious about the last two episodes and what else is going to happen because the story is new to me and I didn't notice any of it. The series offers beautiful pictures, partly very creative and almost artistic snapshots, in addition there is the good underpinning music and the actors are also very convincing.
On IMDb the series has a rating of 9 stars. If the story continues like in the previous two episodes, I'm sure I'll rate it also with 9 stars as well.
I don't know yet if I will write a detailed recession/critics/review of the series, because I will have some private things to do in the next 2 days and on Wednesday I will fly to Turkey. Maybe, when I'm in Turkey, I'll write a little article about it, when I find time some time, let's see.
But now enough, otherwise the food will still be cold and I want to continue watching When They See Us.
Deutsch
Es ist Sonntag Abend, die Filme, die im TV laufen kennt man schon, also habe ich ein wenig nach was neuem gesucht und wurde auch fündig. Seit 2 Episoden läuft die relativ neue Netflix Mini-Serie When They See Us. Und die ist gar nicht mal so schlecht.
Nach der zweiten Episode bekamen wir aber hunger und da habe ich uns etwas leckeres gezaubert. Gebratene Pute mit gebratenem Spinat und gekochten Kartoffeln und das ganze mit Käse überbacken.
Bisher ist die Mini-Serie, die nur vier Episoden hat, ziemlich gut.
Es wird eine wahre Geschichte aus dem Jahr 1989 erzählt in der die Justiz in fast allem versagt hat und 5 kleine Kinder, 4 Afro und einen Latein-Amerikaner aus Harlem, New York zu unrecht bestraft wurden, weil ein paar Beamte zu inkompetent waren. Eigentlich geht es um Rassismus, es wird nicht offen darüber gesprochen aber das ist der eigentliche Grund warum das passiert ist.
Ich bin gespannt auf die letzten zwei Folgen und was noch passieren wird, weil die Geschichte mir neu ist und ich nichts davon mitbekam. Die Serie bietet schöne Bilder, zum Teil sehr kreative und fast schon Kunstvolle Momentbilder, dazu kommt die gute untermauernde Musik und die Schauspieler sind auch sehr überzeugend.
Auf IMDb hat die Serie ein Rating von 9 Sternen. Wenn es Story-mässig so weitergeht, werden von mir sicherlich auch 9 Sterne als Bewertung drinn sein.
Ich weiß noch nicht ob ich eine ausführliche Rezession/Kritik/Review zur Serie schreiben werde, weil ich die nächsten 2 Tage einiges Privat zu tun haben werde und am Mittwoch werde ich in die Türkei fliegen. Vielleicht, wenn ich in der Türkei bin, schreibe ich einen kleinen Artikel darüber, wenn ich Zeit finde, mal sehen.
Aber jetzt genug, sonst wird das essen noch kalt und ich will jetzt When They See Us weiter sehen.
Date: 04.08.2019
Medium: Samsung Smartphone
Location: Düsseldorf, Germany
the 1st photo is edited with the AndroidApp Pixlr