Photo Collage jan/feb 2019 - Around My Neck Of The Woods
Greetings my friends and fellow Steemians!
I have a little photo collection to show you guys today that I have taken between the months of January and February.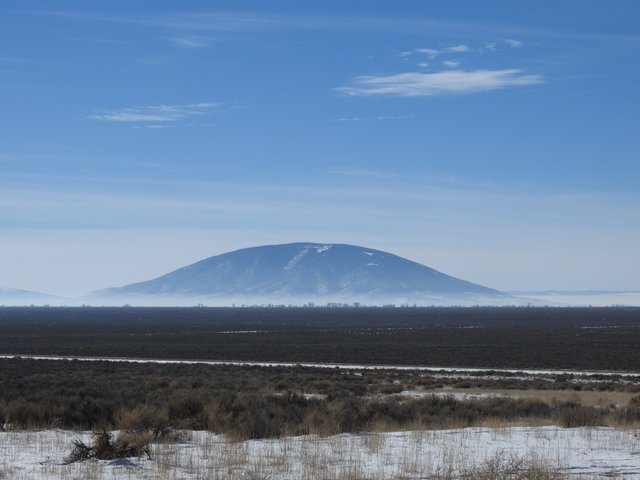 This first one is a small but remarkable little mountain that is just to the West of HWY 159 and near to the border of NM and CO. At certain angles, especially atop the Wild Horse Mesa, this thing looks almost like a huge moon.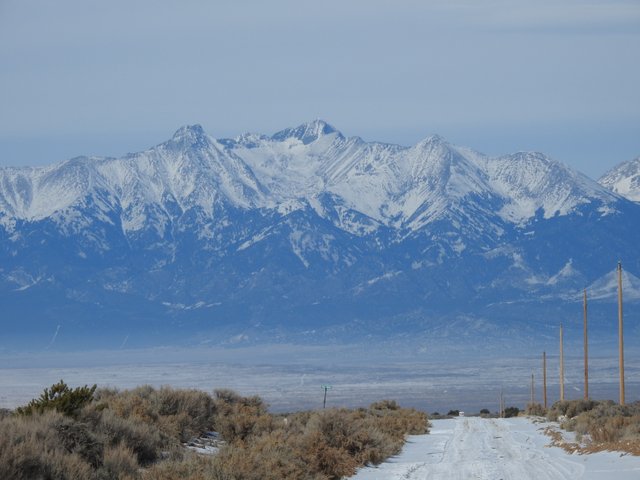 This one I took from up on Wild Horse Mesa. This is from one of the two main rows, hence the power lines. I'm looking North toward Mount Blanca. This is the tallest mountain in the San Luis Valley in Colorado, and is sacred to the Native Americans. It is said that deep under this mountain exist the Ant People who were the Natives caretakers until they were able to care for themselves and then emerge to the outer world. There are some who believe there is a passage into Hollow Earth under this mountain.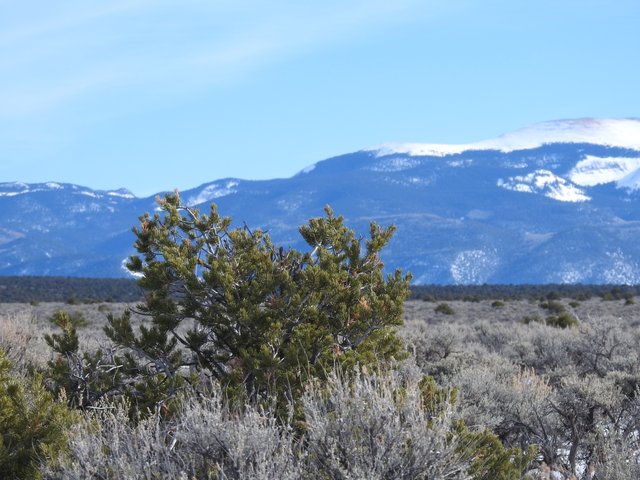 This is a pic I took of a small Pinon tree while facing west and looking toward the Sangre De Cristo Mountains in Colroado.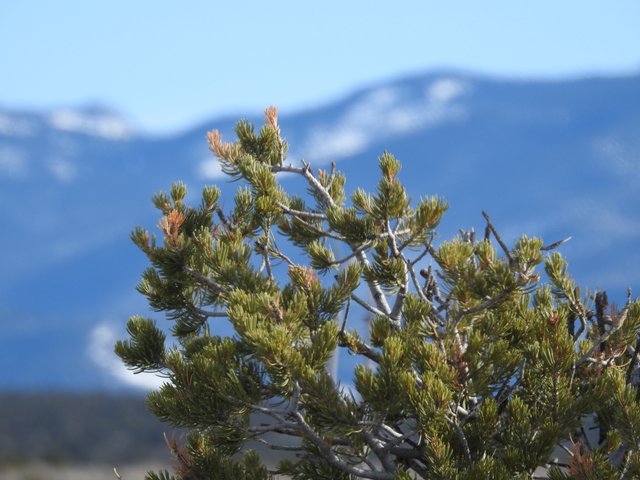 This is the very same tree as above but just zoomed in.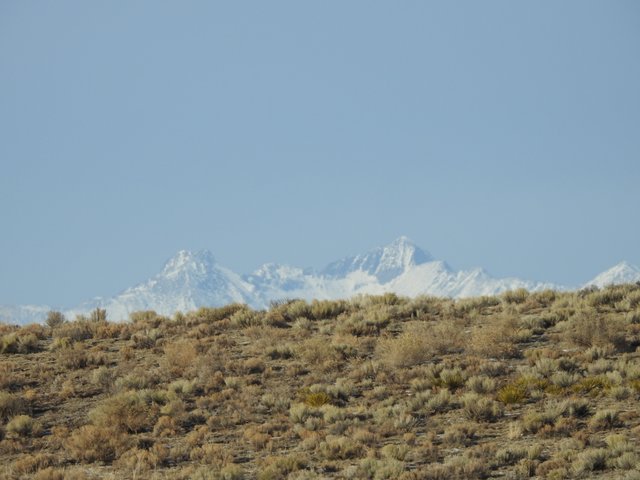 I took this one down on the West side of the Wild Horse Mesa. There are a few herds that have moved down from the Mesa because of more grass and in the Winter, they eat the snow and have no need to be in closer proximity to the Sanchez Reservoir. I was facing North and got a good shot over the hill of the peak of Mount Blanca.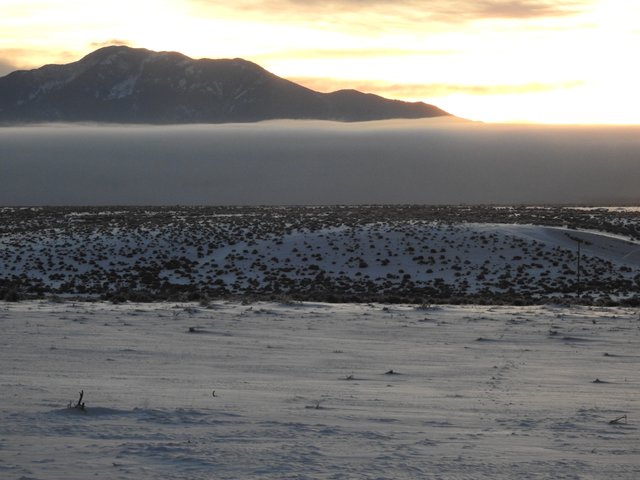 This one I took from my own yard. I am never disappointed by the views from the East of my homestead and looking toward New Mexico's highest peak which is not pictured here, it's a little more to the left, but look at that cloud bank.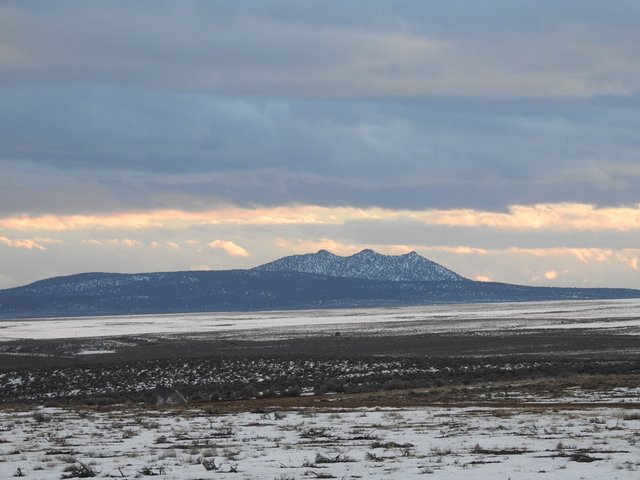 This one again is from my yard and is looking South toward Three Peaks, which is an off grid community near where I live.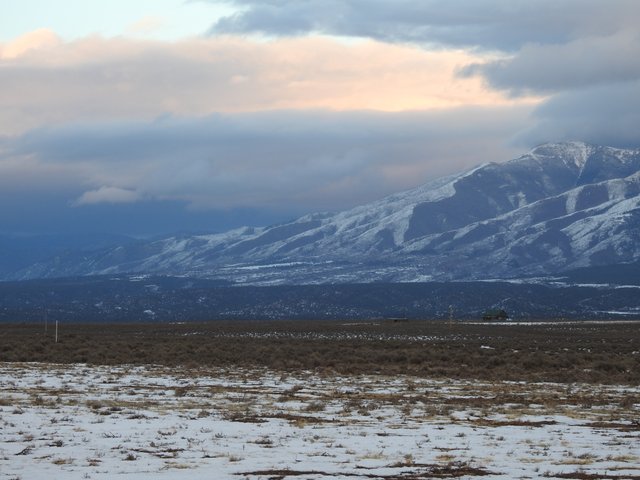 This last one is face to the Northeast from my yard. These are the Latir Wilderness Mountains near Questa NM.
I hope you all enjoyed the photography. I used a Nikon Coolpix P900. I also put together a short video collage equipped with some music by yours truly!
---
Listen to my own original tunes on CHOON!
https://choon.co/artists/morktra/
Check me out on Musicoin
https://musicoin.org/nav/artist/0x58688a55fb99b7ab78f65a46ee75ec35b5f65c35
Follow and download my music
https://morktra.com/
https://www.facebook.com/Morktra-Frank-Murphy-132514296806152
https://morktra.bandcamp.com/
https://soundcloud.com/morktra
https://www.youtube.com/channel/UCAalDuRbFQkf6e4OtcLDE8A
https://www.reverbnation.com/morktra
Check out the latest from Circle Of Death
https://www.facebook.com/circleofdeathrecords
https://circleofdeathrecords.com/
and support Steemian Musicians such as @davidfar @thomasrobertgent @rockchickjen @hangrydwarf @kirvic-aguilera and yours truly
If you're into Metal then Join the Metal Tribe Of Steemit https://discord.gg/Aqp4Z2X
\M/ PEACE, LOVE, AND HORNS UP! \M/