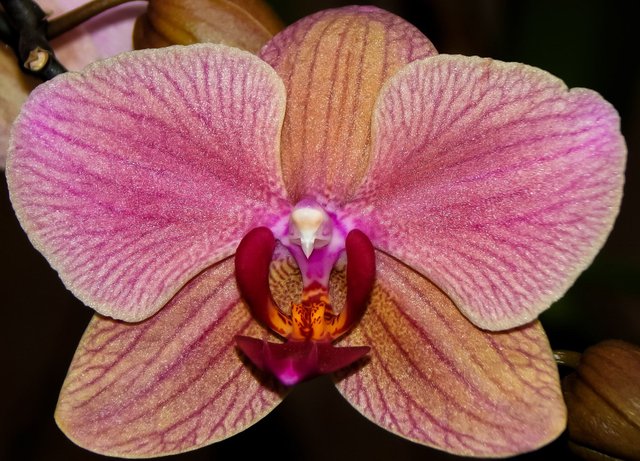 It's possible that we never discover because the human being needs to label everything and establish arbitrary associations. And maybe also, it's very likely that I will never stop doing it. The truth is that in that controlling desire, to always belong to a certain group, for whatever reason, makes us lose our horizon a little and we run the risk of passing in life like horses with earflaps, without recording the wonders around us.
One of those wonders of nature that we surely have at our disposal, and that the familiarization made her lose her charm a bit, is the orchid. I can assure you that we know almost nothing about it, except that it is the brides' favorite, and that like practically all flowers, when offered as a gift to another person, according to the colors, expresses different intentions towards it. The curious thing about this is that the meaning of each color implies a "want to say" that assumes that the other must perceive, understand, and respond.
We are not being very elaborate?
Another curiosity about orchids is related to the etymology of their name. The word Orchid has its origin from the Greek όρχις "orchis", which means "testicle" because they have underground tubers that resemble the male human genital physiognomy. How could it be otherwise, there is a legend of Greek mythology about the origin of orchids, in which the Greek gods, after committing Orchis, the unforgivable sin of having intimate relations with a priestess, force him to provide satisfaction to the men in their own life. And this is how Orchis was transformed into an orchid, an aphrodisiac flower, and with erotic powers that stimulate the sexual desire of those who smell it.
That said, it is apparently unquestionable that the orchid carries a connotation but sexual, at least erotic very strong, and that the overload of an immensity of meanings, which in the flesh embody fears to put into words what happens to us. Maybe it's time for us to learn to be a little more tolerant of nature, and stop asking for more miracles than it gives us; and maybe so, we also learn to admire the wonderfulness of what surrounds us.
---

Photo taken with Nikon Coolpix L830
Bogotá, Colombia
Orchid: Perfection and Beauty

---