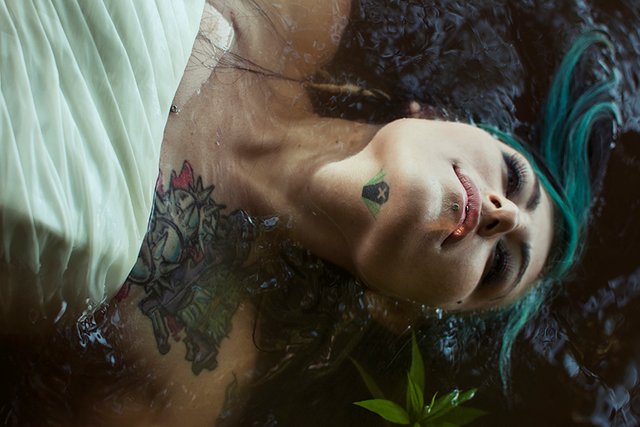 Steemians, good day! I'm at @caffetto, relatively early, trying to dig through a mountain of work. These next few days are going to be intense. I've decided I'm going to do NOIR, my annual black and white Old Hollywood boudoir event, in Minneapolis in January. That means redesigning, setting up and launching the website to take bookings. Trial by Comics winners and next theme will be announced tomorrow as well, so I'm going to be up late finishing the artwork […it's almost done]. All the deadlines make me happy that Thanksgiving was near perfect. Myself, @vermillionfox, @mada, @guthrie @moony and @tarotbyfergus had a nice evening Friendsgiving. Magic: The Gathering, robots and One Punch Man.
Today's photography is making up for not posting last night. Occasionally, I think of a shoot and immediately wonder, "…have I posted that on Steemit already?", sometimes surprised when I haven't […almost 20 years of photography, one or two fall through the cracks]. This is one of those shoots.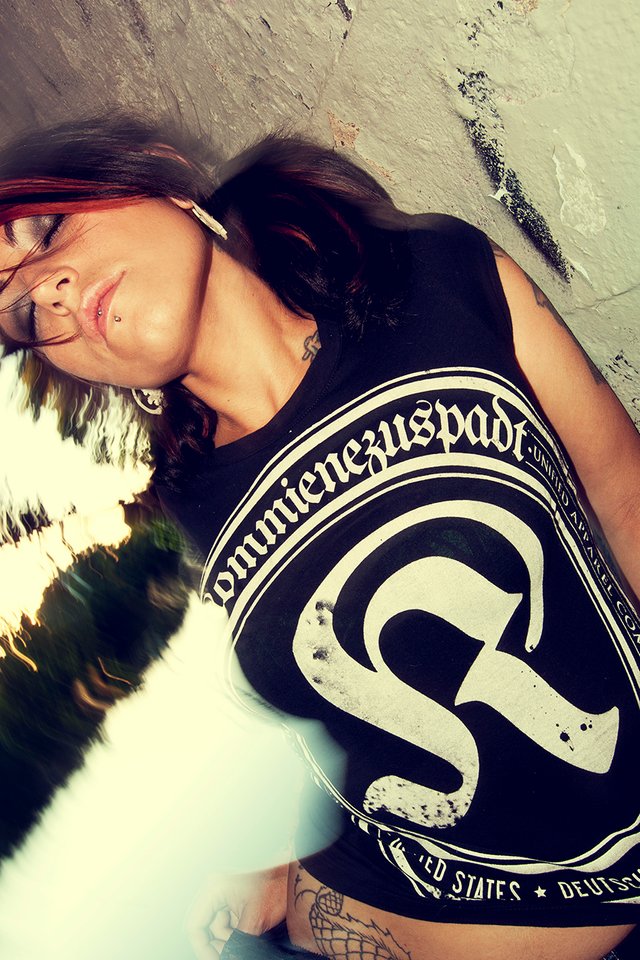 My friend @kellifury is here on Steemit, although she isn't active. She's a phenomenally gifted female tattooer at Wingnut Tattoo in St. Cloud, MN. She's a fine artist, painter,  illustrator, and model. When I first moved to Minneapolis, Kelli was one of the first friends I made in the Twin Cities. Our first shoot together was to help promote a "Kommienezuspadt" apparel line I was getting off the ground. Crazy seeing these photos now, knowing that I used a flash. I don't think I've done that since.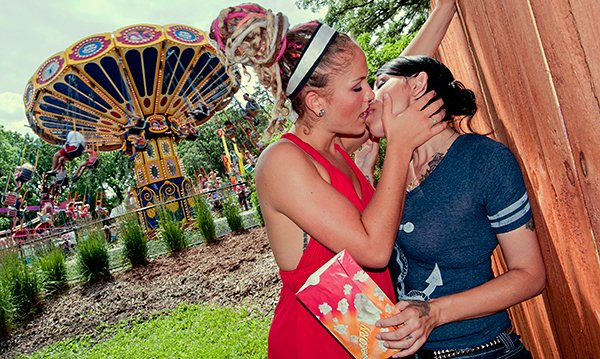 Our second time shooting together was an ad campaign for an upscale, feminist owned sex toy retailer in Minneapolis. I shot a variety of couples together celebrating in sexy fashion for the boutique's 8 year birthday. I photographed @kellifury and my ex-girlfriend at small carnival. Immensely stressful to shoot […although I'm sure it doesn't look that way]. Security was hawking over us the entire shoot […I'm assuming just in case we were planning on doing something really inappropriate]. Still, such a provocative shot. The tilt-a-whirl in the background is the perfect backdrop and I love the details, like the bag of popcorn.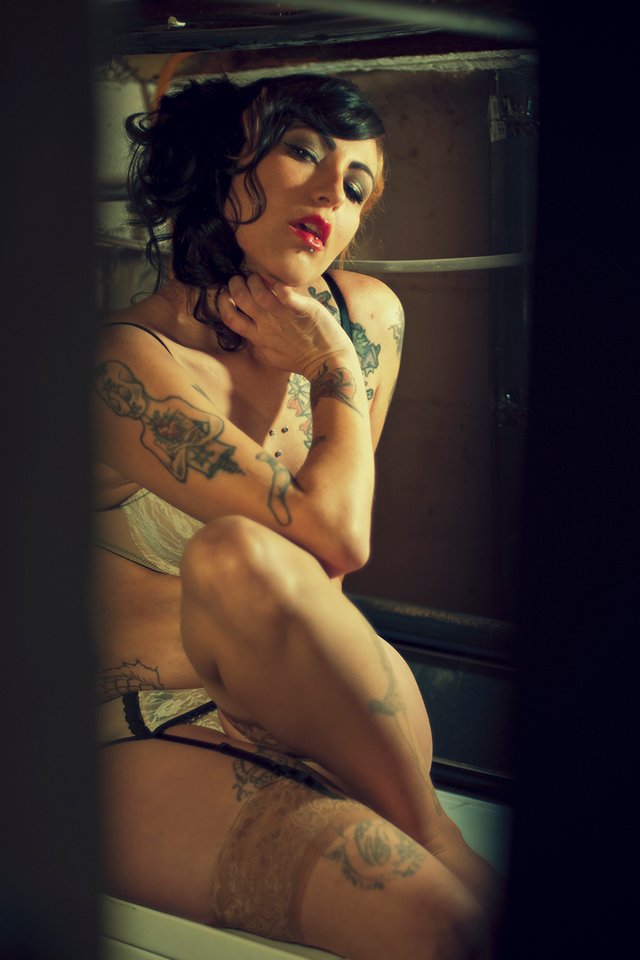 @kellifury and began shooting regularly after that, at times just for fun. This shot was taken in my basement. Very little preparation other than a duffle bag of lingerie, make-up and finding interesting places to make photos throughout the home. I sometimes miss fun, low production TF shoots just to stay creatively limber.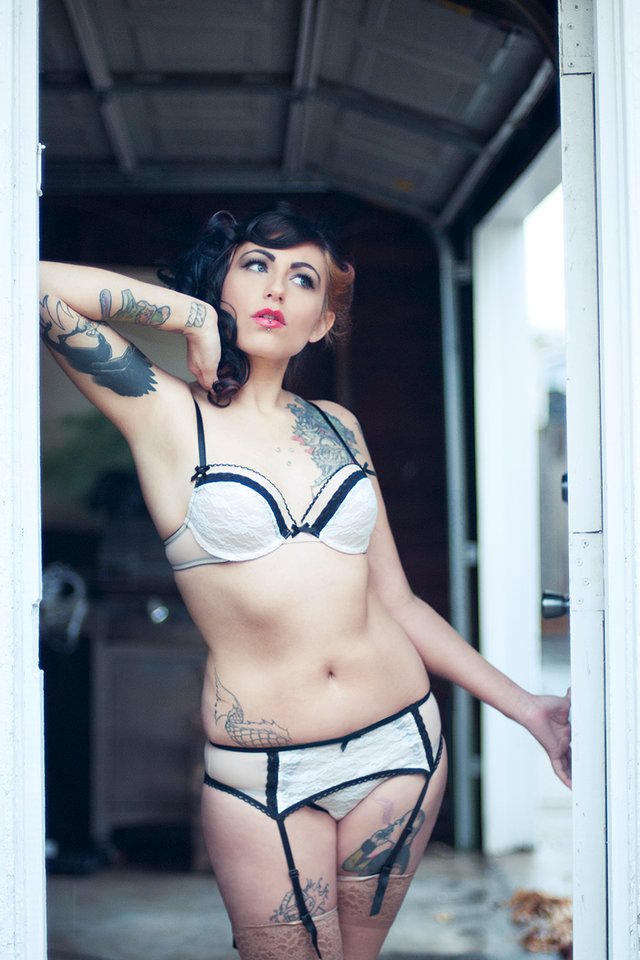 There were a couple more collaborations over the years, including some beautiful pinup looks that will be appearing in "Dark Pinup", […my upcoming photography book release with @wcpublihsing], and an entire series of Opheliaesk water photos, floating in the Mississippi river in a wedding gown […seen at the top of the blog]. It's rare to share such a strong friendship and creative synergy with a person.
Thanks for reading! I post all the time so for more photography, art, illustration and the stories behind the work, follow me here @kommienezuspadt!