My photography results yesterday
Selamat pagi teman steemit,apakabar kalian pada pagi hari saya harap semua lancar-lancar dan selalu dalam lindungan tuhan dimanapun anda berada,seperti biasanya pada pagi yang cerah ini saya akan membagikan satu lagi konten fotografi terbaru saya.Didunia bermacam cara bisa kita lakukan dalam kehidupan kita sehari-hari.
Good morning steemit friends, how come you guys in the morning I hope everything is smooth and always protected by God wherever you are, as usual on this sunny morning I will share one of my latest photography content. The world is various ways we can do it in life. we are everyday.
Konten fotografi saya kali ini merupakan salah satu objek makanan yang sudah siap sajikan yaitu ayam bakar,melihat sekilas dari foto ini mungkin terasa aneh sekali,padahal bila melihat secara dekat foto tersebut sangat bagus detailnya itu karena pengaruh cahaya yang minim membuat objek foto tersebut sangat bagus bagi.
The content of my photography this time is one of the food objects that is ready to serve, which is grilled chicken, a glimpse of this photo may seem strange, even though looking closely at the photo is very good details because the minimal effect of light makes the object very good for.
Untuk mengabadikan momen tersebut,saya hanya menggunakan smartphone kesayangan saya yaitu Samsung s8 plus,untuk melihat hasil foto tersebut saya sempat memotretnya dua lembar foto,terima kasih semua.
To capture the moment, I only used my favorite smartphone, Samsung s8 plus, to see the results of the photos, I had two photos taken, thank you all.
---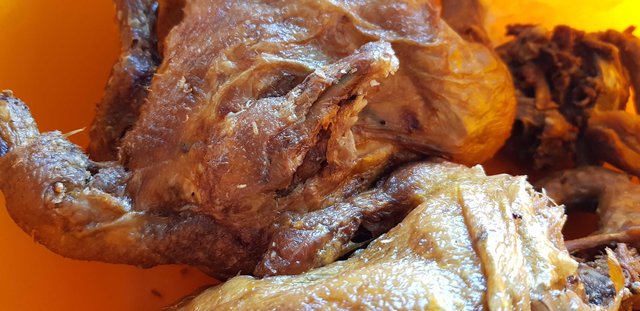 ---