This is my entry for #thaiphotocontest37 on rivers and klongs or canals photography contest.
This contest comes at the right time as the temperature in the capital has reached 37 degree Celsius this week. So, I am glad for the opportunity to be by the river to cool down. Yesterday was my first visit to IconSiam, the biggest and latest luxurious shopping complex in Bangkok.
I had to queued up for the free boat ride to IconSiam at Sathorn Pier. It took about ten minutes to arrive at the crowded landing on the opposite side of the river. I was so surprised that there were hundreds of people gathering on the open space in front of the entrance. They were waiting for the laser and light show on water curtain. They were all having a good time photographing the light show.
The wind was quite strong and I almost lost my cap. It was exhilarating to be walking around by the river watching people in all ages and nationalities having a good time. The darkening sky and the shimmering reflections of passing boats on the river gave a very different impression during daytime. The evening was very cooling and relaxing by the Chao Phraya River.
เมื่อวานนี้เราถือโอกาสไปเดินเล่น ที่ไอคอนสยามเป็นครั้งแรก เพื่อจะได้ไปถ่ายรูปริมแม่น้ำ และคลายความร้อนบ้าง ตอนนี้อุณหภูมิที่กรุงเทพขึ้นสูงถึง 37 องศาเซลเซียส เรายืนคอยคิว เพื่อรอขึ้นเรือโดยสารฟรีของทางห้างประมาณสิบนาที เรืออัดเต็มไปด้วยผู้คน ทั้งคนไทยและนักท่องเที่ยวต่างชาติ มีคนจีนมากที่สุด พอเรือจอดที่ท่านํ้าเราก็เห็นคนหลายร้อยคน ยืนกระจัดกระจายอยู่ที่ลานกว้างกน้าทางเข้าห้าง สักพักก็รู้ว่าคนมาคอยดู การแสดงแสงสีและน้ำพุตอนกลางคืน ทุกคนพยายามถ่ายรูปกัน กล้องเป็นร้อยตัวถูกชูขึ้นมาพร้อมๆกัน
ที่ริมแม่น้ำบรรยากาศดีมาก ลมพัดแรงมาก ท้องฟ้าเริ่มมืดลงเรื่อยๆ มีคนมาถ่ายรูปสถานที่กันมากจริงๆ มีคนทุกเพศทุกวัน คนไทยและชาวต่างชาติมาเที่ยวพักผ่อนริมน้ำ คล้ายกับเวลาที่มีงานใหญ่ที่สนามหลวง พอท้องฟ้าเริ่มมืดสนิท เรือสำราญก็ค่อยๆล่องมาตามแม่นํ้า แสงไฟที่เรือสะท้อนลงบนแม่นํ้าเป็นสีต่างๆ ดูสวยงามมาก แม้แต่แสงไฟจากไอคอนสยามที่สะท้อนบนตึกระฟ้าตรงข้ามแม่นํ้าก็ดูสวยระยิบระยับในเวลากลางคืน บรรยากาศช่างต่างจากความกระปรี้กระเปร่าของเวลากลางวัน ดูผู้คนนั่งคุยกันสบายๆ กลุ่มเพื่อน และครอบครัวต่างพากันถ่ายรูปหมู่ ไม่มีคนเร่งรีบไปไหน นอกจากเราคนเดียวที่จับเวลาทุกฝีก้าวเพื่อกลับไปมี่ท่าเรือก่อนจะมีคนหนาแน่น คลื่นนํ้าแรงมาก นี่เป็นช่วงนํ้าขึ้นหลังพระจันทร์เต็มดวง
Wishing you a very peaceful and relaxing Sunday!
Cheers.
I am redeeming my Partiko points for some upvote points on this post! These are bonus points from Partiko. Please follow my link in the post below.
https://busy.org/@kaminchan/would-you-like-to-try-partiko-app-snvuueef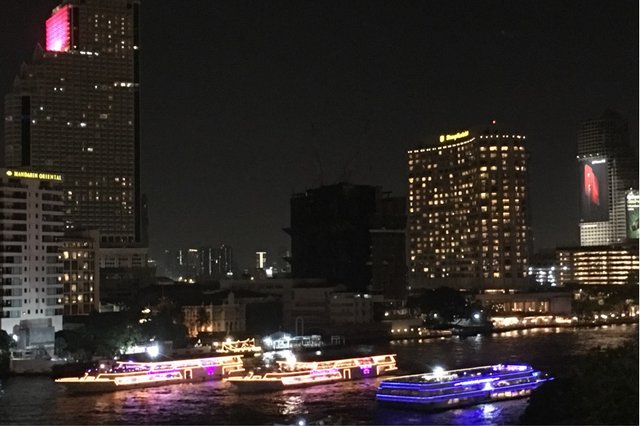 Posted using Partiko iOS