| | |
| --- | --- |
| After the frosty and foggy pictures from our valleys, I show one more time photos of a sunrise in snowy mountains with the two different colorings of Alpenglow. | Nach den rauhreifigen und nebligen Bildern aus unseren Tälern bringe ich heute wieder einmal Fotos von einem Sonnenaufgang in schneebedeckten Bergen mit den zwei verschiedenen Färbungen des Alpenglühens. |
Alpenglow - Alpenglühen
Triglav National Park . Slovenia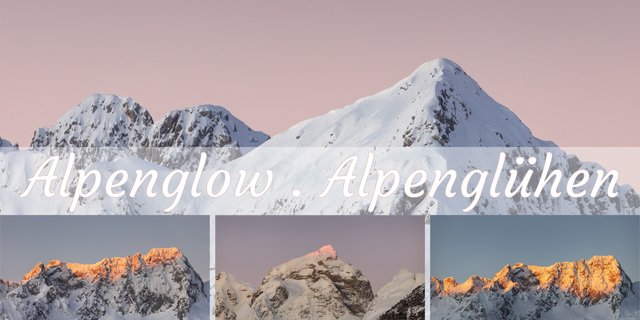 | | |
| --- | --- |
| I took all of these photos on the same morning at the Vršič Pass at the beginning of January, only I took photos in slightly different directions and the time difference between the photos was a few minutes, in which the colors of the sky and the mountains have changed immensely - from subtle violet morning tones in the sky to glowing mountain peaks, both of which are referred to as alpine glow. | Diese Fotos habe ich alle am gleichen Morgen Anfang Jänner am Vršič Pass gemacht, nur habe ich in etwas verschiedene Richtungen fotografiert und der Zeitunterschied zwischen den Fotos betrug einige Minuten, in welchen sich die Farben des Himmels und der Berge zum Teil immens verändert haben - von subtilen violetten Morgentönen am Himmel bis zu leuchtenden Berggipfeln, wobei beides als Alpenglühen bezeichnet wird. |
Second Coloring / reflected Sunlight / zweite Färbung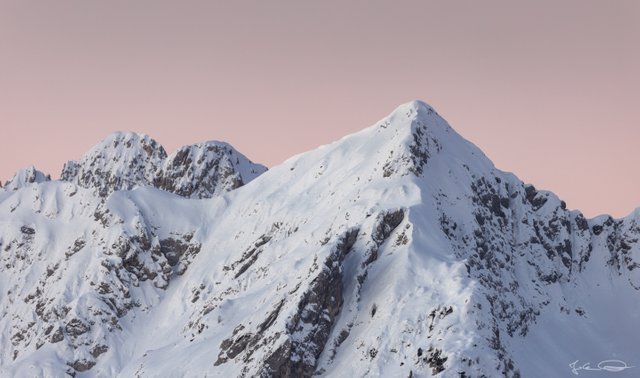 ❖ click the image for fullsize view ❖
Because I have taken the photos at sunrise, there was first the second coloring (reflected sunlight) and then the first coloring (direct sunlight).

>>> Alpenglow info after the next photo <<<<

In the photo below, the sun has already reached the highest mountain in this mountain range. The summit of the Jalovec (2,645 m - 8,678 ft) begins to glow and the sky slowly changes from purple to blue.

Nachdem ich die Fotos bei Sonnenaufgang gemacht habe, hat es zuerst die zweite Färbung (reflektiertes Sonnenlicht) und dann die erste Färbung (direktes Sonnenlicht) gegeben.

>>> Alpenglühen Infos nach dem nächsten Foto <<<<

Im nachfolgenden Foto hat die Sonne den höchsten Berg dieser Gebirgsgruppe bereits erreicht. Der Gipfel des Jalovec (2.645 m - 8,678 ft) beginnt zu leuchten und der Himmel verfärbt sich langsam von Violett zu Blau.
Second Coloring / reflected Sunlight / zweite Färbung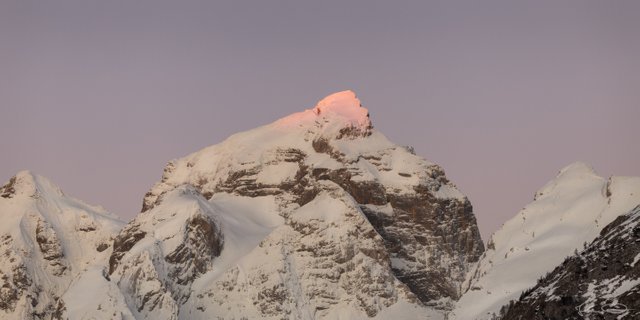 ❖ click the image for fullsize view ❖
Alpenglow

occurs at sunrise and at sunset when the mountains are reached by the low sun and are illuminated in red. This is also called "first coloring" (direct sunlight). With the "second coloring" (reflected sunlight) the sun is already too low (sunset) or not yet high enough (sunrise) to directly illuminate the mountain peaks as with the first coloring. In that case the sunlight is reflected by particles in the air (dust, ice crystals) and only falls slightly on the peaks and the sky turns purple.

(Based on Wikipedia - the article with more details is linked in the information area below.)

Alpenglühen

entsteht bei Sonnenaufgang und bei Sonnenuntergang wenn die Berge von der tiefstehenden Sonne erreicht und rot beleuchtet werden. Das nennt man auch "erste Färbung" (direktes Sonnenlicht). Bei der "zweiten Färbung" (reflektiertes Sonnenlicht) ist die Sonne bereits zu tief (Sonnenuntergang) oder noch nicht hoch genug (Sonnenaufgang), um die Berggipfel wie bei der ersten Färbung direkt zu beleuchten. Das Sonnenlicht wird dabei von Partikeln in der Luft (Staub, Eiskristalle) gestreut und fällt nur abgeschwächt auf die Gipfel. Der Himmel färbt sich dabei violett.

(Frei nach Wikipedia - Links zum Artikel mit näheren Details unten im Informationsbereich.)
First Coloring / direct Sunlight / erste Färbung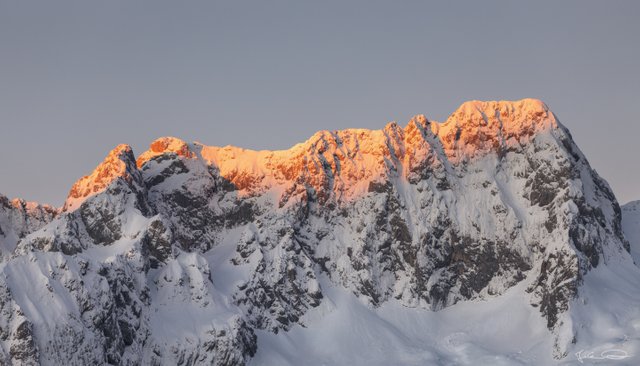 ❖ click the image for fullsize view ❖
I used the super telezoom lens Sigma 150-600mm that day because I wanted to photograph the cabin in the snow. These photos I have posted about two weeks ago (Cabin in the Snow / Hütte im Schnee (SLO)).
All the photos on this page were taken with this lens, and of course I used a tripod.

Ich habe an diesem Tag das Super Telezoom Objektiv Sigma 150-600mm verwendet, weil ich die Hütte im Schnee fotografieren wollte. Diese Fotos habe ich bereits vor etwa zwei Wochen gepostet (Cabin in the Snow / Hütte im Schnee (SLO)).
Alle Fotos auf dieser Seite sind somit mit diesem Objektiv aufgenommen worden, und natürlich habe ich ein Stativ verwendet.
First Coloring / direct Sunlight / erste Färbung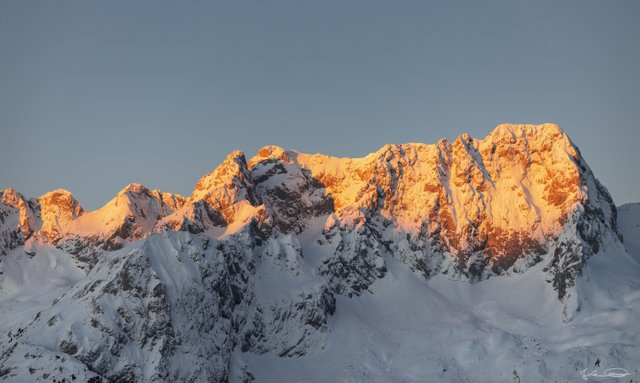 ❖ click the image for fullsize view ❖
Information
All photos were shot with the Canon EOS R and one of these lenses: Canon RF 24-105mm f/4 L IS USM, Canon EF 70-200mm f/4 L IS II USM, Canon EF 16-35mm 1:4L IS USM, SIGMA 105mm 1:2,8 DG MACRO HSM, SIGMA 150-600mm F5-6.3 DG OS HSM C
---
If you like my photos I would appreciate an upvote, nice comment or a resteem 😊 ... and maybe you would like to follow me, so you do not miss a post from me anymore.
Thank you for visiting my blog,
have a nice evening and a great new working week ahead,



Photos and Text: Johann Piber | All rights reserved - do not use without my permission
#originalcontent #originalworks
2020-01-19