| | |
| --- | --- |
| I love to photograph streams and waterfalls, but that should already be well known;) Today we go once again into the Zadnjica valley, of which I found a few more photos. | Ich liebe es, Bäche und Wasserfälle zu fotografieren, aber das dürfte ja bereits hinlänglich bekannt sein ;) Heute geht es wieder einmal in das Zadnjica Tal, von welchem ich ein paar weitere Fotos gefunden habe. |
Sunrise and Waterfall / Sonnenaufgang und Wasserfall
Zadnjica Valley . Triglav National Park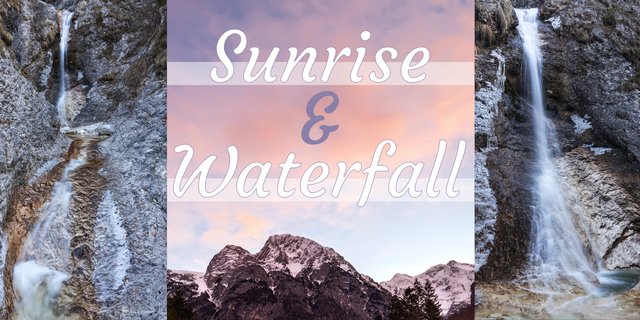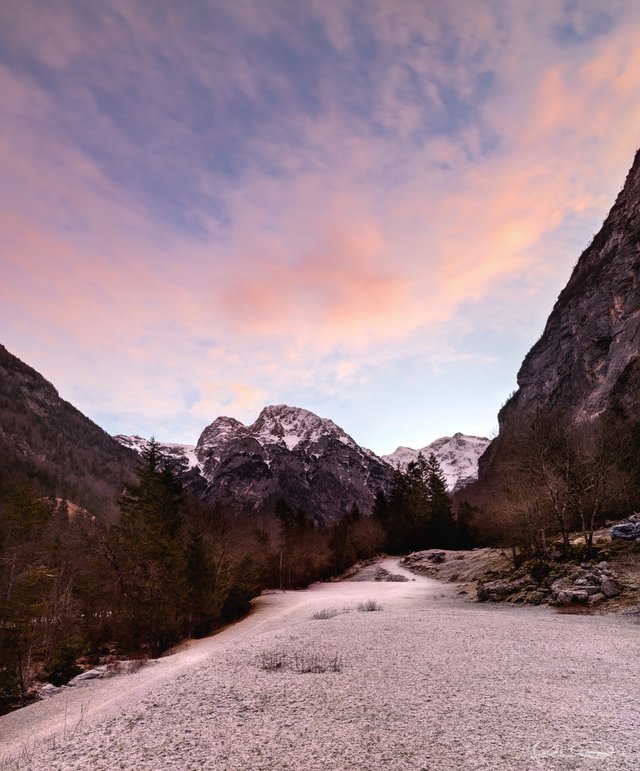 ❖ click the image for fullsize view ❖
| | |
| --- | --- |
| The valley is oriented towards the east and if in the morning the weather and clouds are right, you can see that very clearly. The path into the valley is on the left behind the trees. | Das Tal ist ostwärts ausgerichtet und wenn morgens Wetter und Wolken passen, dann kann man das auch ganz deutlich erkennen. Der Pfad in das Tal befindet sich links hinter den Bäumen. |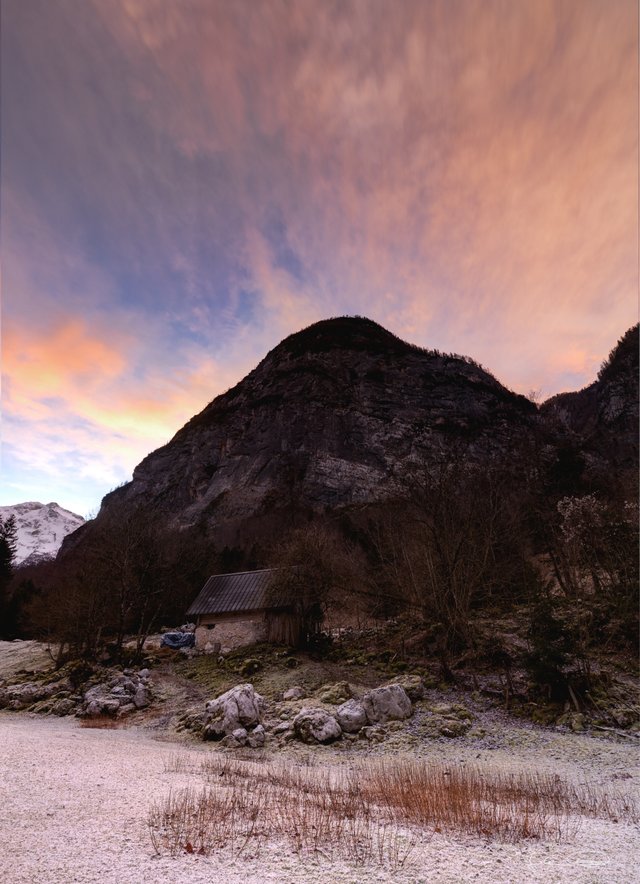 ❖ click the image for fullsize view ❖
| | |
| --- | --- |
| Past this old stone house leads another path to other waterfalls, which are said to be more difficult to reach, and which I would also like to visit during the year. | An diesem alten Steinhaus vorbei führt ein anderer Pfad zu weiteren Wasserfällen, die schwerer zu erreichen sein sollen, und welche ich im Laufe des Jahres ebenfalls besuchen möchte. |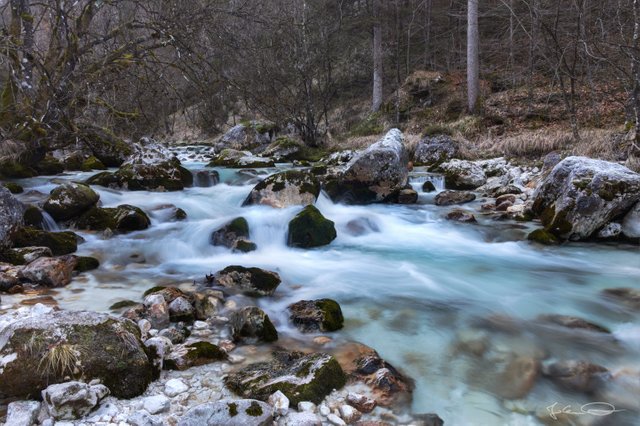 ❖ click the image for fullsize view ❖
Most of the way to the two waterfalls leads alongside the Zadnjica stream, where you can always find interesting places for photography.

At one point, several smaller streams flow from the forest into the Zadnjica stream.

Der Weg zu den beiden Wasserfällen führt zum Großteil neben dem Zadnjica Bach entlang, wo man immer wieder interessante Stellen zum Fotografieren finden kann.

An einer Stelle fließen gleich mehrere kleinere Bäche aus dem Wald in den Zadnjica Bach.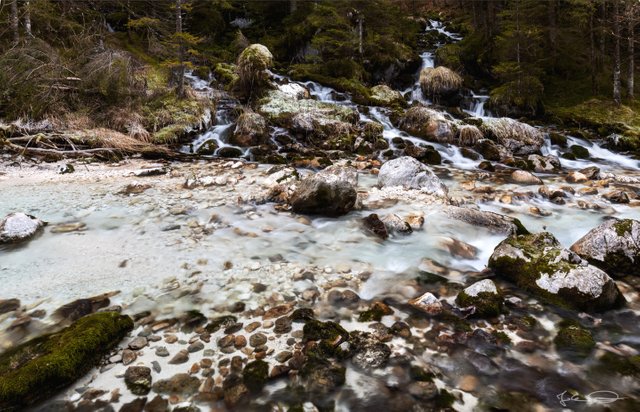 ❖ click the image for fullsize view ❖
| | |
| --- | --- |
| Before you get to the waterfalls, the brook widens into a small pond and the mountain water is hardly recognizable due to its clarity. Right behind you can already see the begining of the lower waterfall. | Bevor man zu den Wasserfällen kommt, ist der Bach zu einem kleinen Teich erweitert und das Bergwasser ist wegen seiner Klarheit kaum zu erkennen. Rechts hinten kann man bereits den Ausläufer des unteren Wasserfalles erkennen. |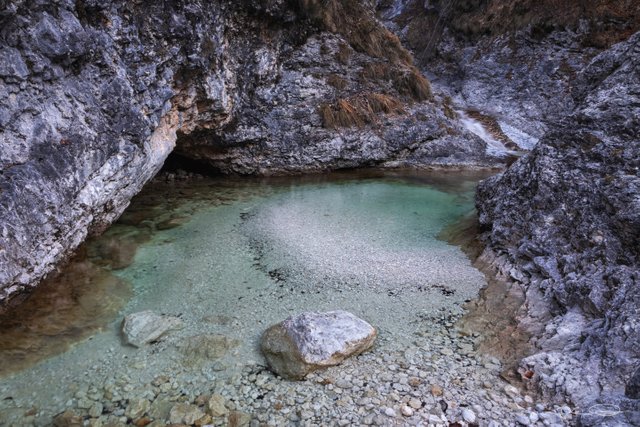 ❖ click the image for fullsize view ❖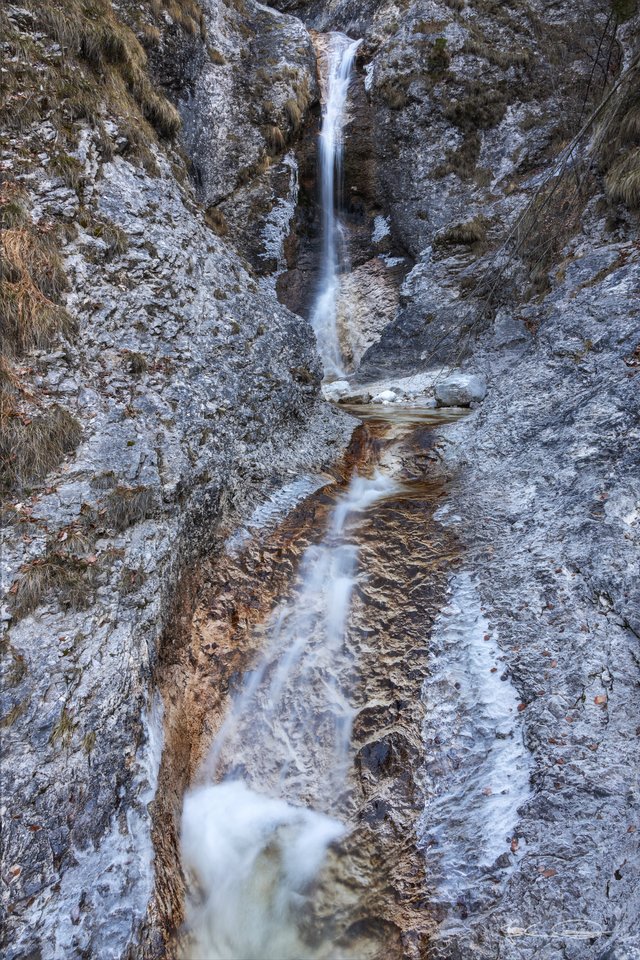 ❖ click the image for fullsize view ❖
| | |
| --- | --- |
| At the beginning of January 2020 we had a few colder days, which is why there was even some ice in the area of the waterfalls. | Anfang Jänner 2020 hatten wir ein paar kältere Tage, weshalb sogar etwas Eis im Bereich der Wasserfälle entstanden ist. |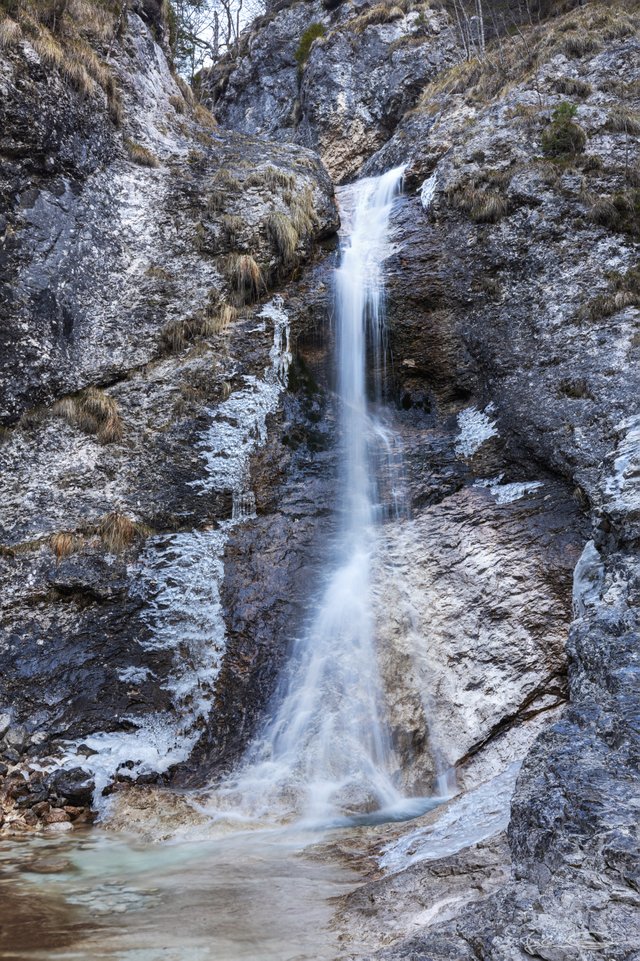 ❖ click the image for fullsize view ❖
| | |
| --- | --- |
| The lower waterfall "spodnji slap" is 15 meters high and just above is the 4 meter high second waterfall "zgornji slap", where I have been onl yonce before because of the icy rocks. I showed photos of the upper watefall quite a few days ago. | Der untere Wasserfall "spodnji slap" ist 15 Meter hoch und gleich oberhalb befindet sich der 4 Meter hohe zweite Wasserfall "zgornji slap", bei dem ich aber wegen der vereisten Felsen erst einmal gewesen bin. Diese Fotos habe ich bereits vor einigen Tagen gezeigt. |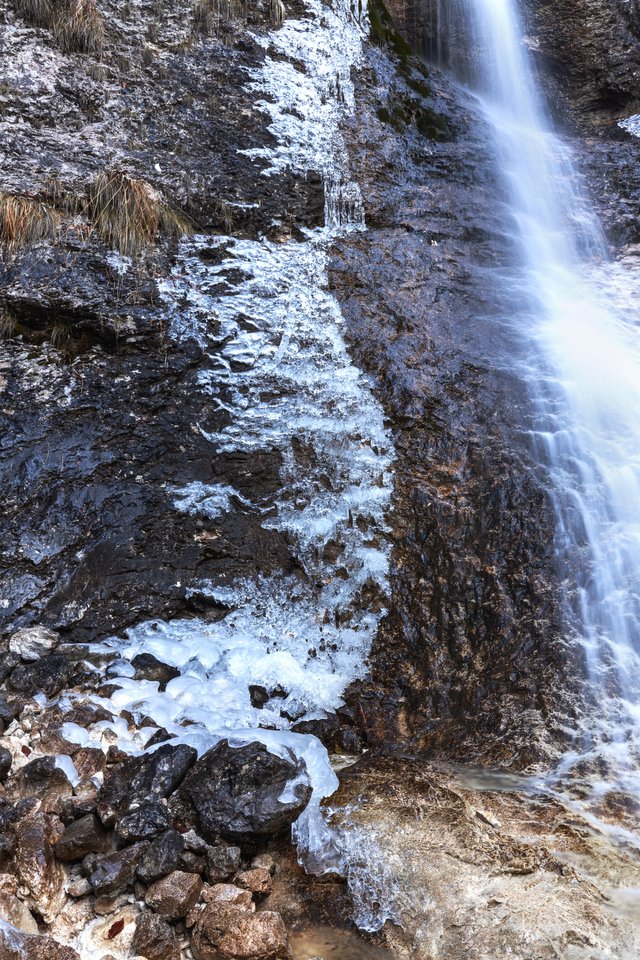 ❖ click the image for fullsize view ❖
Nature
"Nature" is what we see--
The Hill--the Afternoon--
Squirrel --Eclipse-- the Bumble bee--
Nay--Nature is Heaven--
Nature is what we hear--
The Bobolink--the Sea--
Thunder--the Cricket--
Nay--Nature is Harmony--
Nature is what we know--
Yet have no art to say--
So impotent Our Wisdom is
To her Simplicity.

by Emily Dickinson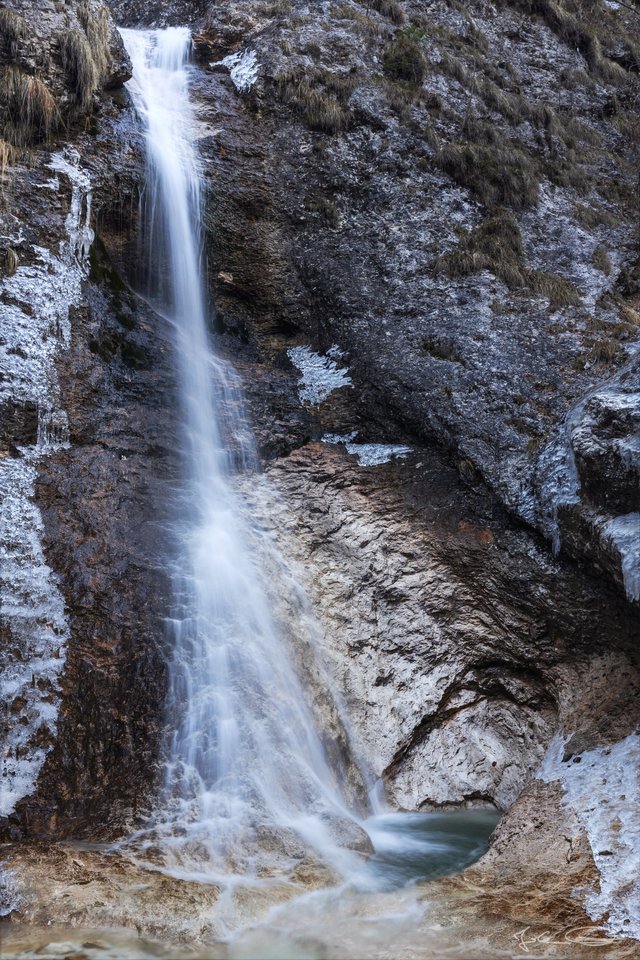 ❖ click the image for fullsize view ❖
| | |
| --- | --- |
| I almost used the name of the Zadnjica valley again in the title of this post - then the Slovenian-speaking visitors would have had something to laugh about again, because Zadnjica means something like "buttocks" or "backside". | Fast hätte ich wieder den Namen des Zadnjica Tales im Titel verwendet - dann hätten die Slowenisch sprechenden Besucher wieder was zu lachen gehabt, denn Zadnjica bedeutet soviel wie "Gesäß" oder auch "Hinterteil". |
Information
All photos were shot with the Canon EOS R and one of these lenses: Canon RF 24-105mm f/4 L IS USM, Canon EF 70-200mm f/4 L IS II USM, Canon EF 16-35mm 1:4L IS USM, SIGMA 105mm 1:2,8 DG MACRO HSM, SIGMA 150-600mm F5-6.3 DG OS HSM C.
If you are interested in the shooting data - I leave all EXIF and IPTC information stored in the pictures.
---
If you like my photos I would appreciate an upvote, nice comment or a resteem 😊 ... and maybe you would like to follow me, so you do not miss a post from me anymore.
Thank you for visiting my blog,
have a nice evening,



Photos and Text: Johann Piber | All rights reserved - do not use without my permission
#originalcontent #originalworks
2020-01-30