"Dear Stranger, ur now up to find Slowenia's biggest treasure..."
| | |
| --- | --- |
| This is written on the wall of an abandoned building at the street over the Vršič Pass, where I parked today. Actually, that was just the entrance in front of a barrier, after which an old, overgrown and no longer accessible path leads into the forest ... but first I'll tell you what happened before ... | Das steht an der Hauswand des verlassenen Gebäudes an der Straße über den Vršič Pass geschrieben, wo ich heute geparkt habe. Eigentlich war das nur die Einfahrt vor einem Schranken, nach welchem ein alter verwuchterter und nicht mehr befahrbarer Weg in den Wald führt, aber alles der Reihe nach... |
A Stable and a Treasure / Ein Stall und ein Schatz
Triglav National Park . Slovenia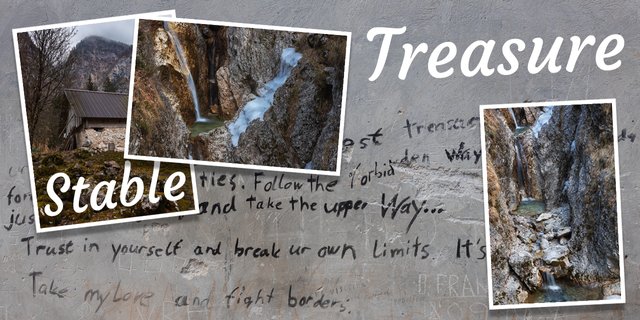 | | |
| --- | --- |
| When I left for Slovenia this morning, a comment from @ditsch occurred to me and I changed my route without further ado to photograph a "little house" at the beginning of the Zadnjica valley. | Als ich heute morgen nach Slowenien aufgebrochen bin, ist mir ein Kommentar von @ditsch eingefallen und ich habe meine Route kurzerhand geändert, um ein "Häuschen" am Anfang des Zadnjica Tales zu fotografieren. |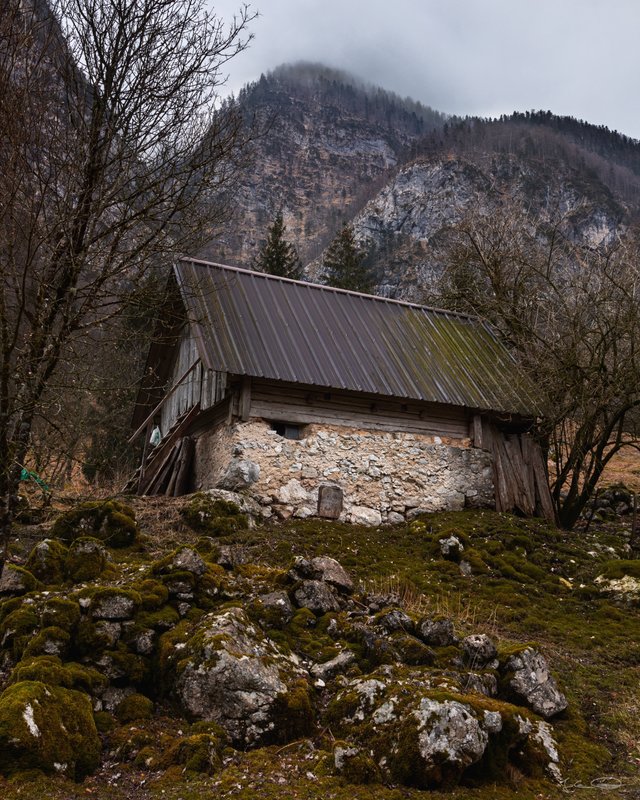 ❖ click the image for fullsize view ❖
I don't think you would want to live in there, @ditsch. Since Zadnjica means "butt" in Slovenian, this stable with the dung heap in front somehow fits perfectly, doesn't it?

In the lower brick part there is a stable, probably for sheep. You could also live above, but I think hay and feed will be stored there. I know alpine huts, they are also constructed like this and there is a living room for the dairyman above.

Ich glaube, da würdest du nicht drin wohnen wollen, @ditsch. Nachdem Zadnjica auf Slowenisch soviel wie "Hintern" heißt, passt doch dieser Stall mit dem Misthaufen irgendwie perfekt, oder?

Im unteren gemauerten Teil ist ein Stall untergebracht, wahrscheinlich für Schafe. Oberhalb könnte man aber möglicherweise auch wohnen, aber ich denke, dort wird Heu und Futter untergebracht sein. Ich kenne Almhütten, die sind auch so aufgebaut und da ist oberhalb ein Wohnraum für den Senner / die Sennerin.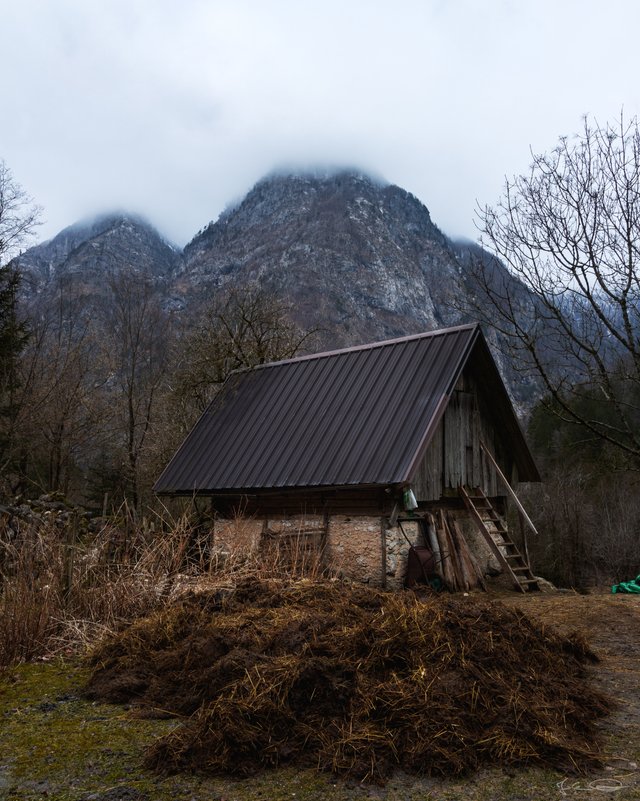 ❖ click the image for fullsize view ❖
| | |
| --- | --- |
| After a short trip to the Mlinarica waterfall, which lies on the route over the Vršič pass, I drove towards the pass. A neglected abandoned house stands in a curve. Someone scribbled this saying on the house wall. | Nach einem kurzen Ausflug zum Mlinarica Wasserfall, der auf der Strecke über den Vršič Pass liegt, bin ich weiter Richtung Pass gefahren. In einer Kurve steht ein verwahrlostes verlassenes Haus. An die Hausmauer hat jemand diesen Spruch gekritzelt. |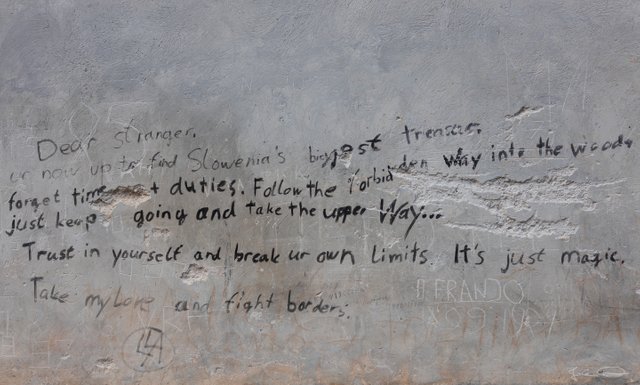 ❖ click the image for fullsize view ❖
Dear Stranger,
ur now up to find Slowenia's biggest treasure.
Forget time + duties. Follow the forbidden way into the woods just keep going and take the upper Way...
Trust in yourself and break ur own limits. It's just magic.
Take my Love and fight borders.
LLA

Lieber Fremder,
Du bist jetzt auf der Suche nach Sloweniens größtem Schatz.
Vergiss Zeit + Pflichten. Folgen Sie dem verbotenen Weg in den Wald mach einfach weiter und nimm den oberen Weg ...
Vertrauen Sie sich selbst und brechen Sie Ihre eigenen Grenzen. Es ist nur Magie.
Nimm meine Liebe und kämpfe gegen Grenzen.
LLA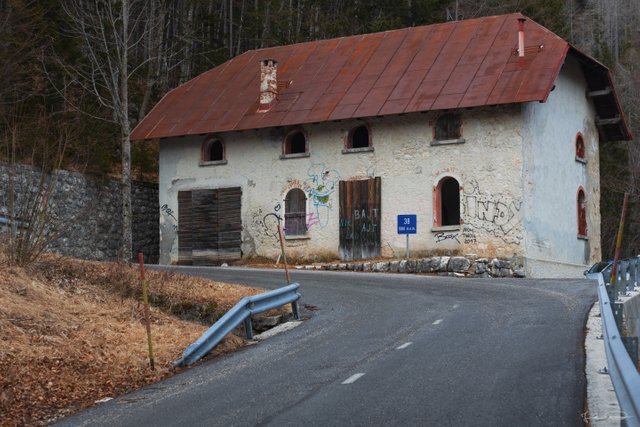 ❖ click the image for fullsize view ❖
| | |
| --- | --- |
| The saying made me curious, and after I have wanted to go there into the forest before anyway because, according to Google Maps, you can use this path to get to the Mlinarica stream before it disappears into the impassable gorge. | Der Spruch hat mich neugierig gemacht, und nachdem ich dort schon immer einmal in den Wald gehen wollte, weil man laut Google Maps über diesen Pfad zum Mlinarica Bach kommen soll, bevor er in der unpassierbaren Schlucht verschwindet. |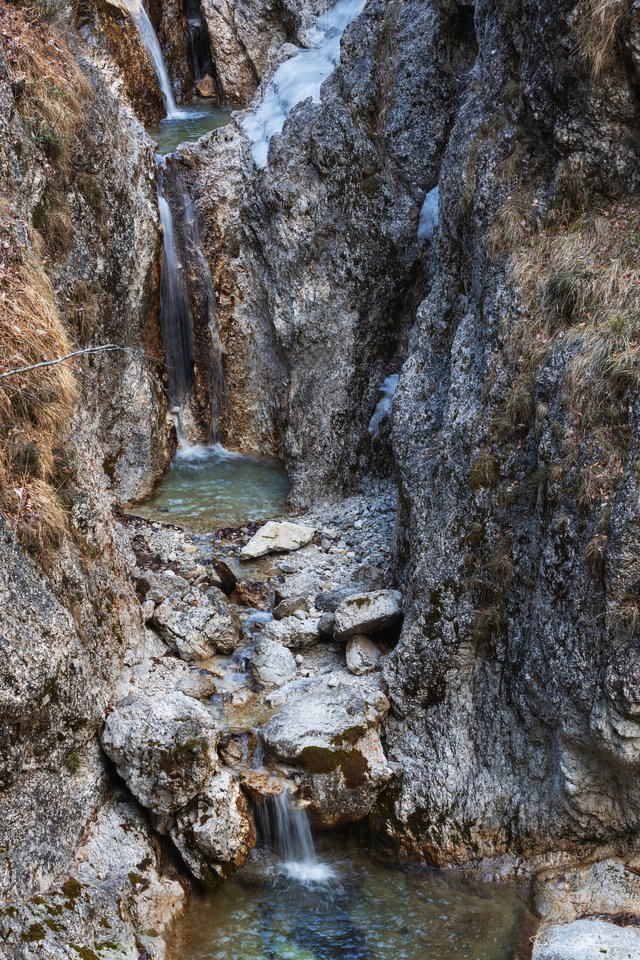 ❖ click the image for fullsize view ❖
Did I find a treasure?

No, because I probably did not follow the upper path far enough and reversed before a steep and possibly dangerous section. But there is also a lower path where I found this little gem of a waterfall.

Habe ich einen Schatz gefunden?

Nein, weil ich dem oberen Weg wahrscheinlich nicht weit genug gefolgt und vor einem wahrscheinlich gefährlichen Steilstück umgekehrt bin. Aber es gibt auch einen unteren Weg, an welchem ich dieses kleine Schmuckstück von einem Wasserfall gefunden habe.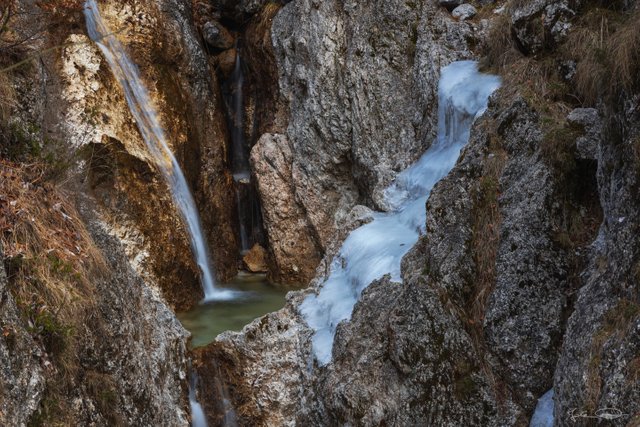 ❖ click the image for fullsize view ❖
| | |
| --- | --- |
| When I went back towards my car after taking the photos, I found another path, which leads deeper into the gorge where several brooks form small and large waterfalls in two merging gorges. I can certainly call this place a little treasure for me, which will see me again soon, because there is still a lot to discover here. | Als ich nach den Fotos wieder zurückgegangen bin, habe ich noch einen weiteren Weg gefunden, welcher tiefer in die Schlucht hinunter führt wo mehrere Bäche in zwei zusammenführenden Schluchten kleine und größere Wasserfälle bilden. Diesen Ort kann ich für mich ohne Zweifel als kleinen Schatz bezeichnen, der mich bald wiedersehen wird, denn hier gibt es noch sehr viel zu entdecken. |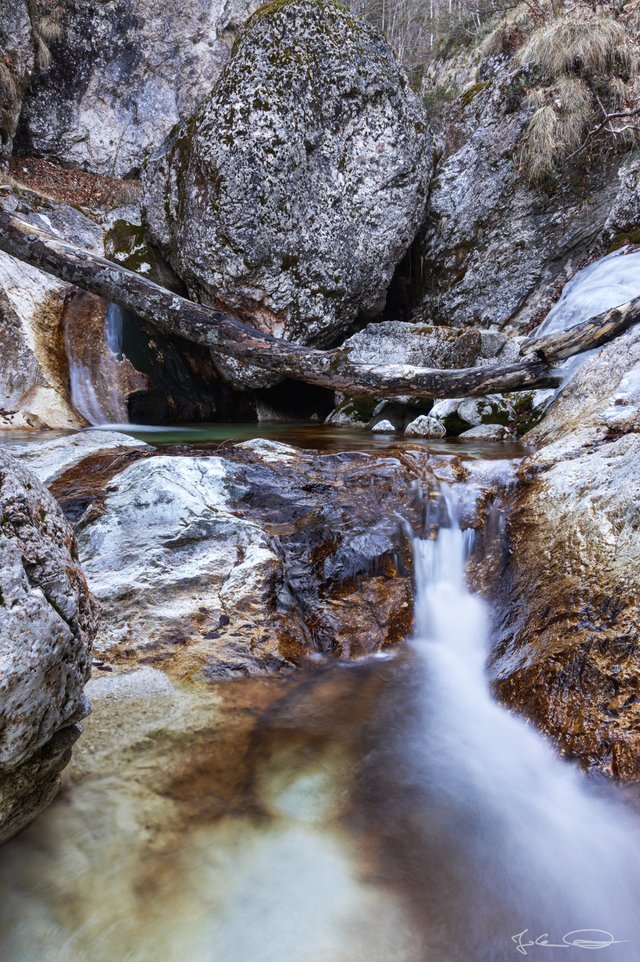 ❖ click the image for fullsize view ❖
| | |
| --- | --- |
| I plan to go back there soon - then I'll continue the upper path and find the treasure. | Ich habe vor, bald wieder dorthin zurückzukehren - dann werde ich den oberen Weg weitergehen und den Schatz finden. |
Information
All photos were shot with the Canon EOS R and one of these lenses: Canon RF 24-105mm f/4 L IS USM, Canon EF 70-200mm f/4 L IS II USM, Canon EF 16-35mm 1:4L IS USM, SIGMA 105mm 1:2,8 DG MACRO HSM, SIGMA 150-600mm F5-6.3 DG OS HSM C.
If you are interested in the shooting data - I leave all EXIF and IPTC information stored in the pictures.
---
If you like my photos I would appreciate an upvote, nice comment or a resteem 😊 ... and maybe you would like to follow me, so you do not miss a post from me anymore.
Thank you for visiting my blog,
have a nice evening,



Photos and Text: Johann Piber | All rights reserved - do not use without my permission
#originalcontent #originalworks
2020-02-02