Severe lightning storm over Prince George in Northern British Columbia just after dusk. You can clearly see the purple fringing on the edge of the lightning bolts. The lightning itself emits pure white light however the discharge though the atmosphere actually creates a plasma and the purple colour comes from this ionisation of the atmospheric gases. Ionisation is the same phenomena that causes the colour we see in polar Auroras. Plasma is neither solid, liquid, nor gas, rather it is often considered a fourth state of matter. It is quite rare on earth however over 99% of the matter in the universe exists as plasma, held within stars or as superhot interstellar matter.
We had a beautiful display of the storm looking back towards it out at Ness Lake as the cell passed mostly to the east of us and we avoided the flooding rain they received in town. Storms like this are rare up in Northern BC and we lost power for a couple of hours. I must say at the time it made me quite homesick for the frequent severe lightning storms we used to watch from our property in the mid latitudes of Australia.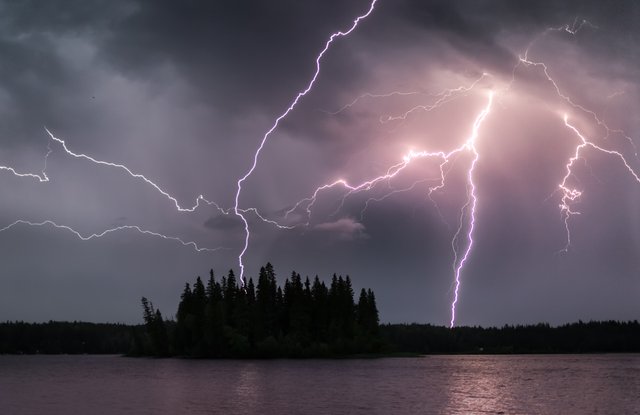 If you would like to learn a little bit more about my background in photography you can read the interview @photofeed did with me here.
Robert Downie
Love Life, Love Photography
All images in this post were taken by and remain the Copyright of Robert Downie - http://www.robertdowniephotography.com