"Warrior of Beauty" - the long-awaited shooting season!
Greetings!
Having overcome a lot of obstacles and endless troubles, such as a computer crash, endless rains and a hand injury, I again come back to tell about the most incredible and long-awaited photo shoot of the season, the project - "Warrior of Beauty"!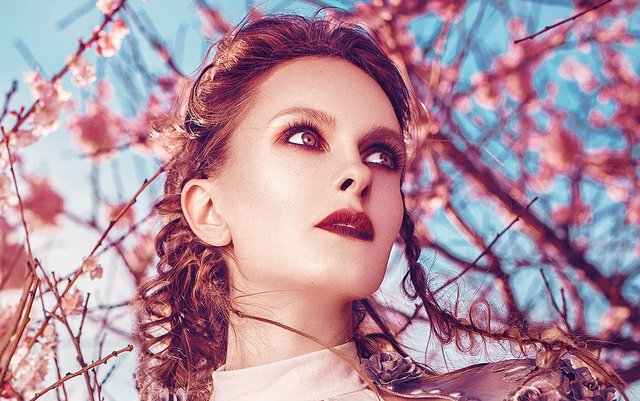 Six months ago I decided to conduct a photo project in apple blossom, but since such photosessions are held by almost every photographer every year, I wanted to introduce something special and thus it is advantageous to stand out against the others. Then the idea arose to transform my old mannequin, which I used for other shootings, into some kind of armor. And most importantly, I wanted to shoot an example beforehand in the very first flowering, so that people could see what a result should be expected.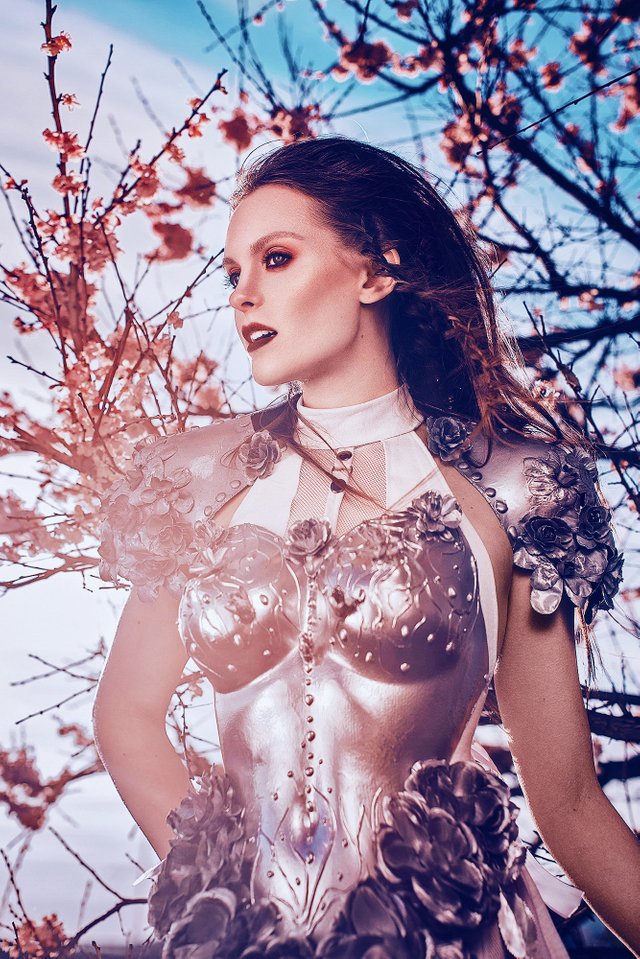 Having decided upon the concept, Andrey and I began to take turns dicing the mannequin to create the desired shape. It was decided to separate the thoracic part and the shoulders separately. The latter turned out to be rather short for an independent detail and did not resemble the forms I needed, so after a moment's thought, I decided to continue them as a sleeve, with flowers. Which, by the way, turned out to be a great idea, because I did not want to make a feminine image of a weighted coarse armor. In addition, and for greater compatibility, I added flowers and on the breastplate of the armor, and also drew simple patterns with Hot-melt adhesive.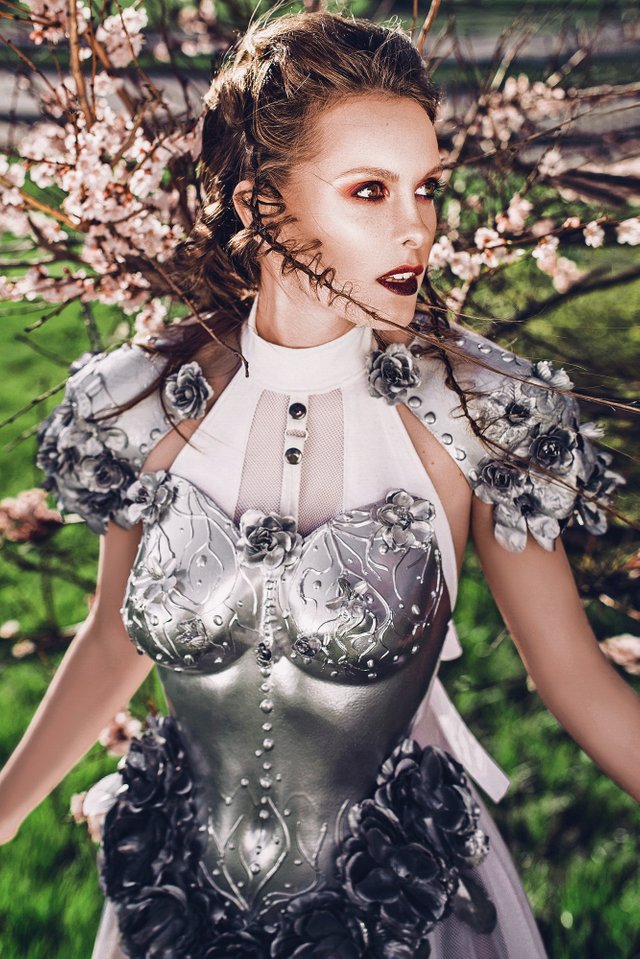 Surprisingly, until this moment, all that I used was essentially an improvised material, there were a lot of colors from past shots and from various crafts, and a decent supply of glue, and even my favorite paint is chromium with a metallic effect. But carried away by work, I made a couple of mistakes, which began a chain of stupid decisions and extra spending. So, for example, because of a strong desire to see the result as soon as possible, I rushed to paint the details, and then realized that we did not cut the bottom on which there was a large inscription and another part of the sidewall that reduced the possible sizes of the product.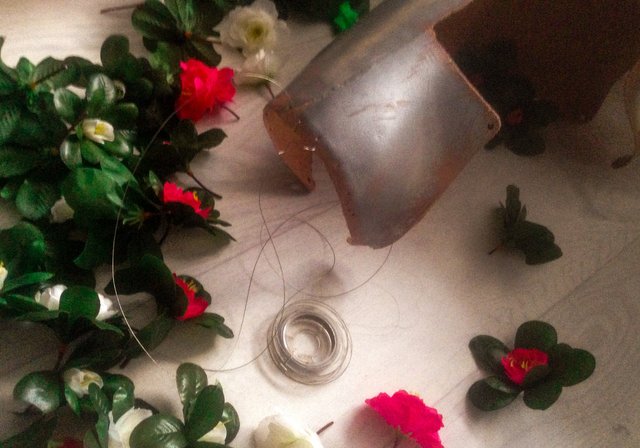 After cutting, it turned out that one side is smaller than the other side and all this disgrace now needs to be covered up somehow. Then larger flowers came to the rescue, but with a different texture, which I doubted. As a result, they turned out to be darker than the general color, but I decided that for a photo this is not a matter of principle and, if necessary, level the tone when processing. At me the paint comes to an end and next day it is necessary to run to shop, to search for the same paint, and certainly it there is not present. In the end, I had to take a similar shade of another manufacturer, which I can not stand, because it happened the day before the shooting and there were no other options.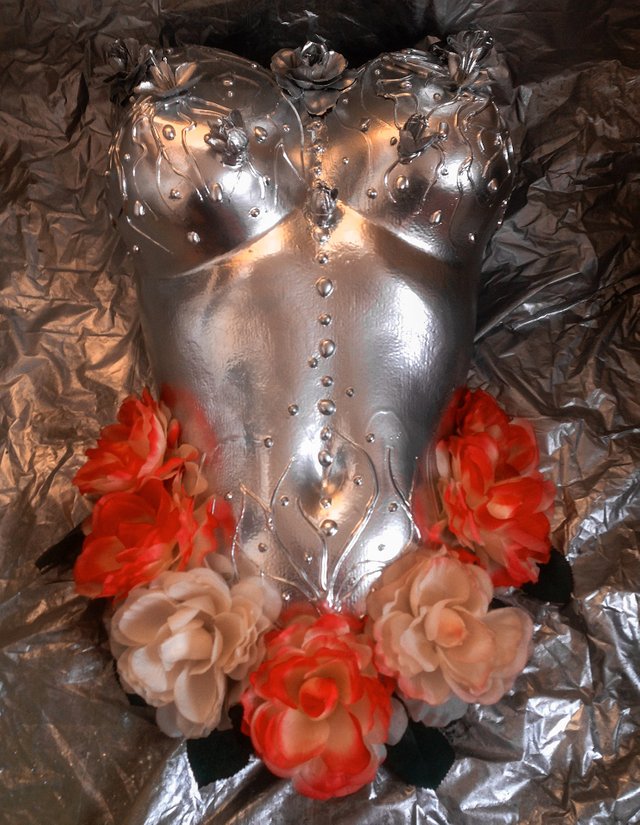 Prior to this, there were also serious problems with varnish, which needed to be covered at least part of the product, since the grayish coating remained on the skin after touching the armor, and in combination with the white dress this effect would entail a catastrophe (dramatize). But still the situation was not pleasant. The first varnish I bought the same unloved brand and under its influence the paint began to creep (of course), so I had to look for a varnish from the manufacturer of the main paint. Unfortunately, despite the fact that his action was much better, he still removed the metallic sheen that I needed. Therefore, I only varnished flowers and internal parts of the armor, which were in contact with clothing and skin.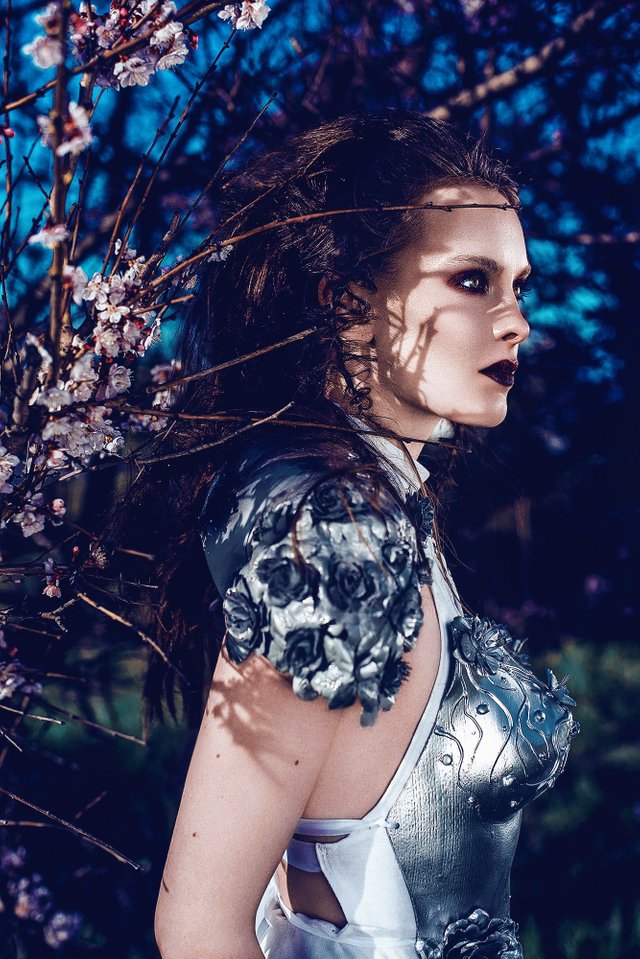 Despite the fact that the preparation was given quite a lot of time, always forget about something. So, for example, I missed the idea of ​​a sword that came to me again only the night before the shooting. Therefore, in the morning, while I was finishing the dress, Andrey went to the nearest toy store to look for some basis. Alas, but children's swords are always short for adults, so I had to think about how to beat this thing or how to put it to the necessary proportions. To the aid came cardboard, folded in several sheets and painted several times with paint and varnish.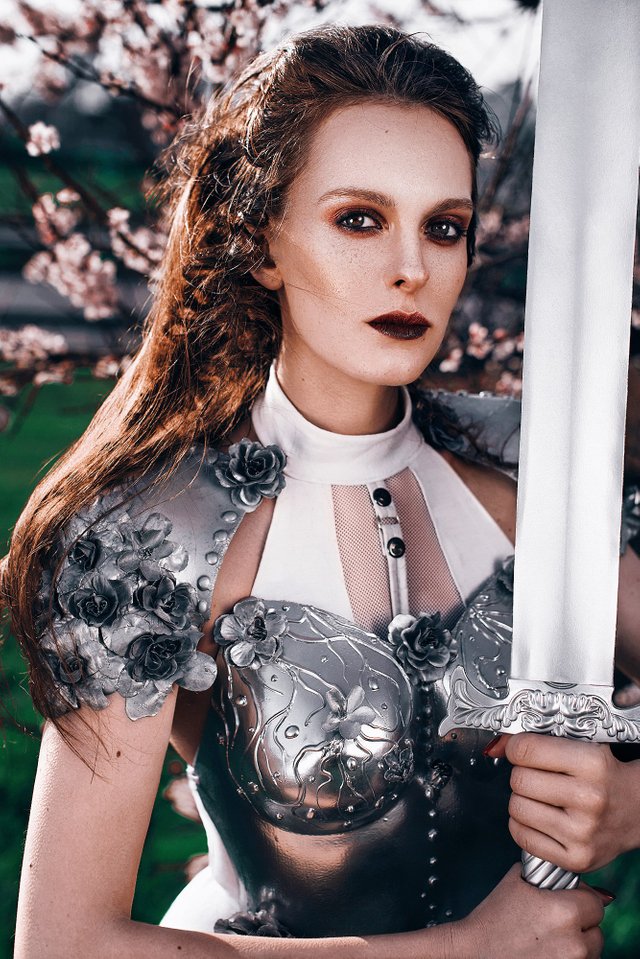 Most of the work was spent on the dress, which I decided to sew myself. I used to make suits and clothes for photo shoots, but it was with sloppy seams and incomprehensible sizes, which we used once or twice. Now I decided to act differently, for the purpose of a further perspective, for example, there is already an excellent idea of transforming a dress into a more floral one. Unfortunately, on shooting I was so carried away that I forgot to take off without armor and now I can not show all the beauty of this dress.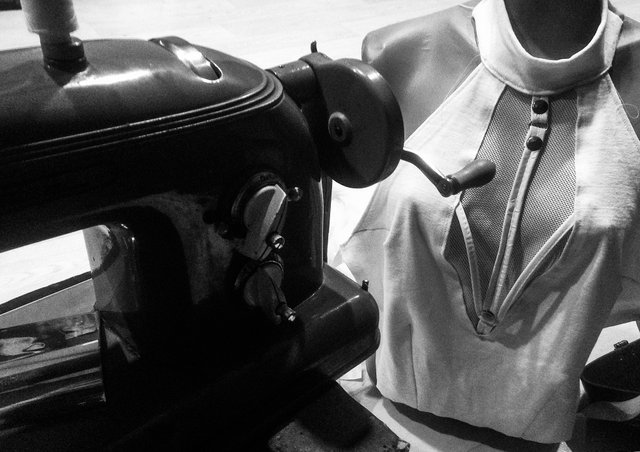 The main white fabric I had for many years and I kept it for something special. And now, this moment has come. But when it comes to sewing, or rather about design, I can not decide for a long time, because now there are so many styles and very interesting elements that you want to apply everything at once, but of course you should not do it) Therefore, after weeks and a half , I finally found the golden mean between the most interesting combination and what I really could do, and most importantly, I solved the problem with multidimensionality, maybe not the best way, but now at least they can wear everything from 42 to 50 size :)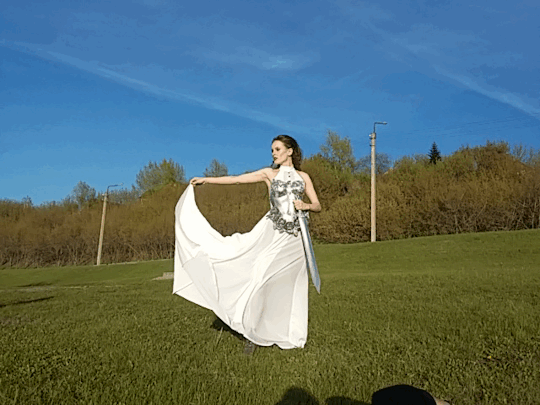 Together with all these processes there was a task to find the first flowering, to pick up the model and determine the date. Unfortunately, this year's spring is quite depressing and it can be said that until now it has not come to us: (In the supposed period, when everything usually starts to bloom, for weeks there were severe frosts and endless rains, but I still hoped with the hope of almost every city day, looking for at least one blooming almond bush.Usually this plant is blossoming before all and it has such a beautiful pink color that it would be an excellent option for examples.However, on one of my trips, my look fell on a bush in the green zone between the tracks, he was covered pale pink with one and bright colors on the other hand! I was so glad that we speeded up our preparation so as not to miss it, in fact, by the way, it was not an almond, but rather a wild cherry. It's a pity I did not look at the him in advance, because I know the place where such a whole field :)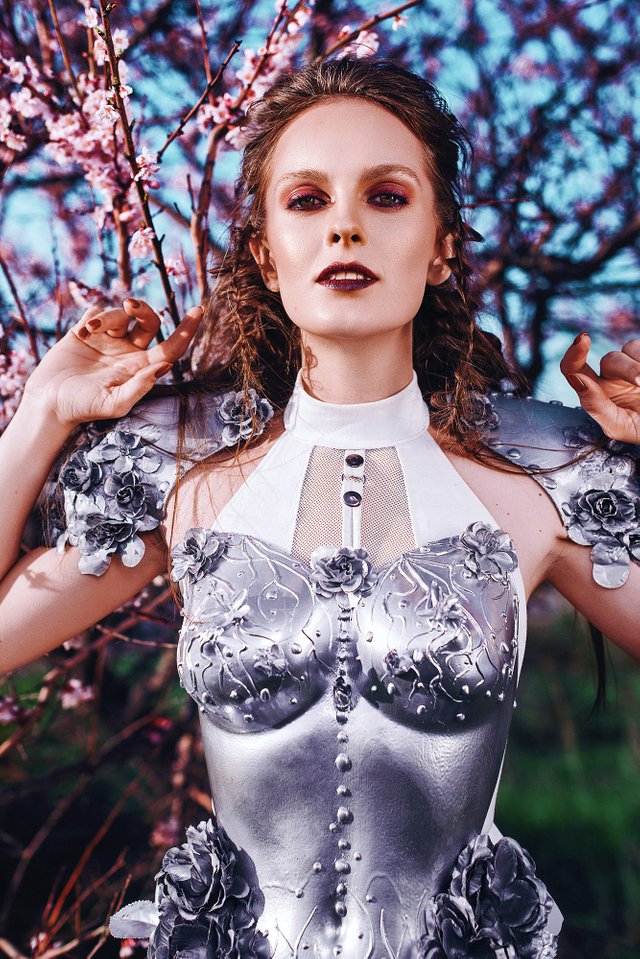 Shooting and the project itself, we decided to hold together with Julia, with whom we had been together through a lot of competitions, and since she is now also engaged in make-up (besides hairstyles), the task was doubly easier, because with one person to work easier than with a large team. It is true that on weekends she leaves the city and for photos of the example there were only weekdays. And again, the law of meanness - the only sunny day with a less tolerant temperature fell on Sunday :) Since there were no other options, Julia tried and could dock everything so that she could return to the city on that day.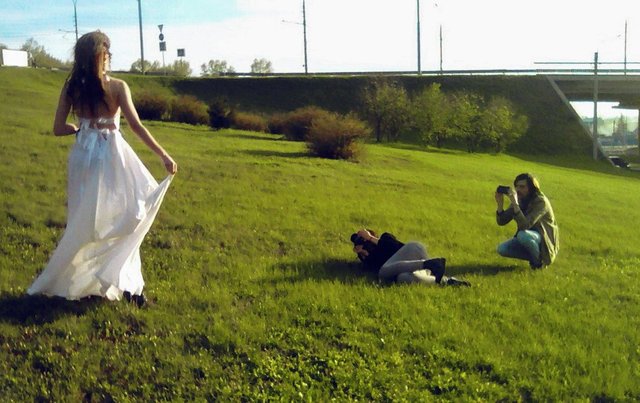 When it came to choosing a model, I accidentally stumbled upon a girl Maria, whom I noticed many years ago because of her pronounced model appearance, but I never managed to work with her before. And I decided that I would like to see in this image only her and by all means. Contacting her, I was very worried that maybe she would refuse, or she would not be in the city, or something else ... but to my great joy she agreed!
That Sunday we met late at one o'clock, and it was already at sunset, I was afraid that we would not be able to shoot everything until dark, because besides Masha, I decided to take pictures of Yulia in this image. But everything went very smoothly and we all managed. The most fun began the next day. My computer has been showing signs of hard drive failure for a long time, we had to quickly buy a new one to replace it, but we did not reinstall the system, because Andrey corrected something and everything stabilized a little.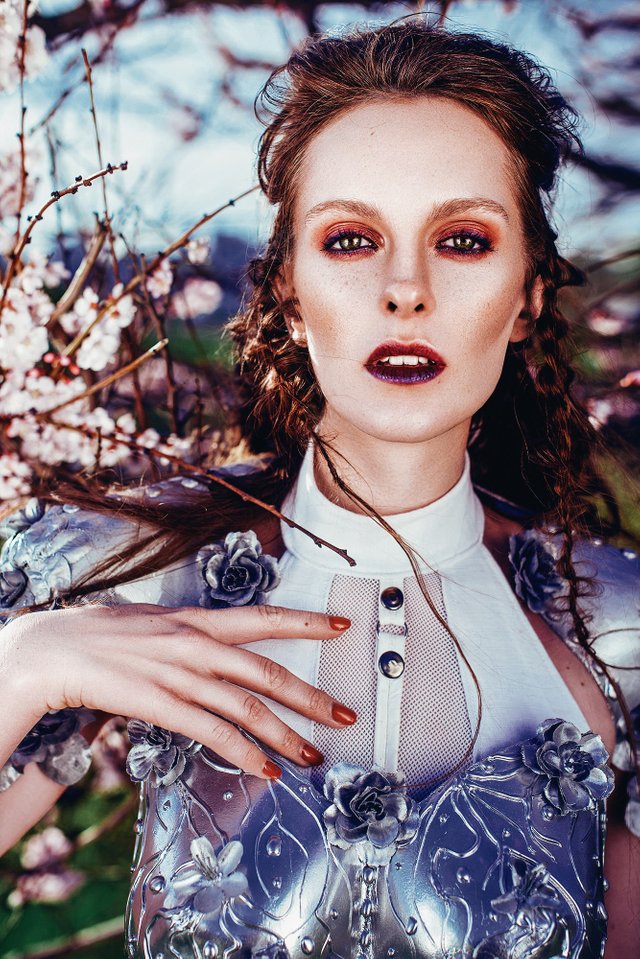 But on Monday she already resisted so much that I had to surrender and let Andrei try to fix it, or at least cut off the damaged sectors, which took almost 3 days and was in vain, because nothing happened, and the new system continued to lag far. But I decided to finish off the photo that way, because I lost so many days already. Yesterday, she finally flew, not allowing me to finish the last shot. Also, oil was added to the fire by the fact that shortly before the shooting, I suddenly developed an allergy and Quincke's swelling on my arm, injuring my muscles. And since in the middle of the week I did a new shooting for the magazine, the remaining days were tormented with a terribly painful stretch, which slowed me down. But even this did not stop me and despite all the obstacles, I did not give up, I finished and finally I can show you this wonderful shot, which I am very proud of! ;)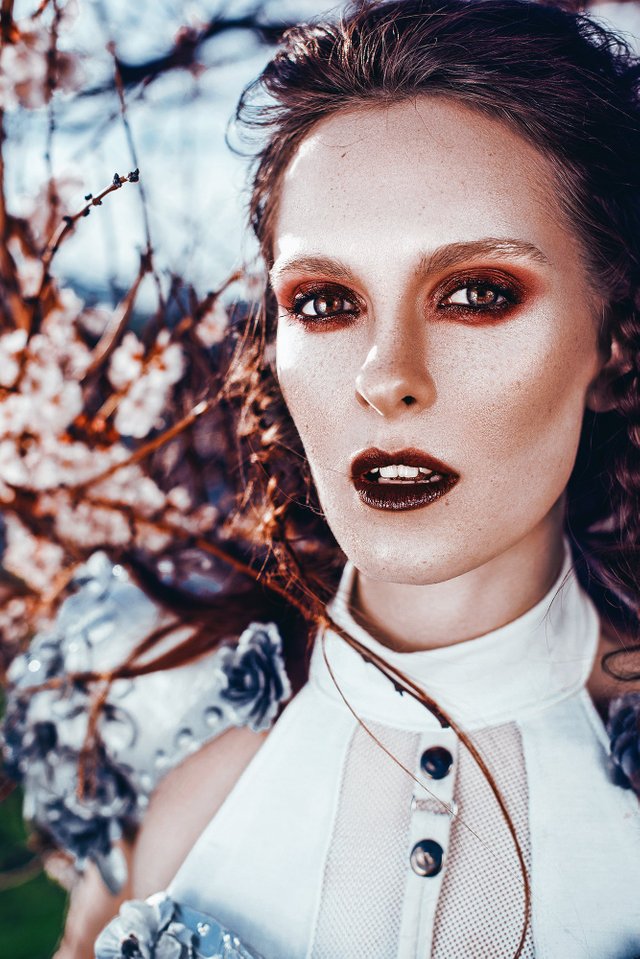 Thank you for attention!
---

---