Return & New amazing photo story with Ira!
Hello friends!
How long have we not been here! I hope someone else remembers us, because we are back and we have something to share with you. During this period, many events have happened, both good and interesting, and not the most pleasant, but having a great experience, which can be useful for you. But in order not to load you with different stories at once, first of all, according to tradition, I will tell you about a photoshoot that inspires me so far.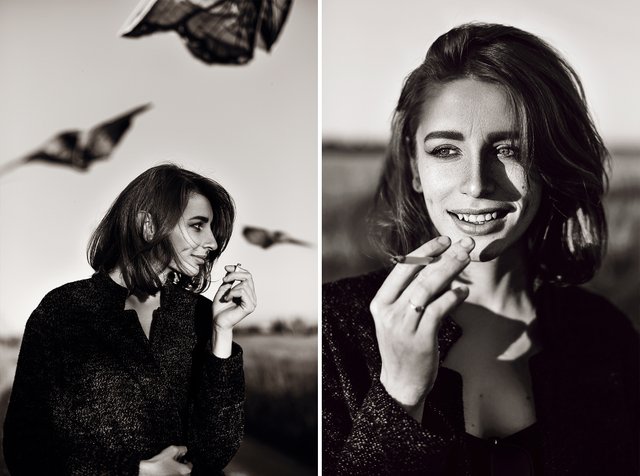 I have already told you about my friend, who is also a photographer - Ira. Let me remind you that Ira is an unusual person and in real life, it is almost impossible to see her in the usual girlish image, as she prefers the style of clothing of boys. Therefore, my primary task in working with her is to show all her beauty and femininity, at least in photography. What I do every time, and it seems to me, every time everything is better and better.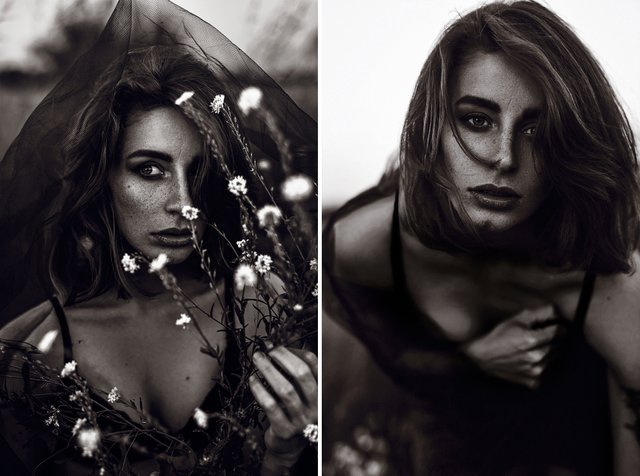 Honestly, in this shoot I wanted to try a style close to Lindbergh, but leave my emphasis. Some photos was a bit overworked in retouching, but others turned out to be more natural and sensual, as I wanted. Also, the entire series was originally black and white, I did not even make a copy in color.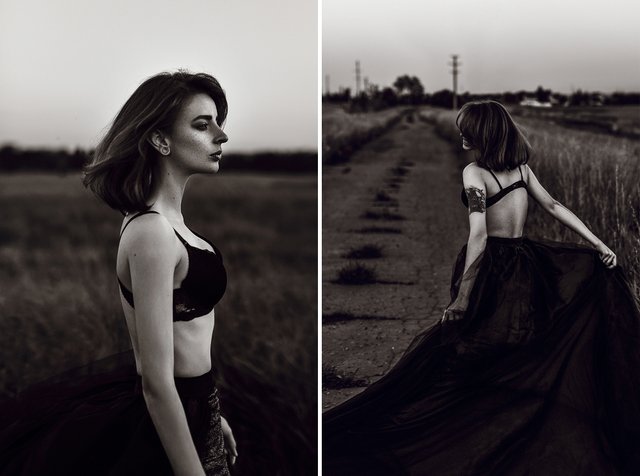 The places for shooting were fields far from the city, where I had once shots with my other friend. I wanted to catch the sunset, so we left in the late afternoon. The road was long, both in transport and on foot, so when we arrived, the sun had almost disappeared. In the last rays, I managed to make some nice shots, but most of them were already in the twilight.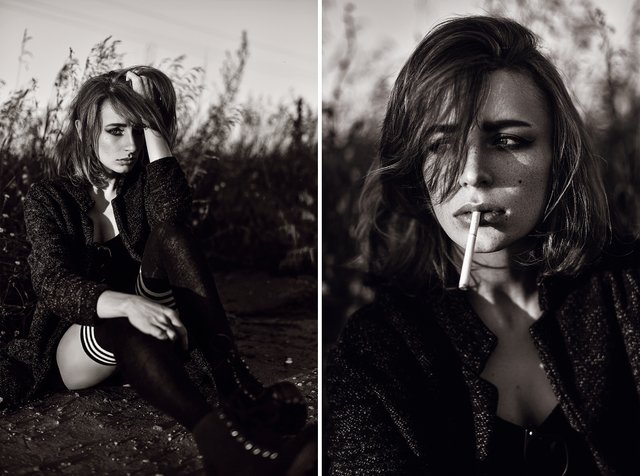 Andrew also participated in the shooting process, helping with a butterfly-shaped kite. Unfortunately, there was no wind and the kite practically did not fly. Andrey had to run back and forth in order to somehow bring the composition closer to the desired one. In the end, we threw this thing, and he just kept it where I needed it.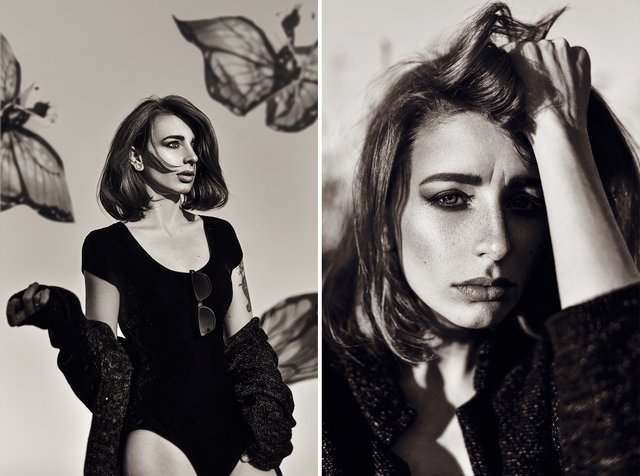 The most interesting thing was when we finished and decided to go home. It was already very late and the transport to the city of course no longer went. First, we walked a long time to the track, and then we went along it, trying to catch a car. We had gone quite far and only then one driver stopped. Alas, he did not go to the city, but to the place in which I grew up. Having arrived there, we were tired, we sat down on the benches and thought what to do next. And we were lucky, it turned out that Ira's friend was goes our way, and then planned to go to the city. We waited for him and were safely delivered home.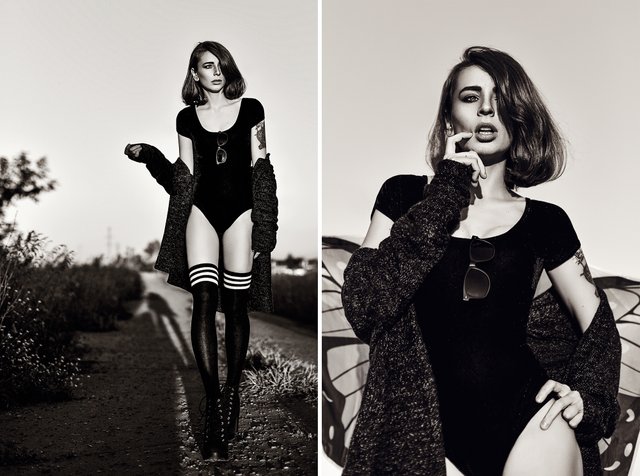 In fact, I really love such adventures, when you do not know what awaits you. When you are simply under the power of feelings, you rush do what you want, and then you look for the way home, always new and interesting. Alas, Ira doesn't like that, so after this shooting, I still can't get her to go with me to meet new adventures and amazing shots! :D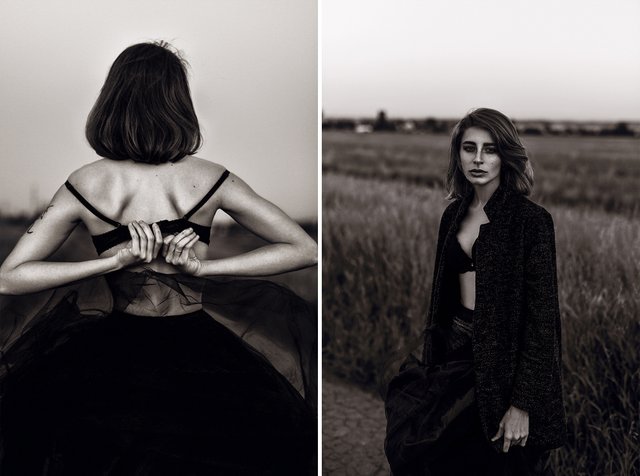 P.S. I can not fail to note that this was the most productive shooting of all that I conducted. Before and after, I didn't have the desire and didn't have enough strength to process 24 shots! Usually my maximum is 15 for the commercial orders. For my ideas, I do have no more than 6-10 shots in total. Therefore, this shooting and these shots are a special love for me.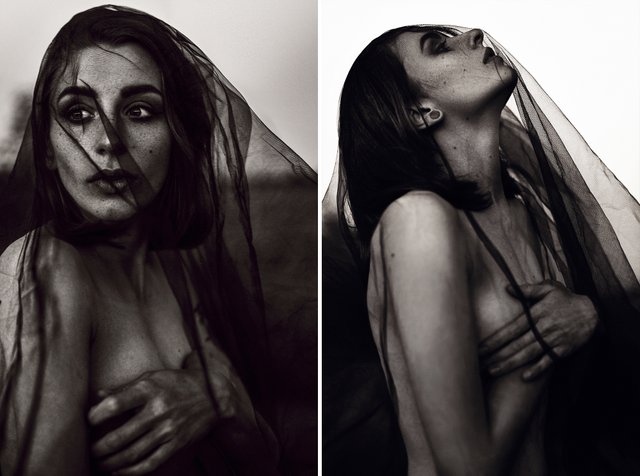 Thank you for attention!