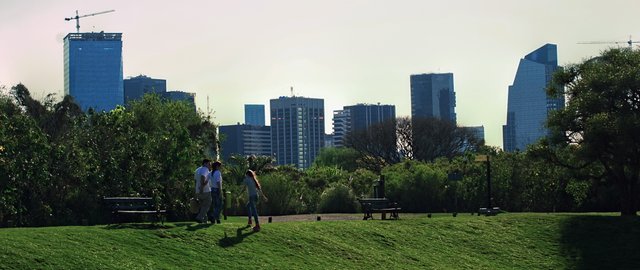 ¿Estamos en Paris, mon amour?
Esta fotografía la tomé dándole la espalda al Río de la Plata desde la Reserva Ecológica espiando hacía el centro de la ciudad de Buenos Aires que se deja ver por encima de los arboles, la chica corriendo hacía su familia me clavó esta frase en la retina de mi memoria:
No perdamos nada de nuestro tiempo; quizá los hubo más bellos, pero este es el nuestro.
- Jean Paul Sartre:
No perder este, nuestro más preciado tiempo, a fin de cuentas reinvidicar el presente por sobre todas las cosas.
En una ciudad como esta, donde hay tan poco verde por kilómetro cuadrado, encontrar un paisaje así es poco habitual aquí.
---
Are we in Paris, mon amour?
I took this photograph with my back to the Río de la Plata from the Ecological Reserve spying towards the center of the city of Buenos Aires that is seen above the trees, the girl running towards her family catched this phrase in the retina of my memories:
Let's not waste any of our time; maybe there were more beautiful, but this is ours.
by Jean Paul Sartre:
Do not lose this, our most precious time, ultimately claim the present above all things.
In a city like this, where there is so little green per square kilometer, finding a landscape like this one is not usual here.