Ice Cream Filled Chocolate Cookie Sandwiches - FOOD PHOTO SHOOT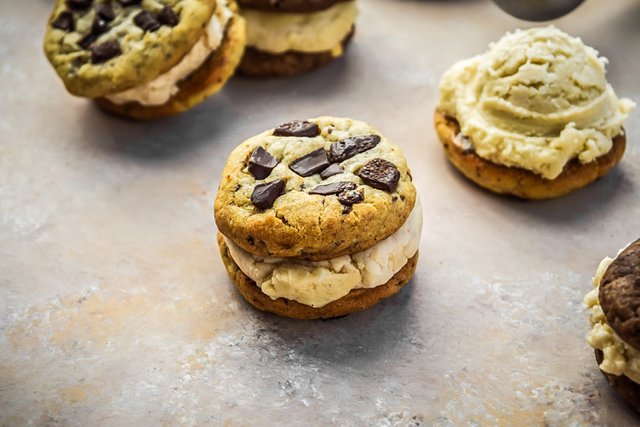 Who's feeling ready for the hot days of Summer???? Don't worry, I got you covered on snacks to keep cool.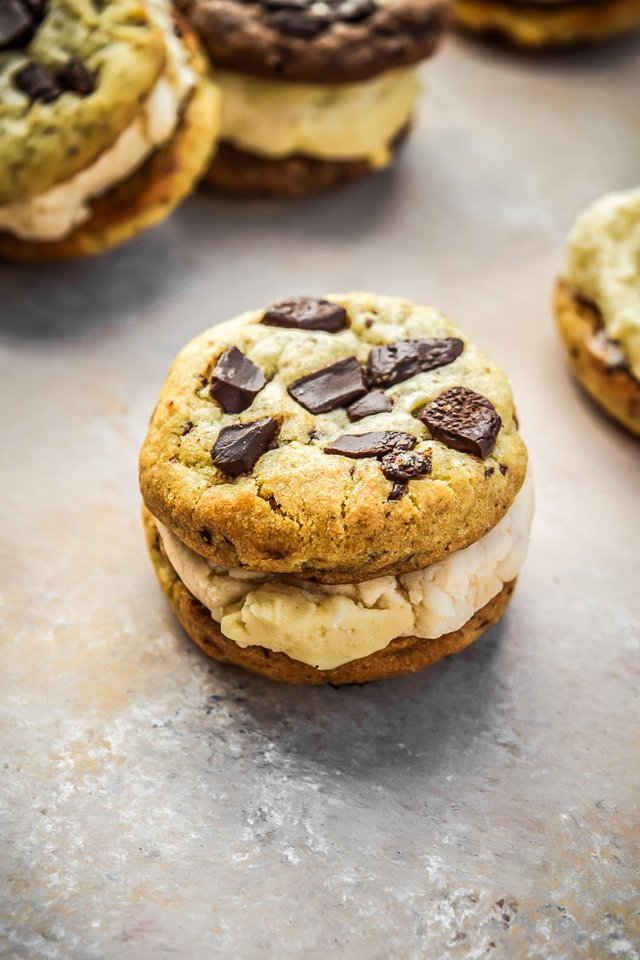 So, these are one of the simplest things ever and if I felt like a cheater in the past for keeping things so easy, then I feel like a big time pumpkin eater today. I had already photographed a recipe the day I made these but I decided to pull a double because I had two perfectly beautiful batches of chocolate chip and Death by 4 Chocolates cookies that were begging to be my subjects and some extra vanilla ice cream to go with so is was perfect.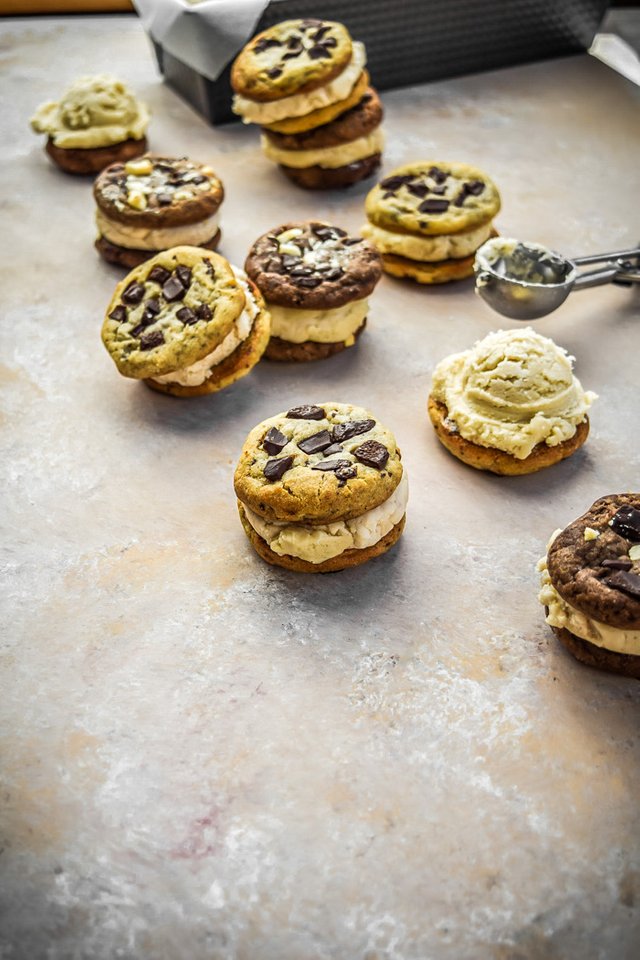 I don't think I've had a chocolate chip cookie ice cream sandwich since I was little and my family went to Disney World where we got those ginourmous ones that they sell in the parks. I've made them once or twice since then but I can't believe I haven't done it more. What am I doing with my life? Those may have been my favorite part of the day. I mean, the rides are great but the joy of devouring one of those was just about as thrilling if not more.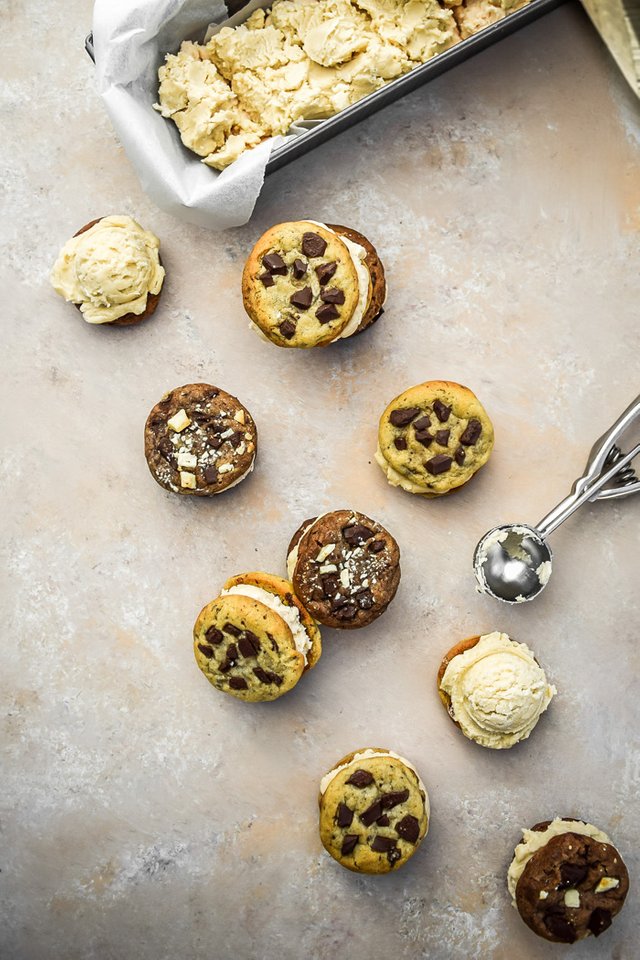 You can make your own ice cream or just use a good quality one from the store, and if you don't have the time to try both cookie flavors then just do one. Or better yet, try a different one like cinnamon roll cookies or the brown butter chocolate chip cookies! I'm only here to inspire you will deliciousness. So throwback this weekend and celebrate the start of Summer.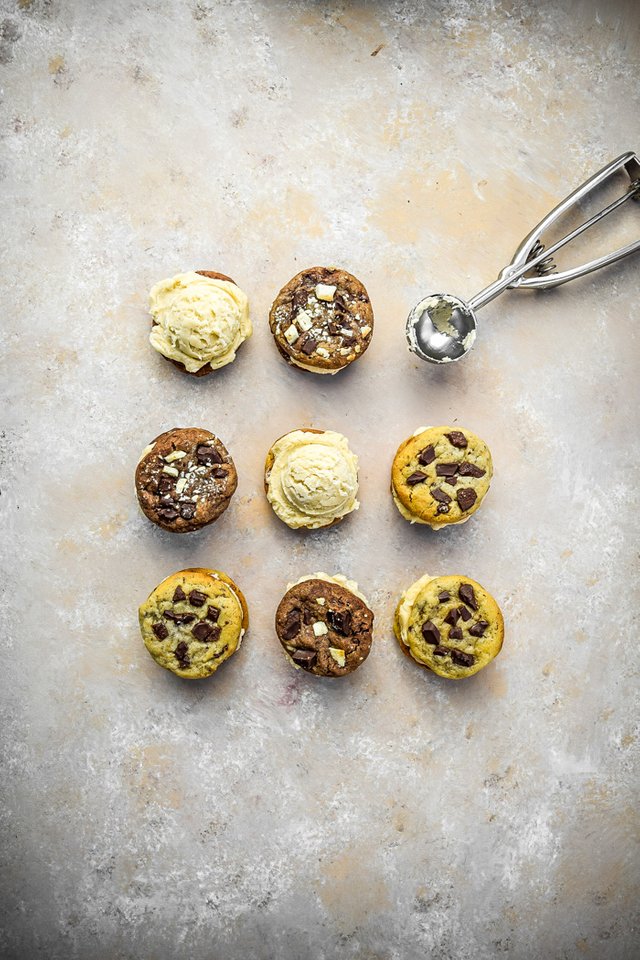 Ice Cream Filled Chocolate Cookie Sandwiches
Take plain cookies to the next level by making these extra indulgent ice cream sammies!
Prep Time 20 minutes
Cook Time 25 minutes
Freezing Time 1 hour
Total Time 45 minutes
Servings 18 - 20 sandwiches
Ingredients
1 batch of Chocolate Chip Cookies - recipe follows
And/Or Death By 4 Shades of Chocolate Cookies
1 quart of your favorite non-dairy vanilla ice cream
Chocolate Chip Cookies:
3/4 cup 1 1/2 sticks Miyoko's "butter" (or any dairy free butter), cut into pieces
3 tablespoons coconut cream *see note
3 tablespoons applesauce or pumpkin puree
1 cup brown sugar packed
1/2 cup organic granulated sugar
1 teaspoon baking soda
1/2 teaspoon salt
2 teaspoons vanilla extract
2 1/4 cups all purpose flour
1 1/2 cups dairy free semi-sweet chocolate chips or chopped chocolate
Instructions
Pre-heat oven to 350 degrees F (180 C). Cream butter and sugars together in bowl of stand mixer (or with hand mixer). Scrape sides of bowl and add coconut cream and applesauce; beat until well combined. Add vanilla, soda, and salt. Add flour one cup at a time and beat after each addition but just until combined. (If you are using a hand mixer you may have to hand stir the last cup of flour into the dough.) Stir in chocolate and line a cookie sheet with parchment.
Roll into golf-sized balls and place about 2 inches apart on baking sheet. Bake for 8 - 10 minutes until edges just start to turn golden brown. Remove from oven and cool for about 5 minutes before moving to cooling rack.
Cool cookies completely, for about 30 minutes, then put them into an airtight container and place in freezer for another 30 minutes or until they are completely cold. Remove from freezer and use an ice cream scooper to scoop out large balls of ice cream and place them on the bottom sides of half the cookies. Top with the second half of cookies and serve immediately or store in freezer until ready to serve.
Recipe Notes
If you have trouble finding coconut cream at your local grocery store it's completely fine to use full-fat coconut milk and scrape the cream off of the top. Just be sure that it's cold enough to separate.

ALL CONTENT IS MINE AND ORIGINAL! All of these food photos were taken with my Nikon D750 and my favorite Lens, the Nikon AF-S FX NIKKOR 50mm f/1.8G. You can find out more in my INTRO POST.
Also, a huge shoutout to @rigaronib for designing my logo!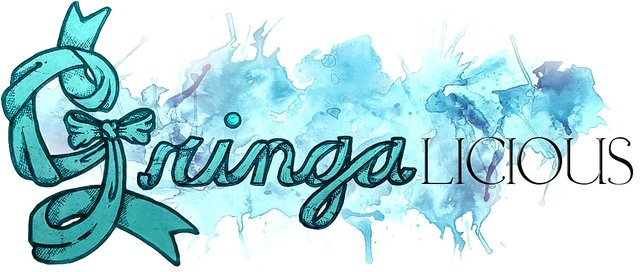 If you're looking for more recipes check out some of my other recent posts!