Autumn Squash Soft Pretzels - FOOD PHOTO SHOOT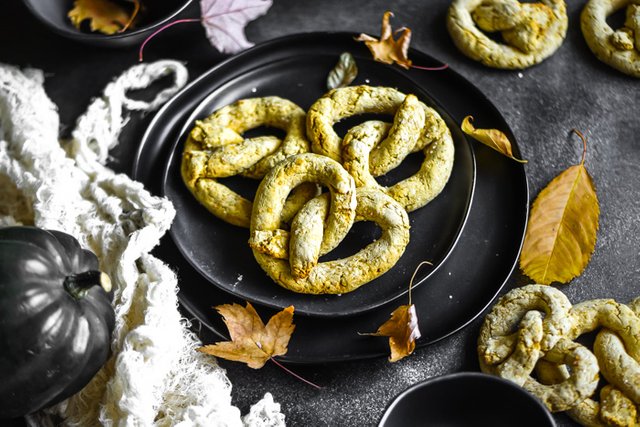 It's getting so close to being officially Autumn and I'm so psyched!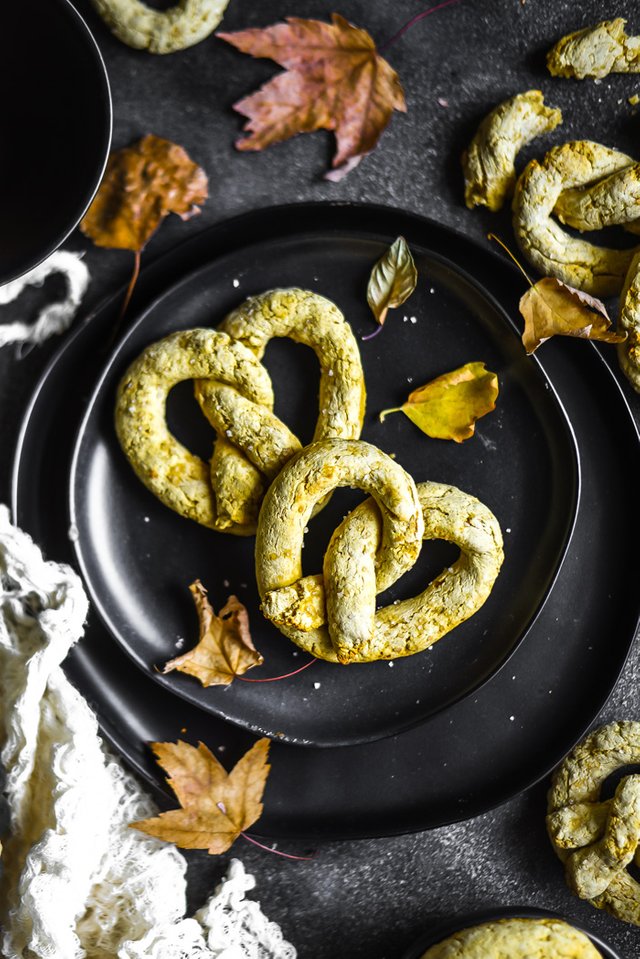 I won't even bother starting on how much I love this time of year because I'm afraid it's all I've been talking about lately. However, I will give fair warning that I'm almost certainly going to be getting a little excited about the theme in my coming recipes.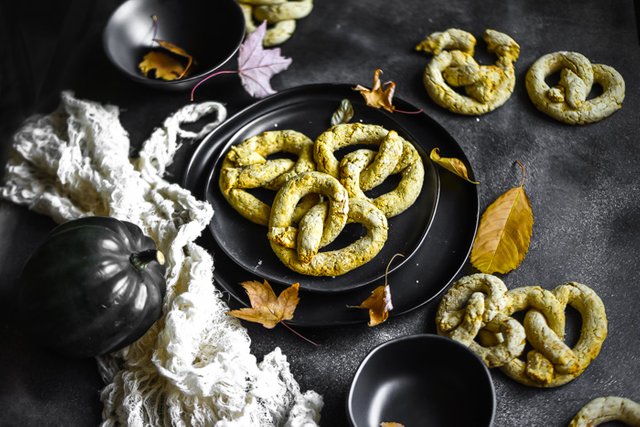 So with these pretzels, I was thinking back to a recipe for dinner rolls that I made using pumpkin. It's a similar idea, but let's be honest, pretzels are way more fun. I had some different squashes that I wanted to try and both of them turned out well. One was a butternut squash and the other was an acorn squash. I preferred the butternut but the acorn squash was also very good. Pumpkin would work for these also, or any other type of squash that you might have.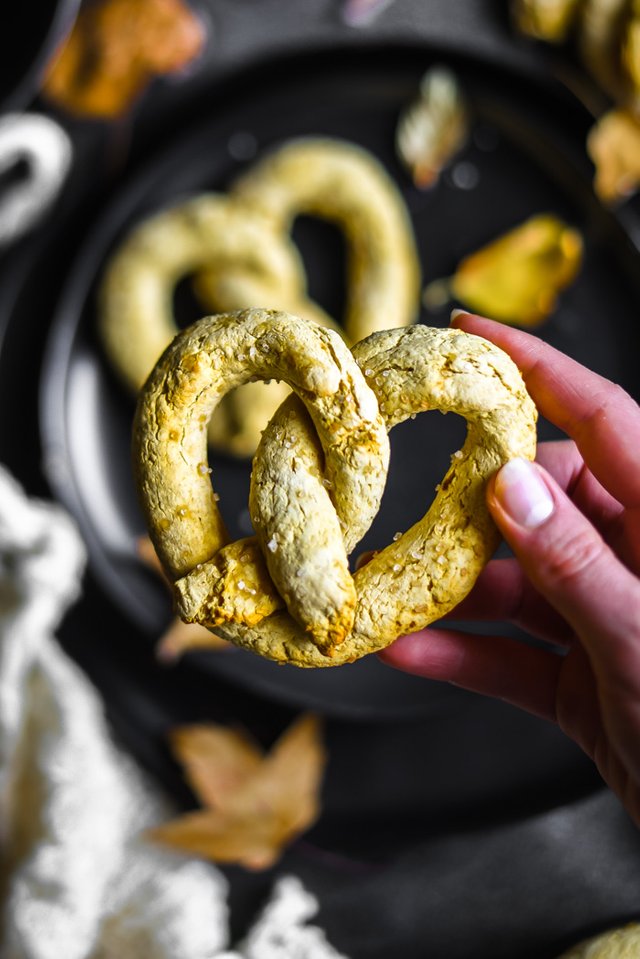 Okay, and since we all know that a pretzel goes so well with a cheese dip, you should definitely consider making this "cheese" dip. I'm thinking about how much fun these would be at a Fall festival or party. Especially because these are pretty allergy friendly. Even though I don't have a gluten allergy, I really enjoy trying out different flours in baking just to see how it turns out. These are also dairy free and vegan so just about everyone can enjoy them.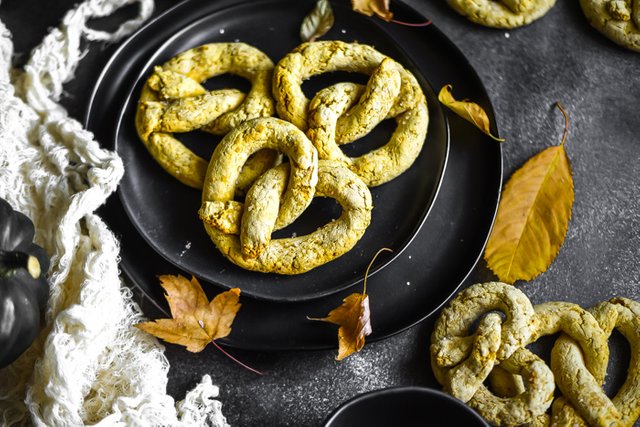 Also, if you're wanting to make these into a fun treat you should definitely try switching out the salt with some cinnamon and sugar. Then these become like churro pretzels and they go so well in a chocolate sauce if you're feeling extra fancy.
My little sister and I have been making a Fall bucket list of activities we want to do. Many of the items on our list are centered around a recipe, but I'm also hoping to visit a pumpkin patch and enjoy some other fun things. Tell me, what's your favorite Autumn activity?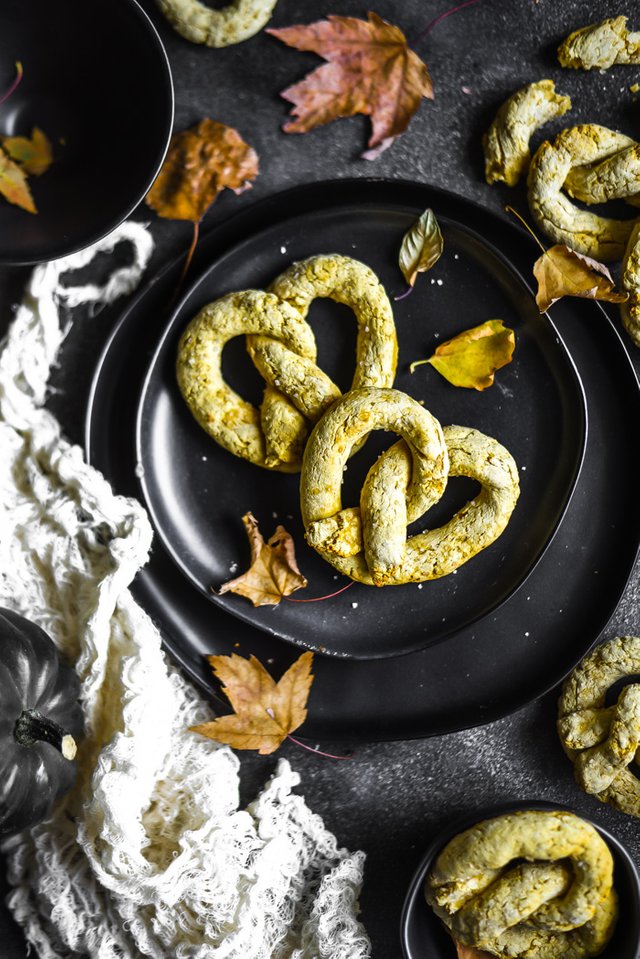 Autumn Squash Soft Pretzels
Prep Time: 25 minutes
Cook Time: 15 minutes
Total Time: 1 hour, 35 minutes
Yield: 14 pretzels
Embrace the Fall harvest by making these soft and delicious pretzels that are sure to fill you're house with a wonderful aroma of freshly baked bread!
Ingredients
3 cups autumn squash (any variety such as butternut or acorn), sliced or cubed
1 cup water
1 tablespoon baking powder
1 tablespoon active dry yeast
1/4 cup coconut sugar (or regular)
1/2 teaspoon salt
2 cups gluten free flour
3 cups oat flour
2 tablespoons arrowroot starch, plus more for work surface (or corn starch)
1 tablespoon baking soda
3 cups water
course sea salt for topping (optional)
Instructions
Preheat oven to 375 degrees F (190 C) and line a small baking tray with foil. Pour the squash onto one of the trays and spread into an even layer. Bake, stirring about every 10 minutes, for 25 to 35 minutes or until fork tender. Remove and cool for about 15 minutes.
Peel the skin off and place the squash in a blender or food processor and add the water. Pour in the yeast and baking powder and pulse. Add the salt and sugar then scrape mixture into a large bowl. Add 2 tablespoons of cornstarch and flour a few cups at a time and mix well after each addition. Turn dough out onto a surface lightly covered with starch and knead until it begins to come into a dough, adding more starch as needed. Set dough aside to rise for about 1 hour.
Now preheat oven to 400 degrees F (200 C) and line 2 baking trays with parchment or silicone pads.
Combine baking soda and water in a medium pot and bring to a boil. Once boiling, remove from heat. Knead dough for a few minutes again then divide into balls, about 14. Form the balls into snakes and twist into pretzels. Brush water on the spot where the ends meet the base and press down lightly to stick.
Lay them about an inch apart on baking trays. Now dip each one in the hot soda water and place back on tray. If desired, sprinkle with sea salt
Bake for 10 - 12 minutes until the pretzels have puffed and outside is golden.

ALL CONTENT IS MINE AND ORIGINAL! All of these food photos were taken with my Nikon D750 and my favorite Lens, the Nikon AF-S FX NIKKOR 50mm f/1.8G. You can find out more in my INTRO POST.
And, by the way, to all the minnows out there, my intro post did a huge $0.21. The key to success on Steemit is to be consistent and persistent. Click on the link below for some great tutorials on how you can also succeed on the steem blockchain: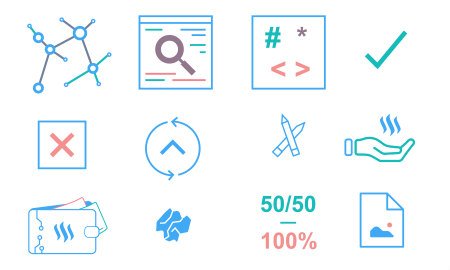 Also, a huge shoutout to @rigaronib for designing my logo!
If you're looking for more recipes check out some of my other recent posts!
Also, I've been starting to vlog in case you missed it.