This is a rare moment for me. You don't see me posting photographs of bugs because I don't like them. I know most of them have a role in nature but that doesn't make me like them.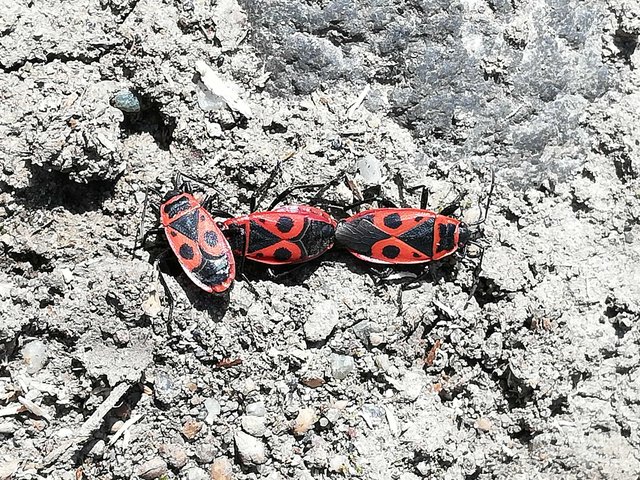 Firebugs look interesting because of their red and white colour, they look good on a photo but still don't like them.
Most species feed on seeds or fruits particularly of plants belonging to the Malvales but a few feed on rotting debris including dead animal matter. A few species are predatory; Raxa nishidai is a predator of another pyrrhocorid, Melamphaus faber, while Antilochus coquebertii feeds on other bugs including Dysdercus cingulatus. A few are important crop pests. One species, Dysdercus suturellus, is well known in the southern cotton growing regions of the United States while Dysdercus cingulatus occurs on cotton in tropical Asia. They damage cotton bolls by staining as well as by cutting the fibres. source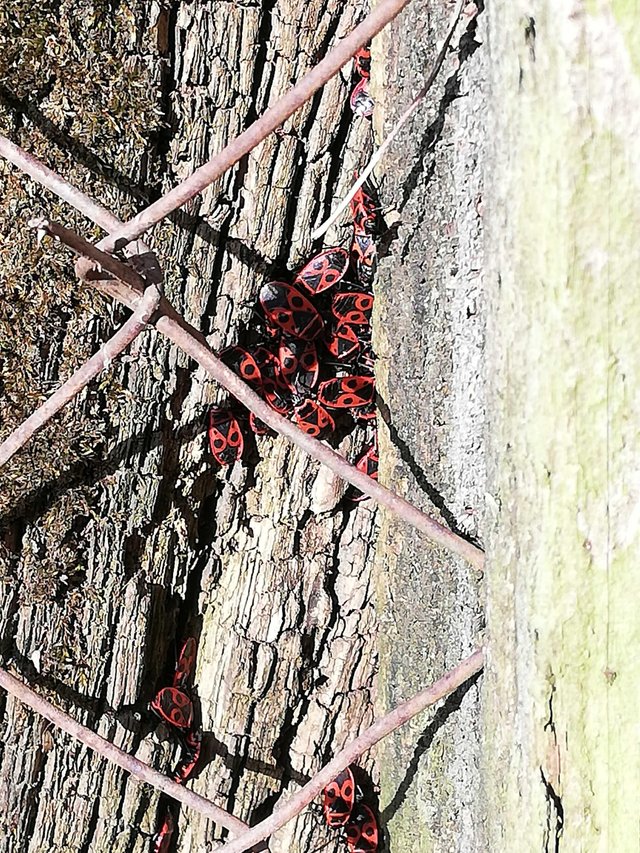 Spring is their favourite season of firebugs, you see a bunch of them everywhere. They stay in groups, together.
After reading about them it's not likely I like them more, not at all. I see others taking photographs of bugs and flies but I can't convince myself to do that :)
The only exception is bees 🐝, although I'm afraid of them, sometimes I have the courage to go close to them and take some photos. Last year I've been put to the test and it turns out I'm not allergic to them but I prefer to stay away from them.

Check out my #SevenDaysOutside Challenge!

These are the days and the categories:
#WindowMonday – Windows
#DoorTuesday – Doors
#RustArtWednesday – Rust
#GateThursday – Gates
#StatueFriday – Statues
#BrickSaturday – Bricks (bricks only, no pavement elements or cobblestones please)
#StreetlampSunday – Street Lamps
Make sure you write a description of the photo you are posting. Share as much details as you can, like where that statue is placed (in a park, at a museum), what it represents etc. Make it enjoyable.
Use the #sevendaysoutside tag along with the daily tag and tag me, @erikah!
Goes without saying that you can only use your own photos. No paintings, no drawings, no digital art please! There is no prize here, this is just for fun.


Do you use eSteem?
eSteem is a Mobile📱& PC💻 app. for Steem with great features. Also, you get Incentives posting through eSteem apps.
eSteem Spotlight; eSteem provides rewards for it top users in Leader Board with most Posts, Comments and Highest Earners.
Download eSteem for your Mobile📱
Android devices Google Play Store
IOS devices Apple Store
Download eSteem Surfer for your PC💻
Available for all OS Github
---

Proud to be a member of The Steemians Directory