Yeah ... even though I almost peed my pants taking that cable ride up 2, 168 meters high yet I also dared do the "cliff walk".
Riding the cable car felt safer than doing this because seeing what's below you would really make someone's weak stomach churn and back out or freeze. I admit, I was nervous much!
If you've clicked on my vid's link above then you knew, I hesitated much about doing it till that glass edge. See, I didn't really have to go through all the trouble of walking on it because I could just take the short cut.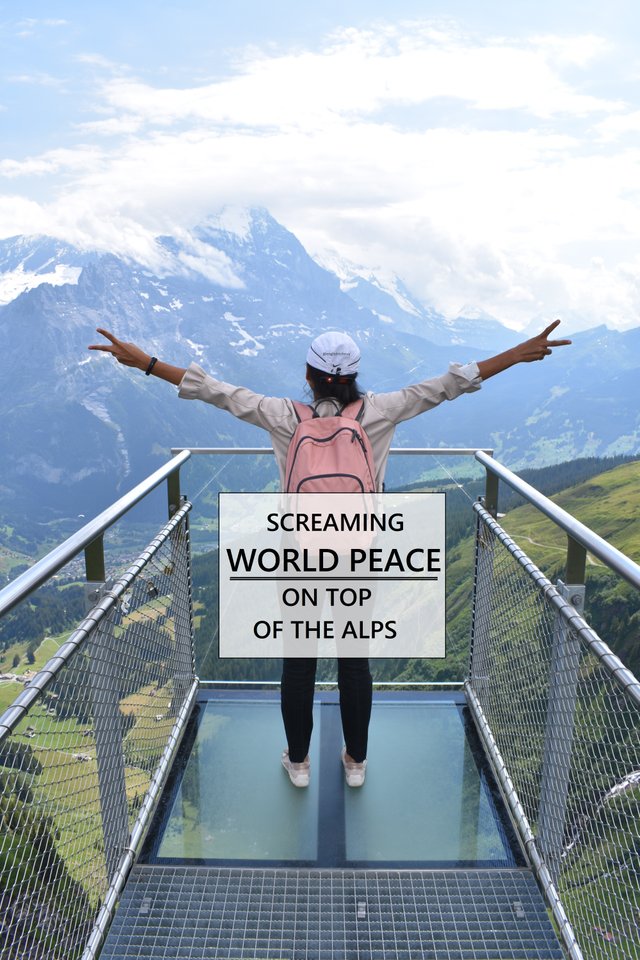 This is actually accessible via the resto. When you're up there look to your right (when you're facing those milky, ice capped mountains) and you'd see people falling in line to strike their poses on that glass edge.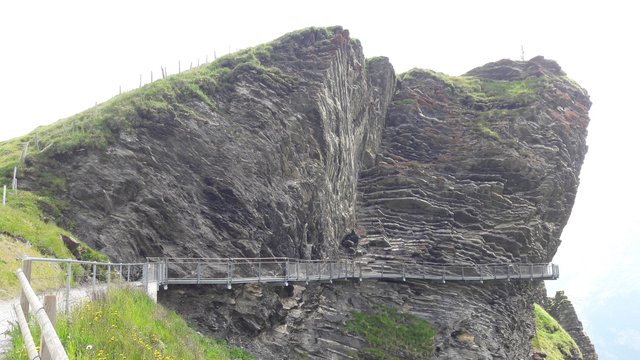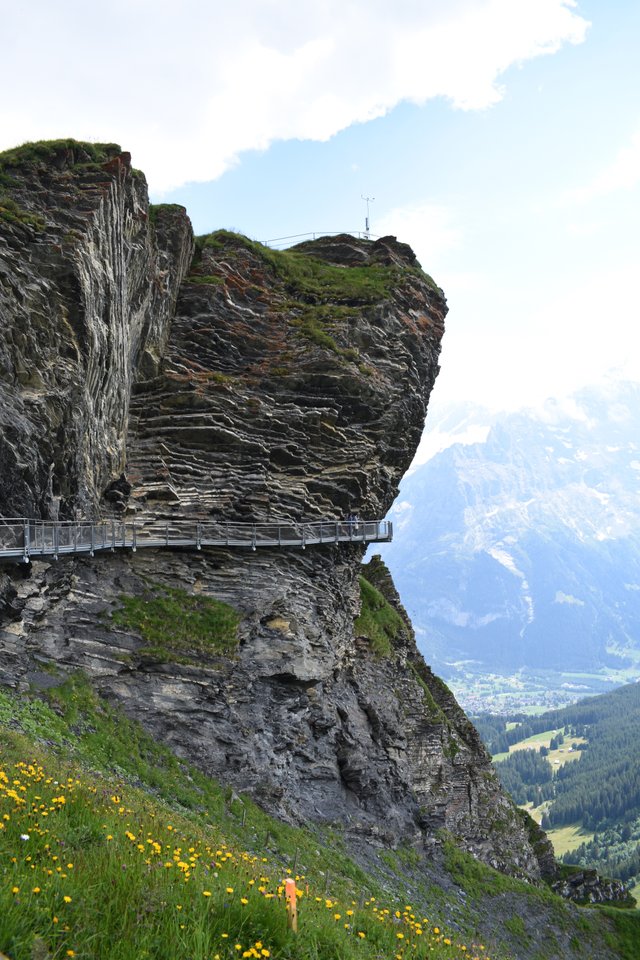 You don't really think I did scream "World Peace" up there, do you? Of course not. Every second I took standing up there was making my knees weaker and weaker to the point of almost no longer feeling it. I have no idea why.
I think, that's just how what they call "mind f*@k " works. I had to set my cam setting to auto so my husband will just have to click and click and even though I did several poses out there, because my heart was racing like a wild mustang, I wanted to just get off that glass and get back on that metal floors.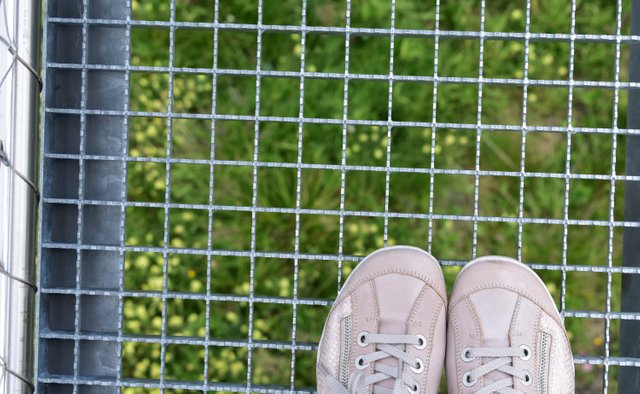 For some reasons, I was calmer looking below through this than that glass. While I was standing on this, I could actually see the rugged cliff edges below but there's a certain feeling of security that it's stable. It's not because my hubby jumped up and down on it. It must be because it's all attached to the cliff and no gust of wind makes it wiggle one bit while I could feel the pillar shaking, standing on the line nearing that glass edge.
Whenever that rocks, that small voice in my head screams; "what if the pillar can't actually hold us all?' then flashes of negative thoughts of rolling off the rugged cliff below like a tumble weed follows. I had to hush that scaredy part of me to get myself to brave and stand on that line. Sounds like torture? It does but I wasn't the only one going through all that and listening to them outing their agonies doesn't help.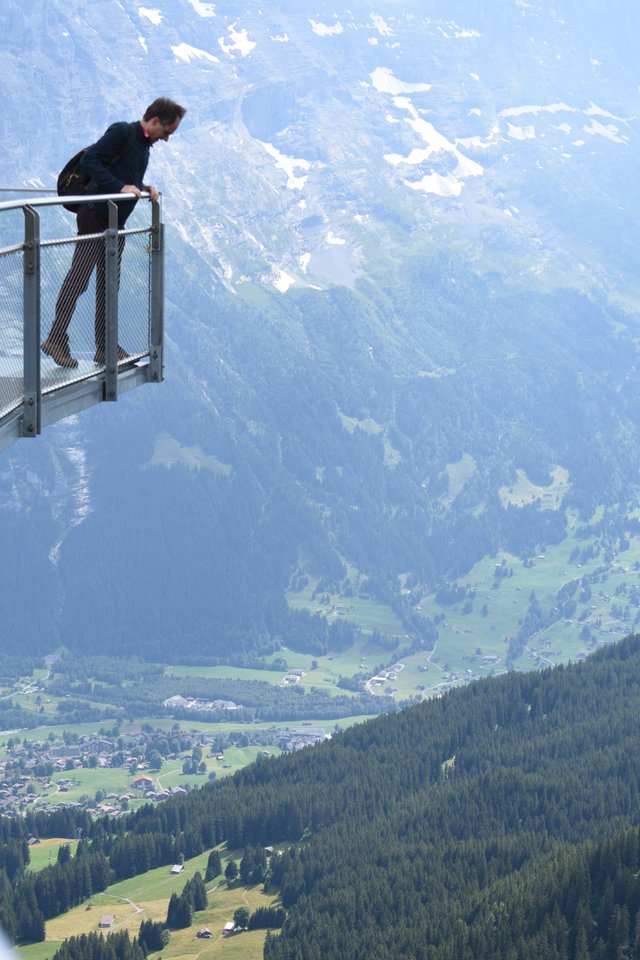 I know it's all in my head so when hubby and I had another chance to do it after having lunch up there, I asked him to do it again with and I even dared dancing on that glass edge. The last part, only cause no one was looking nor was standing behind him plus I was already comfortable and trusting those iron bars holding us. Yeah, we should have taken a vid of that but hubby and I really want to live the moments when we were travelling and not just capture them in our phone or gadgets' screens. He did take a few pics while I was on it.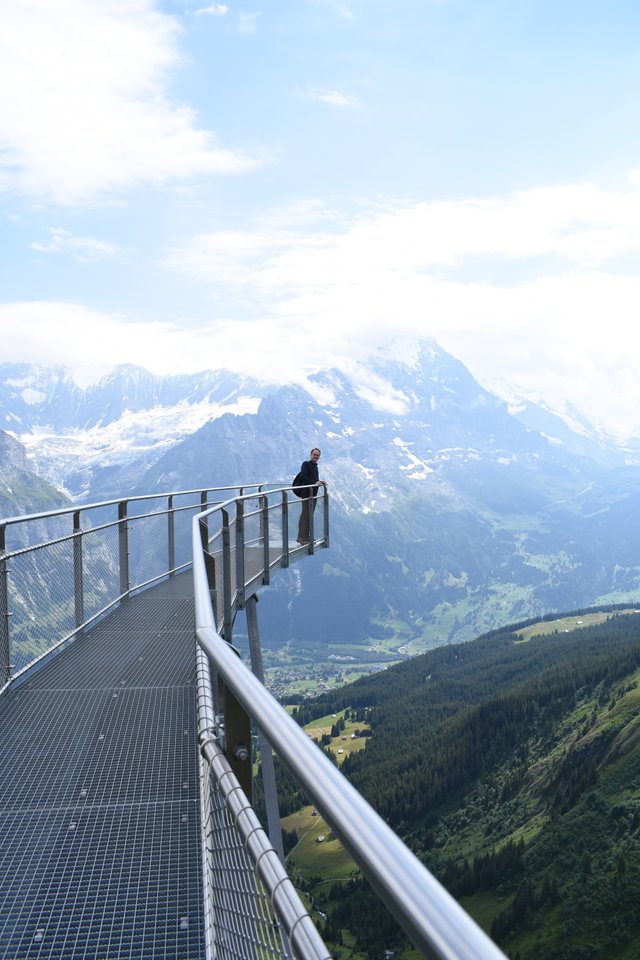 Since we got all the edge for ourselves, I asked my husband to strike some poses for me. I asked him to pull off a look that's screamin' "Help! Am stuck up here!" and so many other wacky poses. Most of us who were up there were taking all our pics from the same angle I have on my thumbnail so I got curious whether it would make it look scarier from these ones. What do you think?
We decided to take the same cliff walk back and I realized how long the agony must have been after coming across people, old and young, both freaking out specially on that hanging bridge below. That one would rock and wiggle if someone jumps on it. I remember singing; "I'm almost there, I'm almost there .." when I was on it going to the resto. Well, I just did that thinking, I could beat the "mind f*@k" trying to convince myself so.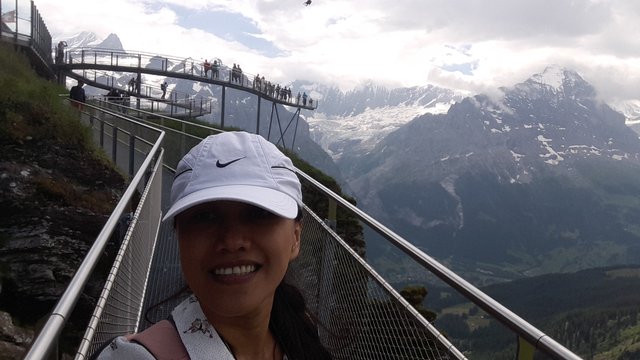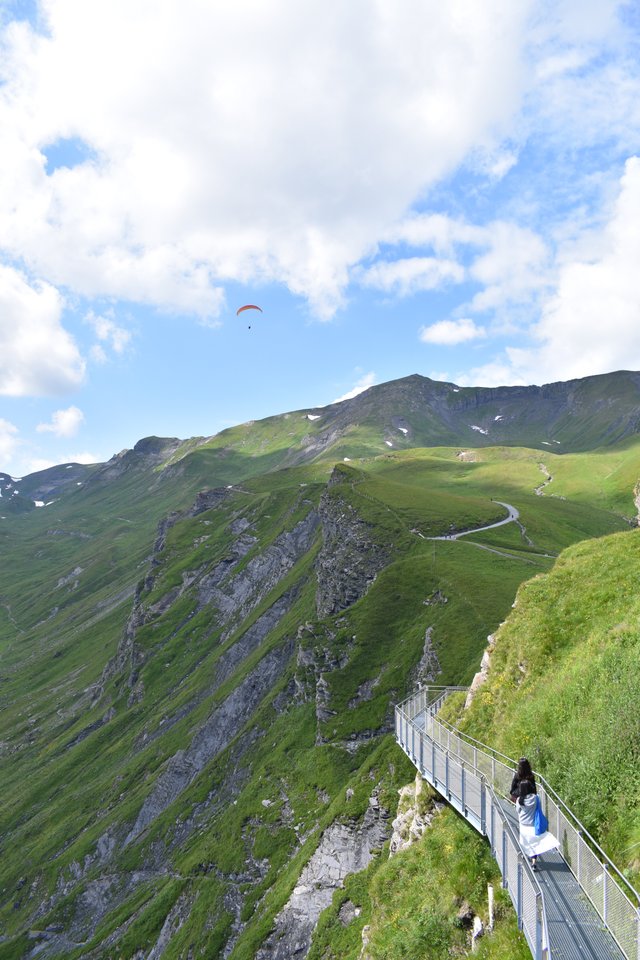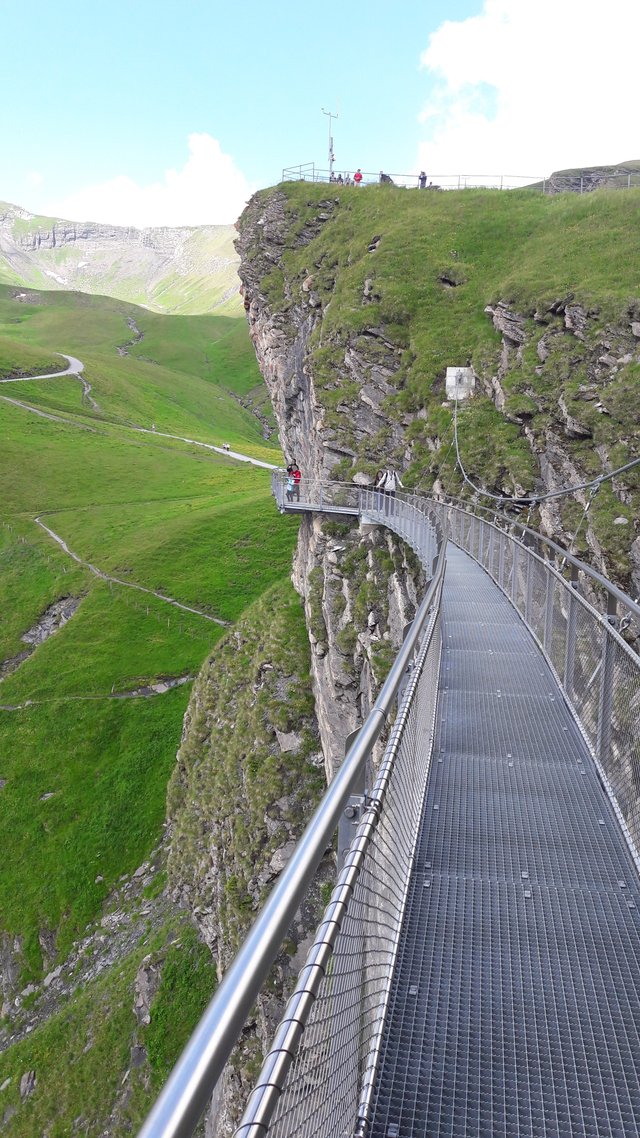 On the way back, I was more of saying; "It's alright, you're almost there." to some of the Korean "ajumas" we came across with, who were also holding on for their dear lives on the hanging bridge. You could read it on the many's faces that they're almost peeing their pants doing that, too.
I think looking around, above me and to my side helped distract my brain from looking below. That way, I didn't miss out on details like these and somehow, the screaming fearful me inside -shut up.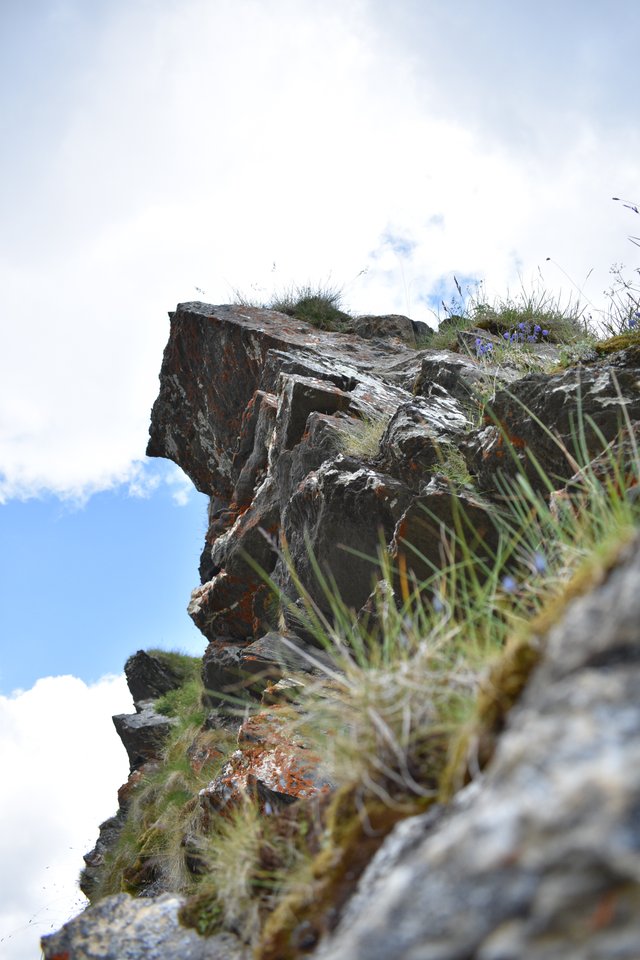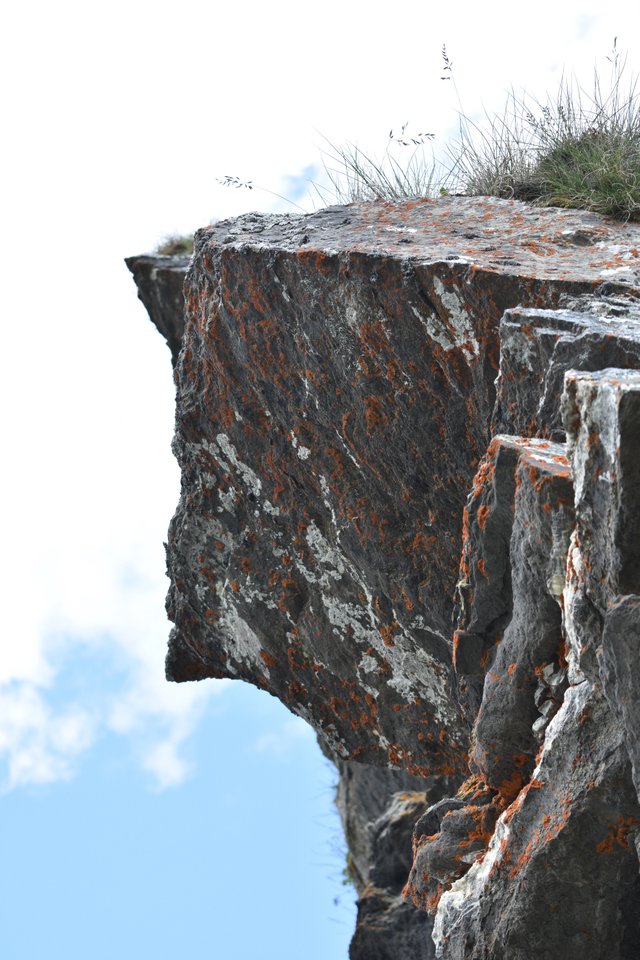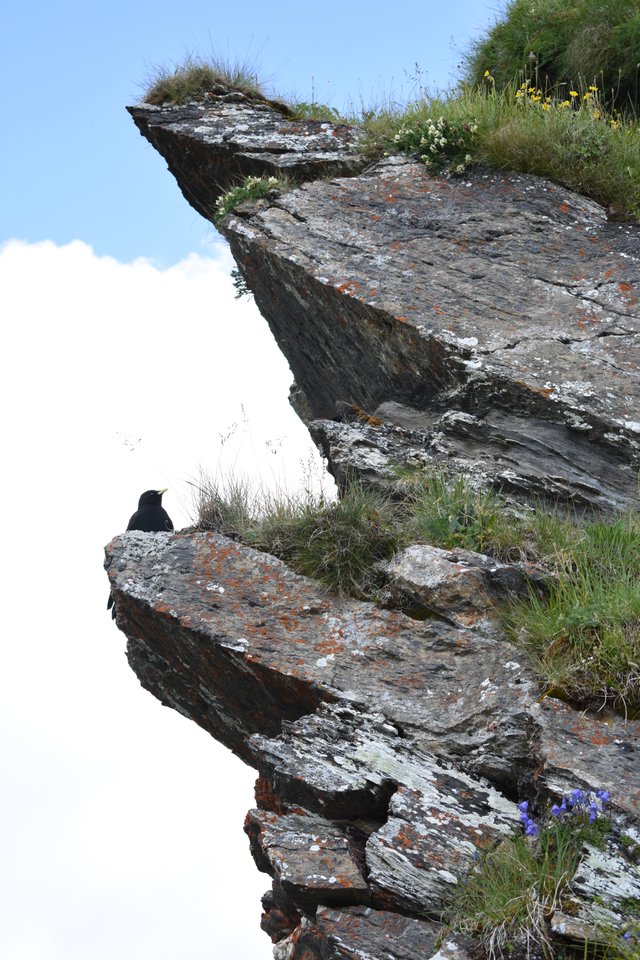 Yes, that's a blackbird not a crow. I've seen a few crows up there, too, though. Yes, there are campanulas and other flowers growing on them, too. Amazing how nature could just survive on places you don't expect to see them thrive.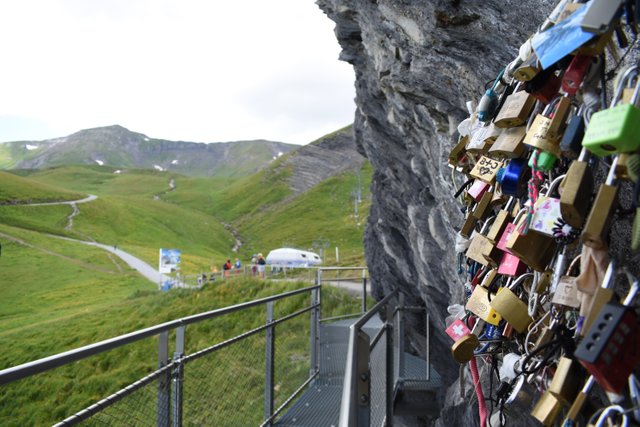 These, you'd find them near the clearing and somehow they'd take away your focus from looking below you.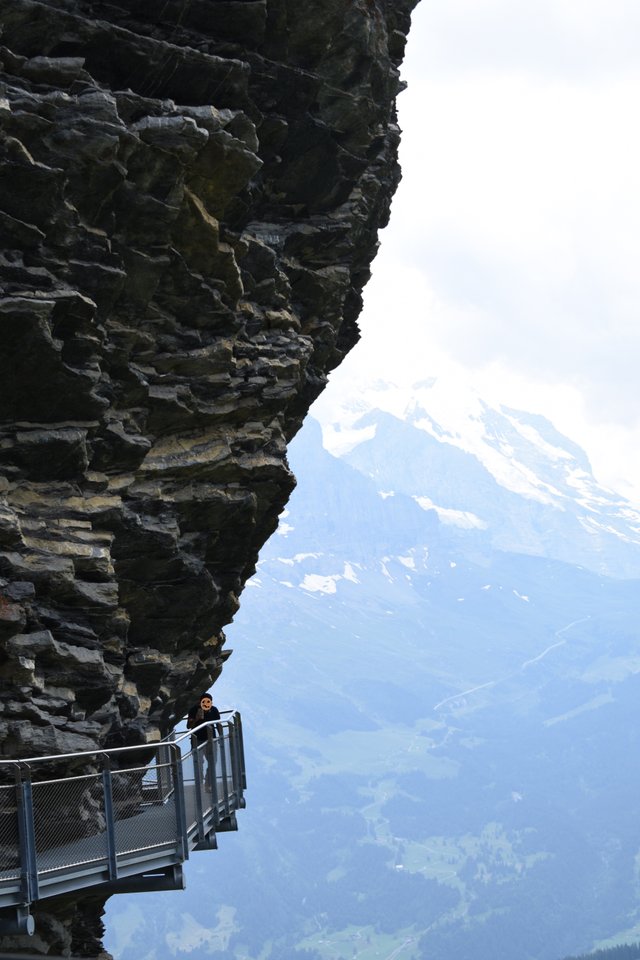 There are many other activities to do up there. Cliff walking is the cheapest, it's for free. Somehow, I almost got tempted trying paragliding and the eagle glider but my husband and I took what we think is the safest option.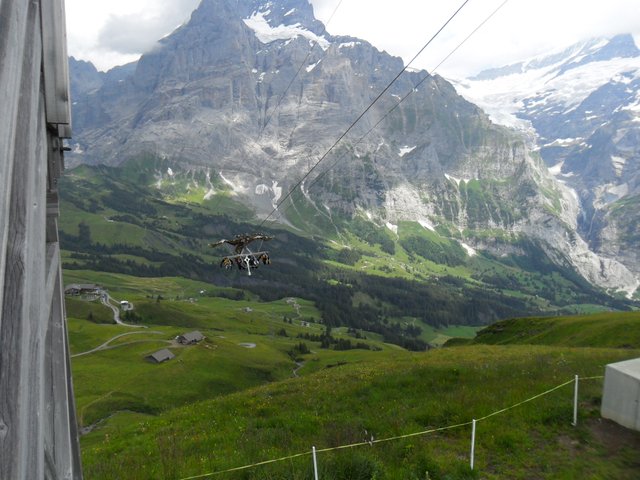 The zip line also has a long line on it but it's the safest (imho). It's a lot safer than that we took in Belgium. The harness isn't just attached to your wrist and not a single part of it is worn out at all. They look new and you and your heavy back pack could sit on it without worrying.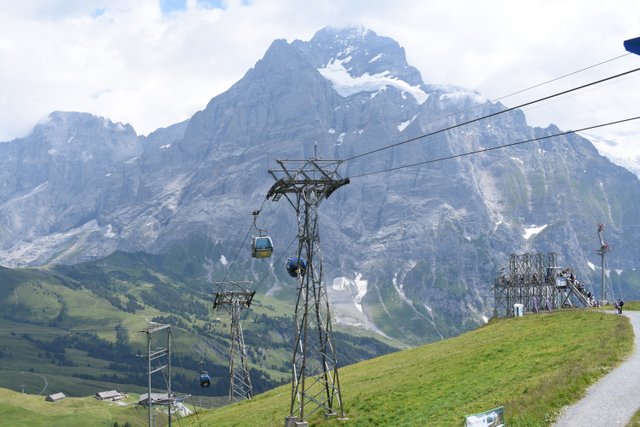 We could also just take the cable back down one station but we decided to zip line our way down though we were told that waiting may take us an hour. Since everyone standing there were really freaking out from inside except for those who really are relaxed like my hubby was, we were all pretty chatty and somehow doing that helps calm down.
We could actually pay up front in the ticket booth at the city but the lady gave us a tip to just pay one way and decide up there. We were glad we did that cause the long line due to the influx of Asian tourists that day ate our time we had to choose just one activity more or we'd loose our chance to do the rest of our plans for that day.
Yes, you can pay up every activity there, too, even carting. It's actually better doing that imho, than pay all of the activities in the booth at the city and miss out on doing any cause you ran out of time. That's also another reason we really can't go para-gliding. If we do that, we're back at the city right away.
I'm not sure whether we could go back up the cable ride without paying again if that's the case cause you'll have to go through a ticket scanner. I doubt that you can anyway. If you happen to go up there in the future and you want to go paragliding, save it for last and pay just one way for the cable car ride.
Anyway, when it was our turn, I placed my gadgets back into my bag cause am scared! I still was! I couldn't feel my knees the moment the lady had me all buckled up and asked me to put my feet upward while holding on to the door that would release me to the air.
For some reasons and maybe .. because they think am skinny, they've released my husband ten counts before me yet I caught up to him. Although, I was trying to enjoy the ride, I could feel the wind blowing hard on my neck. It's funny looking at myself hanging like a spider on that harness.
When we got there, my independent self took the buckles off which I should have just left to the guy waiting for us below. He did my hubby first so I went on helping myself. I could still hear his radio asking for whether there's rain below where we are and that's when I realized and looked back up from that height where I came from. Whew! You could tell from that smile on my face that I haven't really managed to recover from having spaghetti legs.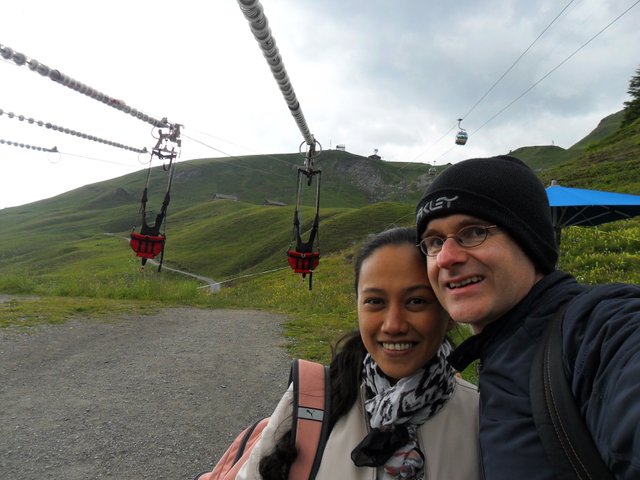 I actually think, I could do it over again cause we got stamped on our wrists after paying up there. On the other hand, it was late so we decided not to go back up and headed for the next activity. Yeah, am aware no one likes reading novels here so let me park for now.
Am pretty much curious though, is there any place you'd like to cliff walk as well? Where and why? Since no one answers questions without incentives these days anymore, I'll cast anyone who'd share their BL of where to cliff walk below, a 5% up but only when my VI is at least 80%. Now, share away and if you decide to put up a pic or a vid of the place in your reply make sure to put a source. Thanks!
... to be continued. ~~
This content's 100% mine . Except for the pic and vid my husband took, I took some of the pics with my D Eye . and some with my othe cams and smartphones' cams. I took the vid with my phone.
---
---
**TIP :
ONLY Upvote POSTS THAT ARE 6 DAYS OLD below to earn yourself curation rewards.
---
---