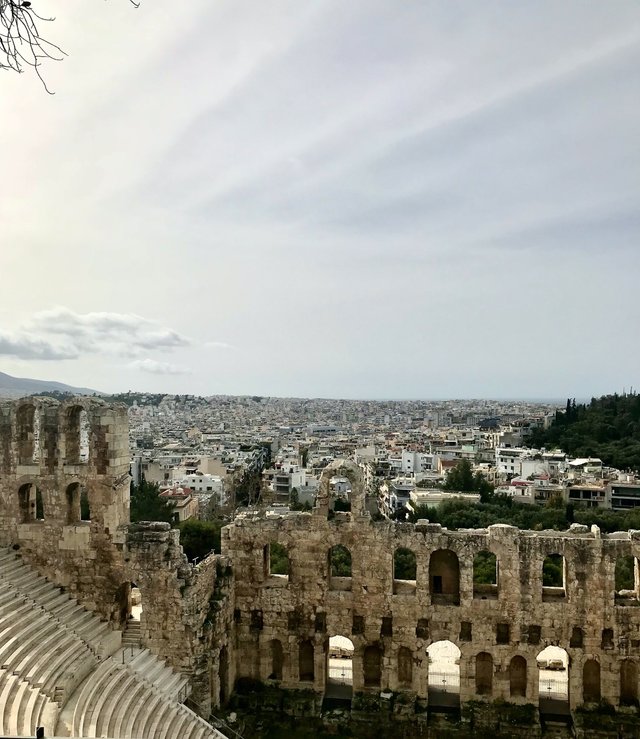 Gazing out over the teeming, white city of Athens, the Odeon of Herodes puts on quite a show all by itself...
With its impressive stone wall as a backdrop, three-columned projecting porticos, and wide doorways, the odeon is simple, yet elegant. Exposed to the gentle, warm Adriatic climate, it was originally built with a cedar roof imported from Lebanon. No rain outs, back in the day, I guess!
And such a view!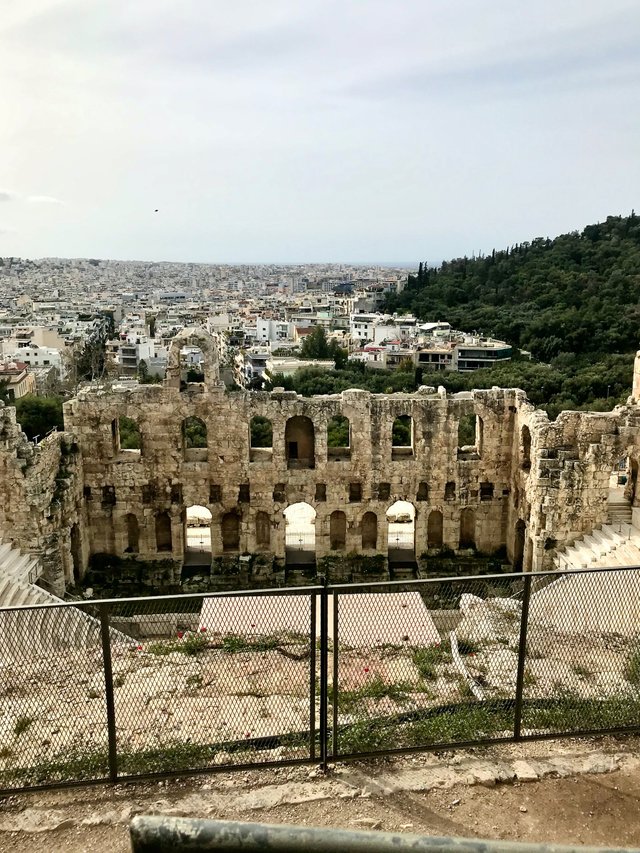 Set just below the southwest slope of the Acropolis, Herodes' theater was constructed around 161 - 174 AD by the Roman Empire. With a capacity for 5000 people, it was nearly destroyed in 267 and left for ruins. However, in the 1950's it was renovated and put back to regular use. Now, a couple of centuries later, many popular concerts and plays are still held there throughout the year.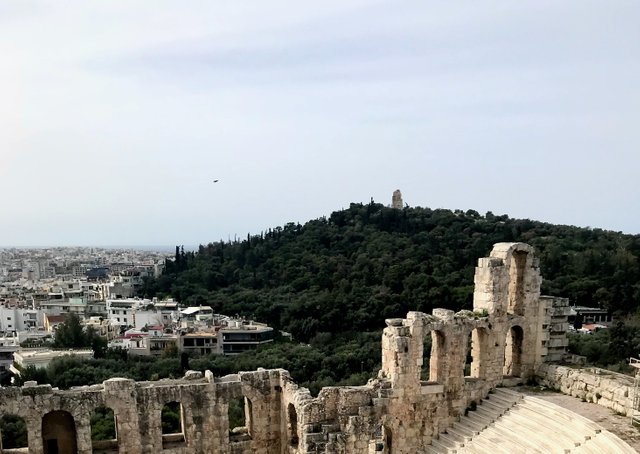 Behind the theater, on Mouseion Hill, we can see the Philopappu Monument rising up out of the trees. Dedicated to a Roman magistrate, the monument was built as a tomb to its namesake by his grief-stricken sister.
Center-left, just at the foot of Mouseion Hill, the Adriatic Sea can be seen in the distance.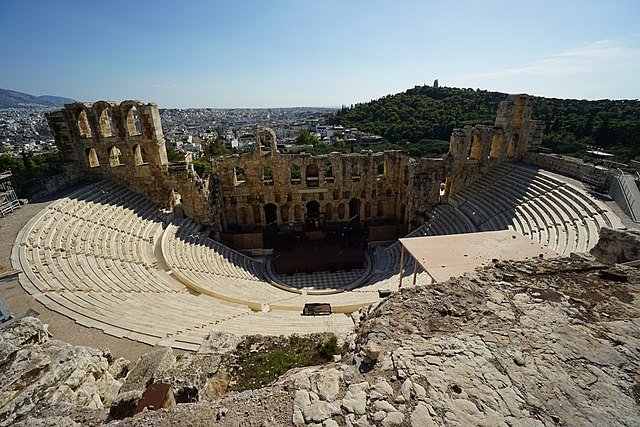 Photo by George E. Koronaios
Pentelic marble seating was installed in a semi-circle around the odean during reconstruction. While each seat appears to offer a terrific view, I couldn't recommend the stone seats for comfort, only durability...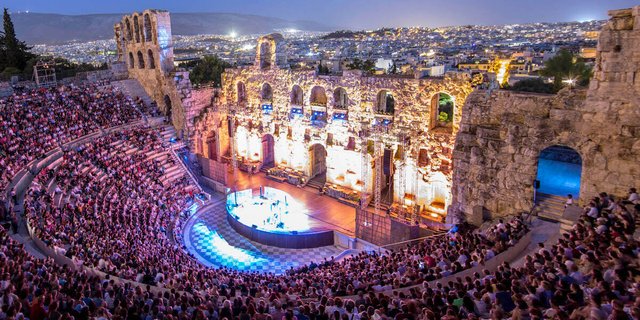 Photo courtesy Athens Festival.
A future trip to Athens MUST include a concert or show in the temperate Greek evenings in this theater!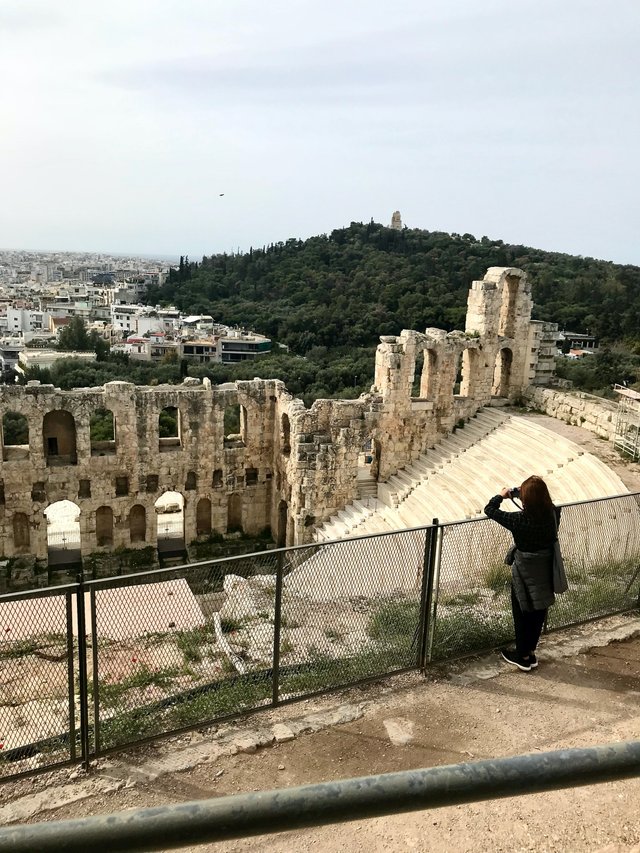 Athens has done wonders with its heritage. Their monuments are tastefully presented, and when practical, accessible and useable. Entrance fees are reasonable. Illumination at night serves to accentuate the dignity and importance of these timeless sites.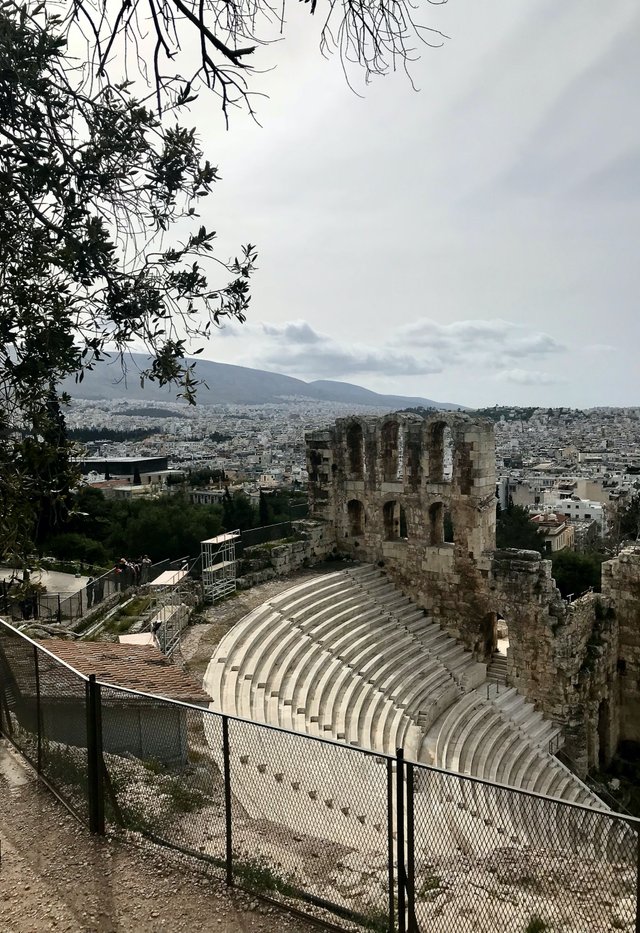 The theater, undeservingly, is upstaged by the Parthenon, just a few additional steps up the acropolis. Herodes is a marvelous and unique blend of ruin and modern fused into a working venue. Centuries old architecture and today's art scene aligned.
If you find yourself in Athens, and you make your way to the Parthenon, do yourself a favor. Pause at the theater.
Lights. Camera. History!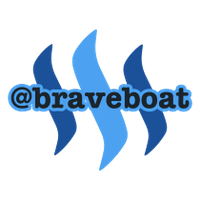 All photos are mine and original unless otherwise noted and attributed.